WEB RESOURCES
OTHER ARTICLES BY
AMAZING DEBBIE
Hi! I'm Debbie Cloyed- travel writer for JohnnyJet.com. Pleased to make your acquaintance. I'm a photographer and writer in Los Angeles. I have lived in or traveled to more than 20 countries, and was on CBS' The Amazing Race, so living the JohnnyJet way of life fits me like a glove! I'm so excited to be traveling with all of you. Please send any feedback to Debbie@JohnnyJet.com. Here we go!

MACAU
(*For ease and simplicity prices are approximated in US$. fyi, Macau uses it's own currency or Hong Kong dollars- which are the same in value. US $1 = HK 7.78).

Look, it's okay, guys. I thought so, too. I had some vague idea of Macau as an aspiring Las Vegas somewhere near Hong Kong. Why go to Macau when I can just go to Vegas, right? Well, because you're wrong. I was wrong. We were all wrong.

Macau has all the glitz, the glamour, all the flashing lights and shiny high rises of Vegas, baby, but it also has everything Vegas could never hope to have. Sure Macau has the luxury casinos- the Wynn, the Venetian, the Sands, the MGM Grand and counting- and a baffling array of Sphinx statues and Gucci stores to boot. However, it also has century old cathedrals and incense laden temples, breathtaking cemeteries, scrumptious Macanese cuisine and dim sum galore, bustling jade and antique markets, world class museums AND all the mysterious wonderments of the Orient- fortune tellers, Buddhist monks, cricket fights, tea houses, and massage parlors. So what is it that Macau has that Vegas doesn't? Ah, yes- culture.

So the question is: why go to Vegas when you can go to Macau?

If you said "uh . . . airfare, Debbie, for one," you're right. For some reason they charge more to sit on a plane for twelve hours instead of two (seems like they should pay US). But it's really not that big of a deal. Did you hear what I said? I said, toughen up, my American friends. To go see the world, you have to fly. For long hours on a perfectly nice plane with good movies and decent free food and a Chinese man sitting next to you with his bare feet over on YOUR side, who burps with the utmost pride in himself. Of course, then you look down at your own bare feet, and you mull over your first lesson that burping is NOT rude in China. It's just not. It means you are healthy and happy and not poor and hungry (though I still think it somewhat detracts from an otherwise tranquil one hour massage).

I flew to Macau on EVA Air. It was honestly quite lovely. I flew deluxe class, which is a new twist on the Asian class-conscience desire to not have to utter the word Economy. And I wholeheartedly agree. Deluxe sounds and was a bit nicer. More foot room (to take off your shoes and gross out your neighbor), with footrests and cushier cushions for your bum. And they serve CONGEE! Rice porridge that you dump all kinds of yummy stuff into- dried shrimp, fermented cabbage, spicy pork rinds, etc. Don't knock it til you've tried it, folks. That is one tasty breakfast (Burrrpp goes the guy next to me). Oh- and I experienced my first VIP lounge. After ten years of traveling like a vagabond hippie; I thought I'd died and gone to heaven (though I'm sure they didn't have me in mind when they put out that all-you-can-eat buffet).

So, Los Angeles to Taipei. Taipei to Macau. I arrived in Macau with a belly fully of congee and a worry that I was about to spend the next five days in rundown casinos. I scolded myself thoroughly about ten minutes later, as my eyes darted about the bustling, patchwork metropolis of old and new. All the glorious architecture and remnants of Portuguese rule blends with the hum of daily Chinese life, ancient and modern. Macanese they call it- referring to the people and culture of mixed Portuguese/Chinese heritage. It's really quite amazing- you get Old World Europe mixed with Chinese enchantment and the spectacle of an ultramodern city (swimming in casino money) being erected before your very eyes. A guy named Stanley Ho used to have a monopoly on all the casinos in Macau, until the government stepped in a few years back and began accepting bids. In flowed American money, and thereby began a boys-will-be-boys show off contest. The same rivalries that lead to the over the top opulence of Las Vegas have begun anew in Macau. It's funny and exciting to watch. Though by the time YOU step off your twelve-hour plane ride a bona fide burping congee lover, the construction will be finished and you will be walking the streets of a gleaming new carnival of sensation. An American resort paradiso with the Orient lurking just off to your right. Older guidebooks won't tell you this, guys. The Wynn just opened in September 2006. Times they are a changin' . . . FAST.

So, now that I've got your attention- what should you do? Where should you go? Well, do what I did. Eat and be merry.

Upon landing, I checked into the Landmark Hotel on the southern end of the Macau Peninsula, near the Casino Lisboa, the Grand Prix and Wine Museums and Fisherman's Wharf (some of the things I can't wait to tell you about). The Landmark is a perfect place to stay. Five stars, centrally located, and wonderfully gracious to its guests. The hotel has 451 tasteful roomy rooms with very posh bathrooms. It houses all sorts of restaurants, bars, cafes, and the Pharaoh's Palace Casino right at your fingertips. Myself, though, I was barely ever there. Too much to do. Like bungee jump/skydive off a 61 story building. The Landmark Hotel is five-stars, with rooms starting around $200 and suites starting from $425.

You heard me right. Willingly and enthusiastically. Even if I did scream like a baby. But first I ate lunch (not the best timing in hindsight).

Macanese Cuisine
I sat down to my first Macanese meal at O Porto Interior, in the heart of Old Macau. Try the caldo verde (kale soup with green onions $3), the octopus salad ($5), the grilled prawns ($15), or the steak and french fries ($10). What's for dessert in Macau? Pudding. Lots and lots of different kinds of pudding. At Porto Interior, the chocolate pudding is to die for. O Porto Interior Restaurante Rua do Almirante Sergio; Tel.: (853) 967 770.



Ready, Set, Jump
Okay, now let's go jump off a building. Head towards Macau Tower, the tallest UFO-on-a-stick looking thing around. Starting in 2005, Macau Tower became the latest playground of bungee jumping pioneer AJ Hackett. Hackett installed the world's highest commercial decelerating-descent Sky Jump. (a.k.a a terrifying/peaceful cross between bungee jumping and skydiving) I suited up in LA prison break fluorescent orange and donned the suspiciously dainty carabiners (clips) that connect you to your lifeline- a super thick cable. Then I walked, smiling bravely, out onto a platform 233 meter in the air. My smile froze. It was really really really windy so everything sways- cable, platform, tower, you, and your innards. People down below look like ants. No . . . fleas. Below you are skyscrapers. Did you get that? BELOW you are skyscrapers. Anyway, I jumped. You free fall till the cable kicks in, and they pause you in midair to take a picture (would I make that up?!). You smile and give an obligatory "thumbs up," and then they drop you AGAIN. And you scream AGAIN. But this time you float Superman style, totally secured by your two-inch carabiners and your one-foot thick cable. Amazing. Afterwards, I did the Skywalk X, which I hasten to say is scarier than the jump. You walk around a circular platform with no railings, still 233 meter in the air, and do all sorts of daring tricks for your guide to take pictures of. The Skyjump costs $75. The Skywalk X costs only $25. Both include a photo and certificate of completion. Videos and t-shirst are available at extra cost. Macau Tower, Largo da Torre de Macau, Macau, SAR; Tel.: (853) 933 339, Email: info@macautower.com.mo.

Remember, Eat and Be Merry
Well, the only logical thing to do after such a life-affirming event, was to EAT (this is always a logical choice in Macau). I had my supper at O Capitulo, a cozier version of the upscale O Porto Interior. Try the prawns with chili and garlic and the baked cod ($15). This time for dessert, have the serradura- "saw dust" pudding (cookie crumbles on top of maximum fat vanilla pudding $5). O Capitulo AVenida de Kwong, Edif. Nam San, Bloco 5, Taipa, Macau; tel.: (853) 821 519.

That night, I fell into my perfectly firm bed with a down comforter, perfectly happy and exhausted, for the next day was history day and the fireworks competition between the US and Japan.

History Time
I spent the day exploring Macau. Here's the brief version of Macau history. Macau was long populated by fisherman and farmers, and then by traders who enjoyed a brief inclusion on the Silk Road route. After China isolated herself again, Macau still welcomed Portuguese merchants and explorers, who set up camp starting in the 1550s. For centuries, the Portuguese ruled Macau, blending oddly but peacefully with Chinese customs. After the Opium War of 1841, Britain established Hong Kong, and most of the foreign merchants left Macau, turning Macau into a quiet backwater. Macau reinvented itself as a gambling destination from Hong Kong and main land China. China resumed sovereignty over Macau as a Special Administrative Region in 1999. It's been The Golden Age of Macau ever since. That and Home Make-Over Extravaganza. Everywhere it's build, build, build. The cool thing is that with all the money flooding Macau from the new casinos, the government is spending lots and lots of money on preserving its culture, heritage, and splendor. So, in addition to the resort paradise, museums are going up, stadiums are being erected, temples are being renovated, and historic sites restored.

Whew. So, I spent the day at A-Ma Temple, St. Paul's, and the Macau Museum. In between, I had dim sum by the boat load at the Hotel Lisboa. You have to go! It looks like a wedding reception inside, just as busy and noisy. Very Chinese. With my red hair and blue eyes, everybody looked at me like I was a bug (not like a gross bug, just a bug that had lost its way!).

From Boat Races to Fireworks to . . .
That afternoon, I checked out a boat race between Australia, Japan, and Macau. The ornate wooden boats glided across the river against the city skyline of Macau.

After that and more exploring, I barely made it in time to my dinner at Madeira at Macau Tower. The view was blocked by a convention set up, but normally you can see out over the water to Taipa Bridge, beautiful at night. This night I feasted on Beef Fillet with Peppercorn Sauce ($30) and Shrimp and Avocado Salad ($10). As you can tell, this place is a little bit pricier, but popular because of the view.

Speaking of which, this is where I watched the incredible fireworks display. There's always some kind of festival or event happening in Macau, so make sure you participate. The US went first, with typical gusto, and a bizarre mix of music blaring- Ray Charles, The Nutcracker Suite, and Enya. God bless America! Japan followed suit with a slightly more tasteful (and seemingly better timed) display and a better soundtrack. I don't know who eventually won (the contest goes on for weeks), but it doesn't look good, gringos. Madeira is located at Macau Tower. Open Noon- Midnight. For reservations, call (853) 963 399.

What? You think that's enough excitement for one day? Oh no. Wake up, people. It's time to see what Macau is like after dark. First I walked with a new friend down to the row of bars on the southern coast of the Macau Peninsula, facing the Kun Iam Statue on the water. We had beers and nuts at a few places along the strip, but the one that really stands out is Moonwalker. Hands down it's the place to be for a Twilight Zone kind of night. Up until this point, I hadn't really seen any Caucasian people AT ALL. But they'd all turned out to see the spectacle at Moonwalker, and you should, too. They have the best Filipino band that takes any and all requests, and even occasionally lets audience members come up and humiliate themselves. I almost died laughing dancing to Britney Spears, Bon Jovi, Filipino love ballads, and Shaggy's "It wasn't me," all performed in perfect imitation of the original artists. This went on till the wee hours, till we wandered off on another adventure.

Turns out Macau is a slightly different experience for men than for women. I'm still debating how much I should tell you about this . . . so I'll just spill it all. In Vegas, the sex trade is rather in your face and equally advertised to all. Well, I figured where there are casinos and booze . . . So we went to investigate all these signs at the hotel/casinos that said 'nightclub' and night 'spa.' These are at really nice, Western hotels mind you. And I was right! The nightclubs are in fact hostess karaoke bars, where you pay handsomely to be accompanied by pretty young ladies. The spas were even more appalling, though. Located in the basement, the spa was a luxuriously decorated, classy facility, but with searchable booklets of different numbered girls and their stats and suspiciously SUPER expensive pedicures. Furthermore, we were informed that the spa was "No Women Allowed." It turned out that some ancient Chinese customs are not so PC, by my standards, as I tried to imagine a book of scantily clad Asian Chippendales giving me an erotic pedicure. I just felt it was my solemn duty to investigate these kinds of things for all you folks at home! ha ha.

In protest, we went off to a magical place where women ARE allowed at 4 AM- the local legitimate massage parlor. Quiet and cozy, we had an hour foot massage for $10. Aaaaahhhhh.

Museum Goers Rejoice
The next day, I woke up impressively early to do more touring of Macau (I'm telling you- you will never run out of things to do!). I visited the Grand Prix museum, which heralds a major annual event in Macau in November. This is a Formula 3 street race that draws contestants from all over the world and 70,000 spectators!

Next door is the Wine Museum, where I decided it was not too early for a little wine tasting. I bought the white port for my brother.

I had lunch at Antica Trattoria da Isa, an Italian restaurant I cannot gush enough about. Get the pizza ($10) and the beef fillet with lemon sauce ($20) or the clams with lemon ($18). Antica Trattoria. 1st gl, Vista Magnifica Bldg, AVenida Sir Anders Ljungstedt; Tel.: (853) 755 102.

Shopping, Greyhound Races and African Chicken
I spent the afternoon happily buying all the jade Buddha necklaces, socks, and fruit I could carry at The Red Market and in the stores around Senado Square.

Around 7 PM, a group of us went to the Greyhound Races at Macau's Canidrome. A novelty to someone who'd never been before, but I was slightly put off by the whole affair. It seems like both a celebration and a degradation of man's best friend. I bet about $10 and lost in a minute and half. Those puppies definitely ARE fast. Canidrome; Tel.: (853) 221 199.

We left pretty quickly to go . . . you guessed it . . . EAT. Dinner was at Litoral, where everybody always should order the Galinha Africana (African Chicken $15), and where I signed autographs for two adorable waitresses, since they were currently airing The Amazing Race in Macau. Litoral 261A Rua do Almirante Sergio; Tel.: (853) 967 878.

Afterwards, I had the strange wonderful experience of the phenomenon that is Fisherman's Wharf. One part amusement park, one part World Fair, I barely know how to describe it to you. There is a giant volcano that spews lava twice a night, with a rollercoaster on the inside. There is a recreation of Pompeii, with costumed gladiators strolling about. There is a New Orleans French Quarter, a Miami Vice beach house and an Arabian Palace. Throughout are shops and bars and ice cream parlors. And costumed characters that hug you for picture taking. Very very weird, guys. But somehow charming and well done. If you're going to do something like that, I guess it's gotta be BIG.

After that, we spent the rest of the night in the shiny new casinos, yelling "monkey monkey monkey" at a slot machine that kept giving me mismatched rats and pots of gold instead.

Last Day
On my last day in Macau, I strolled through Taipa Village and the converted museums on the waterfront. It was serene and beautiful. I ate Portuguese egg tarts. I also purchased dragon fruit to see what they looked like on the inside. This wandering brought me to the best restaurant in Macau- Espaco Lisboa. The chef is a fantastic celebrity. He opened our bottle of champagne with a sword, and cooked our rum raspberry crepe flambe beside our table. Everything is magnificent. And I mean everything. The wine. The olives. The fried goat cheese salad. The sauteed clams. And most especially, the Arroz de Marisco a Espaco Lisbon ($30), steaming seafood rice in a ceramic pot that feeds several people. Espaco Lisboa. 8 Rua dos Gaivotas; Tel.: (853) 882 226.

Afterwards, I went for my eighth foot massage (I've left out a few!!) and bought local almond cookies and peanut sesame candy to bring home to my family and friends.

So, what's the perfect ending to a perfect trip? Dinner at Cafe 360 degrees at the very top of Macau Tower. Take Dramamine if you get motion sickness, and try to keep a look out for your receding table as you hit the Indian/Sushi/Portuguese buffet ($30), but otherwise marvel at and revel in the 360? view of glittery Macau at night. For reservations, call (853) 9888 622.



Zhuhai and Hong Kong
Now, so you know, I didn't fly straight back to Los Angeles. I spent a day shopping across the border in Zhuhai, a Special Economic Region of China. This I heartily recommend. You can easily obtain one-day visas for about $5, and spend most of your time in Gongbei, the region that is one big indoor/outdoor shopping paradise. Forget Hong Kong, man. This is it. I found myself intensely bargaining down and down for a "Gucci" purse only to pause and realize I was arguing over the difference of about 67 cents. There is a very touristy (Chinese NOT American) indoor mall (more like Dodger's Stadium in size), and a more local one outside and down the street. It was an amazing experience. We were certainly the only English speakers for miles and miles. I endured some pretty awful scenes of chicken and duck slaughter, and a strangely clinical massage in which three immature twenty-something boys chattered and chuckled over our heads, but hey- I asked for it- the real Chinese experience.

And, just so you know, I then went on to Hong Kong. I was so excited, since everyone seems to consider it a cut above to Macau. I have to tell you, I was horribly disappointed. Hong Kong was exciting sure, but in a rubbed raw, information overload kind of way. I ran into European hippie-tourists every five minutes (no offense), and passed a McDonald's every two and a half minutes. Of course, I could just be sour because I stayed the night in a guesthouse complex that should be shut down for about a zillion health code and personal safety violations. I think I've grown up, Mom, you will be glad to know, and out of the vagabond traveler days for good. I did go out and dance the night away (mainly to avoid going back to my room!) at some pretty cool nightclubs, which, if you remember, Macau does not really have yet.

So, my signing off advice is:

If you were planning a trip to Vegas, why not experience all the glitz and glam of Sin City, but with all the sights and smells of Old World Europe and the Ancient Orient. If you were planning a week trip to Hong Kong, and a day trip to Macau, I say plan a week trip to Macau and a weekend night to Hong Kong.

And if you've never given Macau more than a passing thought, then be properly ashamed of yourself and go shop JohnnyJet.com for a good deal on airfare. No shoes required.




*Please tell us what you think of this week's newsletter!
Pictures From
The Trip
Debbie Cloyed
Macau Streets
Macau At Night
A-Ma Temple
Market
Dragon Fruit
Grand Prix Museum
My Room
Landmark Bathroom
Fisherman's Wharf
Fisherman's Wharf Creature
Sky Jump
Sky WalkX
Dim Sum
Red Market
Capitulo
Porto Interior
Old and New
Ruins of St. Paul's
Boat Races
Fireworks
Street Snacks
Street Vendor
Chef at Espaco Lisboa
Foot Massage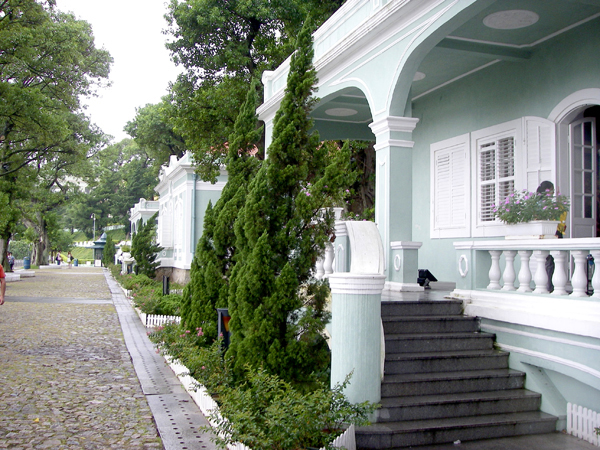 Taipa Museum
Greyhound Races
Senado Square
Espaco Lisboa
Fortune Teller
Devotion
Tai Chi
Zhuhai
Zhuhai Pork
Hong Kong Room