WEB RESOURCES



OTHER ARTICLES
BY BEN





Take your Bucket List to Interlaken
Hiking, biking, rafting and canyoning. Jumping off a cliff or out of a plane, rolling down a mountain in an inflatable ball ... if you can think it up, you can do it here!
By Ben Brown

INTERLAKEN IN A NUTSHELL
My heart is beating faster than my body can fall through the air. A 30-foot drop and I land just past the waterfall, hitting the river pool with a thud and just missing the rocks on either side of the canyon. Then it's onto the next jump, this time sliding down a rock face like a waterslide, headfirst. I learned not to ask questions when canyoning; just go and don't even think about it. That seems to be the general theme, I'd say. I didn't ask much as we ran off the top of a mountain to go paragliding. Sailing over the treetops did all the speaking. Zorbing was the next item on my list and I wasn't even going to touch the concept behind putting someone in an inflatable ball and throwing them down a hill. Hikers passed us as we floated along the river and to the next leap, not giving it a second thought. They're used to it. In a town where you can hike to dinner, mountain bike to work and abseil great heights in every way imaginable, I guess you adjust over the years.

FAST FACTS
Location: Southern/Central Switzerland
Season: Summer
Average temperature: ~66? F, humidity: mid
Free/low-cost attractions: Lots of hiking, biking, relaxing parks, time by the river, trips to the lake
More attractions: Skydiving, bungee jumping, zorbing, rafting, kayaking, canyoning, paragliding, rock climbing, trains to local trails and the Jugenfraujoch (top of Europe), chocolate tours, barbecue cruises
Transportation: Train and taxi accessible to outer areas
Cheap eats: Migros and Coop supermarkets, delis and food stands around town
Miscellaneous: Most outdoor activities have pick-up/drop-off service; ask your hotel or hostel if there are any outdoor activity deals before signing yourself up.

LODGING – BACKPACKERS VILLA
This hostel draws a young crowd with a sense of adventure. There's a computer room with free Internet and a large kitchen and dining room downstairs where backpackers meet. I had dinner with two trapeze artists on a tour through Europe and then joined a group of college students from across the States and Canada.

Rooms are big with plenty of storage and private bathrooms. Breakfast is included. A paragliding company bases itself out of the living room. What more can you ask for?
Backpackers Villa; ~$37/night.



JUNGFRAUJOCH – THE TOP OF EUROPE
This place is best known for James Bond: Her Majesty's Secret Service being filmed here. It's a long, scenic excursion from Interlaken to the tallest point in Europe, passing beautiful greenery and snowy mountains where the world-famous Lauberhorn ski race is held.

A train drops you at the top, where the lobby houses a terrace, several restaurants and a few small exhibits. An elevator takes you 100 meters up to the main lookout terrace. People can ride saucers and rent skis to go down a slope outside. There's a snow path that goes about 45 minutes uphill. Wear boots because it's in soft snow and running shoes get soaked. The trail takes you to another viewing point and a privately owned restaurant.

Many tourists will say this trip to 'the top of Europe' is a must-do, but for those looking for adventure, there isn't much up there.

THE SWISS CHOCOLATE CHRONICLES
After the ride back to Interlaken, I went to the Schuh Swiss Chocolatier, right next to the parasail landing field. In addition to the restaurant and chocolate shop, Schuh hosts afternoon chocolate shows in a back room where chocolate makers show you how chocolate is processed from start to finish. But the true highlight is the chocolate samples during the demonstration. Bowls of white, milk, dark, and extra dark chocolate drops. Chocolate cow figurines. A multi-level truffle tower with a dozen varieties.

You get a voucher to buy chocolate from the shop on the way out. But if you still have an appetite to eat, you didn't get the most out of your stay.
Schuh Interlaken; Entrance fee: $15

SUNSET BARBECUE CRUISE
All ages come aboard the small ship for a complimentary drink, music, some barbecue, and a view. Cooks serve bottomless chicken kebab, bratwurst, and pork loin with a salad bar inside. The bar mixes drinks for cheaper than you can find in town.

This is no 'booze-cruise' but a relaxing way to spend the early evening. Barbecue cruise; Tickets: $25.

ROCK CLIMBING ON A RAINY DAY
The next day it rained, but there's an indoor rock climbing area right next to the park: the Climbing Hall K44 or 'Kletterhalle K44.' Look for a gray building on the corner with an outdoor sports shop on the first floor. Walls range from beginner to very advanced, and even go along the ceiling. K44; $30/hour.

PARAGLIDING – A CITY TRADITION
Interlaken is one of the most renowned paragliding spots in the world. Drive up one of the surrounding mountains and they let you off on a grassy hill sloping right off a cliff. Your pilot, (i.e.: the person strapped to your back flying the sail), hooks you into the harness and just shouts 'run!' Sprint down the hill and you don't even jump. The wind catches the sail and you're off. The scene is priceless.

The speed picks up as you approach town. Microscopic people are now fully visible. Some wave, but most are too accustomed to the paragliders. The pilot asks you if you care to do some 'crazy stuff.' Sure, why not? For those who like to spin, The G-force factor takes you for a ride.

Air time - at least 20 minutes. They take pictures for you, or you can bring your camera.
Alpine Center; ~$155/trip.

CANYONING – WHITEWATER RAFTING, MINUS THE RAFT
Cliff jump, repel, and rock slide while you're at it. Literally, throw on a wetsuit, life vest, harness, and helmet, and do exactly what the guide tells you to. Once you approach that first jump, there's no turning back.

There are three levels of canyoning. Saxeten, i.e. easy level, lasts 2-1/2 hours. Grimsel, or intermediate level, goes 4-1/2 hours. The big trek, Chli Schliere, goes 7 hours. These time periods include transportation—more advanced courses are farther away.

If you're looking for a trip like no other, I recommend braving the Chli Schliere. I was apprehensive about this at first because I am a terrible swimmer and the program said Chli Schliere was for people with 'good swimming and cliff jumping skills.' I'm not sure where exactly one acquires cliff-jumping skills beforehand, but if you consider yourself athletic and adventurous, advanced canyoning is for you.

A muddy hike to the river was no problem. I was quite warm in the double-thick wetsuit they issued, but that changed as soon as we stepped into the 40-degree water.

You arrive at the first cliff, and before you know it, they send you off. Fly through the air hit the water with a splash. That definitely wakes you up. They guide you toward another ledge. You stand on the guide's foot for support and he just counts down '3…2…1…GO!' 30-foot drop. You don't have time to think about it.

Natural waterslides. Repelling. No questions asked.

Our guides had a great sense of humor. Do this through Alpine Center. For those into adventure and something crazy, you can't pass it up.
Alpine Center. Starts at ~$110.

ZORBING – WHAT?!?
For those who have never heard of zorbing, or zorb balling…they put you in an inflatable ball and roll you down a mountain. Zorbing is a rarity compared to the other activities because most people either don't know about it or think it'll just make them dizzy and sick. I assure you it doesn't make you dizzy or sick. And the experience itself is like no other.

The ball looks like something out of a cartoon; a ball 7-feet in diameter inside a ball about 12 feet in diameter, connected by thousands of thin strings in between. You jump inside it and they strap you up so you're safe for the ride.

The ball reaches a really fast speed in a really short time. As intense as it looks from the outside, it feels that much greater on the inside. Then you start to bounce and the real fun begins. A feeling of weightlessness followed by a sudden crash, repeating again and again.

It's over in seconds, but that's all you need. I can't compare zorbing to anything else. It's as unique as it gets.
Alpine Center; ~$85/first trip, ~$110/two trips.

BEN'S INTERLAKEN VIDEO
Interlaken on a Budget.


*Please tell us what you think of Ben's trip!

ABOUT THE AUTHOR
Benjamin Samuel Brown is a senior broadcast journalism student at the University of Southern California. Born and raised in San Diego, California, Ben's travel experience spans across more than a dozen countries over four continents and both hemispheres. His preferences tend to stray away from the typical excursion, however—from hiking for backcountry ski slopes in New Zealand to volunteering on an army base for the Israeli Defense Force.

In college, Ben is currently pursuing the honors curriculum in the Annenberg School of Journalism while obtaining a minor degree in sculpture.

All information presented here is accurate at the time of publication but prices, dates and other details are all subject to change. Please confirm all information before making any travel arrangements.

All images are the property of Johnny Jet Inc. and cannot be reproduced, in whole or in part, without our express permission. If you would like to reprint an image, please contact us at info@johnnyjet.com for image re-use rates.

Note: This trip was sponsored in part by Switzerland Tourism .


Pictures From
The Trip
The city from above
Mountains, river, and lake
Backpacker's Villa interior
To the top of Europe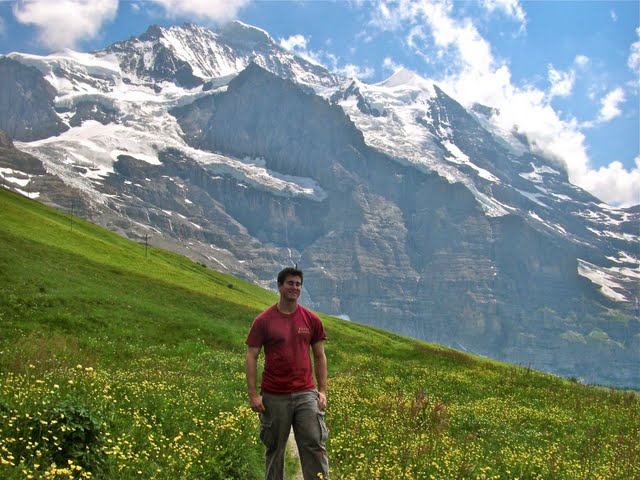 Hiking trails before the final ascent
Atop the Jungfraujoch
Glaciers
Chocolatier showcasing her delicious creations
Chocolate Wall Art?!?
Cruising through the lake
Rock walls, rock ceiling
Sky full of paragliders
Sailing through the air
30-foot jump in 40-degree water
Hopping to land safely
Rock faces become natural waterslides
We made it!
Zorbing down the mountain
How the trip feels from the inside