WEB RESOURCES
Living in a Jail Cell, Tobogganing down a Mountain in Lucerne: Part 1
Modern city with a long history has beautiful lake, nearby mountains, and festivals year-round
By Ben Brown

LUCERNE IN A NUTSHELL
The Steamboat's horn blasts, turning a thousand heads toward the lake—not that they weren't looking anyway. Benches line the shore, shaded by a perfect row of trees. Every seat has the best view. Pedestrians and joggers pass before diners on seaside patios; others picnic right there on the docks, as swans preen themselves in the water. I'm rollerblading alongside to catch the scene. Layered mountains go as far as the eye can see. Makes me remember tobogganing down Mt. Pilatus. Birds fly overhead; sunshine is glowing. Even in this modern city, classic roots will never fade.



FAST FACTS
Location: Central Switzerland
Season: Summer
Avg. Temperature: 70? F, humidity: mid
Free/low-cost attractions: lake walks, old town walks, boat tours, most museums, guard/clock towers
More attractions: Mt. Pilatus—hiking/zip lining/toboggan runs, day or overnight trips to nearby towns, shows in the KKL, various festivals throughout the year
Transportation: public bus and train
Cheap eats: Migros and Coop supermarkets, cafes and delis in old and new town, kebab Misc: Lucerne Card gives free public transport everywhere, and major discounts on museums, theaters, and attractions in city and surrounding areas.

LODGING – THE BACKPACKERS LUCERNE
Fifteen-minutes walking or 5-minutes by bus from the train station, the Backpackers Lucerne is near the local university and doubles as student housing. The first two floors are for travelers. The hostel features a lounge, free rec room, and two kitchens with community-style tables. At the far end there is a picture frame hanging, where guests 'frame' their stay and add a photo to the wall collage.

The hostel sells food for cooking for cheap. I arrived late and cooked a midnight special with three Columbian backpackers.

Two more facts: 1) The ever-so-friendly receptionist does your laundry, and 2) There are skateboards, rollerblades, scooters, frisbees, etc. for rent.
Backpackers Lucerne. Starts at ~$31/night.

THE LAKE
There is nothing like skating along a path with the trees hanging overhead and the lake at your side. Everyone I pass has a smile.

Originally a gift for the mercenaries in the fighting days, the swans that inhabit the lake now patrol the waters and walk up the shore right next to you.

While the swans have the water, the swifts have the air. These birds return to Lucerne year in and year out, and are known for the fact that they eat, drink, and sleep while flying.

MUSEUM ATTRACTIONS
The Gletschergarten was my first stop. There was something about the 22-foot stone lion carving that drew me. This site is a memorial to mercenaries who died in battle, and is quoted by Mark Twain as, "the saddest piece of rock on earth."

The rest of Gletschergarten features glacier potholes, a marine exhibit, and an Alps exhibit with scale models of the mountains. My personal favorite: the hall of mirrors; museum becomes amusement park.
Gletschergarten. Tickets ~$6 with Lucerne Card

MUSEUM OF TRANSPORT
This is the most-visited museum in all of Switzerland. In fact, Walt Disney loved Lucerne and made a point to visit this place, his favorite museum, every year. Inside features all the planes, trains, and automobiles one could think of . There's an Imax as well.
Museum of Transport. Tickets ~$27.

LUNCH IN STYLE: BALANCES
This elegant place by the water, just past the main stretch, is its own gated community. There is no foot traffic, only sounds of the river and conversation. The menu fits the calm atmosphere. I sip my creamy arugula soup and stare into the water.
Balances.

CHAPEL BRIDGE AND THE WATER TOWER
Built hundreds of years ago, wooden columns line the bridge and each has a different portrait of Lucerne's 17th century history (most of them; the bridge caught fire in the 18th century). Midway across the bridge is what was the city's water tower, which also was once a dungeon. Now it can be rented for parties. This water tower is the most photographed spot in Switzerland.
Chapel Bridge and the Water Tower.

THE KKL
It stands for the Culture and Convention Center (translated). A huge building next to the train station with a shifting roof, water channels that run inside, and a concert hall with movable echo chambers. Shows play here almost every night, with most tickets being quite affordable.

The KKL is a concert arena for Lucerne's 'Blueballs Festival,' a concert in mid-July that features bands from all over the world and attracts thousands of people yearly.
The KKL.

THE GUTSCH CASTLE
This famous hotel was built in the late 1800's and overlooks the city from behind the lake, up in the trees. If you've ever seen the Disney classic 'Sleeping Beauty,' this is the castle they portrayed in the movie. Michael Jackson was on the verge of buying it for years.
The Gutsch Castle.

HOLE-IN-THE-WALL PLACE TO EAT: SCHUTZENHAUS
Nearly impossible to find, follow Horwerstrasse until the asphalt road becomes a stone plaza. Then look to your right and you should see a key hanging over a small brown door next to a bar with a Heineken sign. Enter here. The restaurant has 6 tables and one waitress. Have a cold beer and the specialty, Luzerner Paoletli. Like a potpie, it's sausage in a brown sauce, inside puff pastry with a side of roesti; one of the most genuine Swiss places.

I woke up the next morning to take a train to Engleberg. Two days later, it was back to Lucerne for part two.

BEN'S LUCERNE VIDEO
Lucerne on a Budget.



*Please tell us what you think of Ben's trip!

ABOUT THE AUTHOR
Benjamin Samuel Brown is a senior broadcast journalism student at the University of Southern California. Born and raised in San Diego, California, Ben's travel experience spans across more than a dozen countries over four continents and both hemispheres. His preferences tend to stray away from the typical excursion, however—from hiking for backcountry ski slopes in New Zealand to volunteering on an army base for the Israeli Defense Force.

In college, Ben is currently pursuing the honors curriculum in the Annenberg School of Journalism while obtaining a minor degree in sculpture.

All information presented here is accurate at the time of publication but prices, dates and other details are all subject to change. Please confirm all information before making any travel arrangements.

All images are the property of Johnny Jet Inc. and cannot be reproduced, in whole or in part, without our express permission. If you would like to reprint an image, please contact us at info@johnnyjet.com for image re-use rates.

Note: This trip was sponsored in part by Switzerland Tourism .


Pictures From
The Trip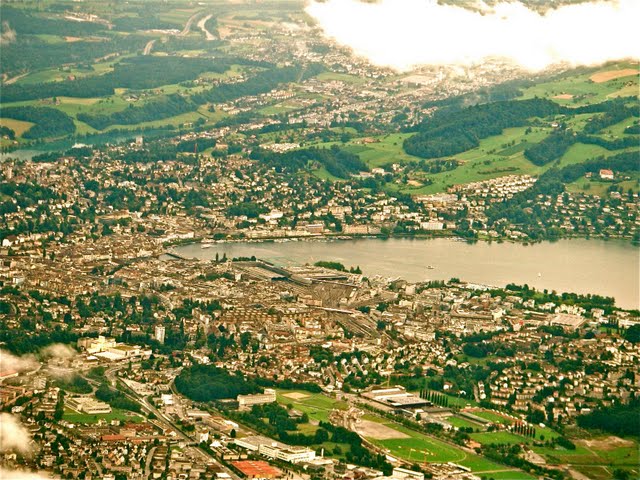 The city from afar
A couple relaxes by the lake
Parks by Lake Lucerne
A room in the Backpackers Lucerne
Adding a pic to their collection
Rollerblading on the promenades
One of many Swans
The Gletschergarten Lion
Inside the hall of mirrors
Museum of Transportation
Dessert at Balances
Water Tower and Chapel Bridge
Murals inside the bridge
The KKL
Dining with Dutchmen at Schutzenhaus