WEB RESOURCES
Destination: The Mexican Riviera
Looking for fun in the sun and a bit of adventure, too? Check out the Mexican Riviera!

The tough economy has everyone trying to save where they can. We usually take a town car limo service to the New York airports when we travel. This can cost approximately $200 each way, a steep price to pay for convenience. And so, for our trip to Cancun, Mexico we decided to experience the new Port Authority Airtrain service at JFK International Airport and save some cash. The service runs from the long term parking areas to all eight airline terminals, including the new JetBlue Terminal 5.



I did my homework and the best long-term parking lot to use is Howard Beach. Very few travelers use this lot because it's the last on the Airtrain shuttle line. However, it will only add two minutes to your journey and you'll more than likely be able to park in a choice space right next to the terminal at the Howard Beach stop. This can be a huge benefit in inclement weather or if you're in a hurry.

Everything was going as planned until we boarded the Airtrain. It can sit idle for up 20 to 30 minutes and this can cost you valuable time, especially if you're about to board an international flight.

We arrived at the new JetBlue Terminal 5 a little behind schedule. It's an impressive structure, with all the major conveniences travelers love, including complimentary wireless Internet service, numerous automated escalator walkways and check-in kiosks. But this is where the warm and fuzzy feeling abruptly ceased.

The kiosk wouldn't let us check in. We were directed to a JetBlue supervisor who refused to let us board the flight because we were 10 minutes late. Our JetBlue representative seemed to take great pleasure in denying us boarding. What ever happened to the entrepreneurial spirit JetBlue has been known for? Our agent said, "You're late, and that's that. I can't help you." We'd lost our seats ... and our money, too!

JOHNNYJET.COM
After a little panic attack, an action plan came into focus. Terminal 5 has complimentary Internet service and it's fast and easy to access. We fired up our Macbook Air and logged onto JohnnyJet.com and used the BookingBuddy travel search engine.

American Airlines had a flight that was leaving Terminal 8 in an hour. We hopped on the Airtrain and one stop later, found ourselves being helped by an awesome American Airlines agent. She booked us on a later flight to save us money, but let us go standby on the 11:15am flight. We actually got our boarding passes 45 minutes before the scheduled departure, cleared security and boarded the flight to Cancun. Shame on you, JetBlue for not helping us when you could have!

THE FLIGHT
The flight took three and a half hours to touch down in Cancun, Mexico (CUN). There are a plethora of airlines that service this destination including, Continental, American, Frontier, US Airways, Delta, JetBlue and United. To see all of the airlines that service Cancun by popularity, check out SkyScanner.net.

It's a 25-minute drive from the airport to Cancun. The best way to make the short trip is by arranging a pickup at the airport through your hotel's concierge. For us, the cost was approximately $20. Upon clearing customs, our driver was waiting for us with a name placard. He helped us with our luggage and offered a cold bottle of water and a hand towel to freshen up with.

Cancun offers a wide variety of accommodations. If you're seeking five star luxury, a ballroom to hold your next National Sales Meeting, or a spring destination that's clean, and fun, then Cancun is worth putting at the top of your list.

FIESTA AMERICANA GRAND CORAL BEACH CANCUN
For fifteen years the Fiesta Americana Grand Coral Beach Cancun has been awarded a Five Diamond rating. That's quite an accomplishment and they didn't disappoint us on this trip!

Built in 1991, the property offers 602 suites with ocean views. The hotel is now undergoing a $27 million renovation that will include new contemporary furniture, Simmons bedding and plasma TVs.

We stayed in a 900-square foot master suite, which is 250 square feet larger than the junior suite. The room amenities included: marble floors, in-room safe, sitting room, oversized-bathroom, a sunken Jacuzzi tub, a 200-square foot terrace and flat screen TV. Wireless Internet is an extra $20 per night.

The master suite overlooks the largest swimming pool in Cancun, and 1,000 feet of sandy beach. Grand Coral Beach is the number one choice for families with small children because the beach faces north towards the leeward side of Isla Mujeres. This makes the surf calm even on windy days.

Grand Coral Beach offers celebrities, CEOs and high rollers accommodations in two presidential suites. John Travolta's family and P-Diddy and his entourage recently chose the resort for its top-notch service and privacy. The presidential suites sport 5,000 square feet of living space that includes a 2,500-square foot terrace with a soaking pool and hot tub overlooking the Caribbean Sea. The cost is $4,000 per night and includes a butler.

MEETING SPACE
Corporations should consider Cancun and Grand Coral Beach for upcoming meeting needs. The five star Grand Coral Ballroom is 15,000 square feet and has a 1,000-person capacity. The ballroom will be updated during the latest renovation with new carpeting, air walls, and a fresh coat of paint. The space can be divided into six sections for break out sessions. Presentation Services is Grand Coral Beach's full service in-house media production company. They can provide services from video production to customs clearance.

Guests also have access to the business center, which is located on the third floor. It's modern and chic and the computer stations are equipped with comfortable Herman Miller ergonomic seating and easy-on-the-eyes halogen lighting. The Internet access is high speed and clients may print to the business center's secure printer. If you need some privacy to hold a meeting or to make a private call, then one of four small glass enclosed conference rooms is available as well.

THE BEACH AND POOL
The idyllic turquoise blue water and the gorgeous, 1,000 square feet of baby fine powder sand is impossible to resist. The beach has no major rocks, big waves or undertow and all ages can easily enjoy a quick dip or a more vigorous swim. If snorkeling interests you, within the roped off area of the beach, about 100 feet out, is a small coral reef which can have a decent showing of fish. It is vital to secure a palapas (small Tiki umbrella and lounge chair) for necessary shade, and in high season, they go quick. We all need a healthy dose of sunshine and vitamin D, but don't mess around with the intensity of the sun and the potential to ruin your vacation by not using a high SPF sunscreen. Avoid the high price toiletries at the gift shop and bring your own sunscreen and a wide brimmed beach hat. Ladies, break out the pretty beach cover-ups and matching flip-flops. Guys should avoid beat up T-shirts with funky slogans because this is a classy and refined beach resort with a relaxed and comfortable vibe.

The three multi-level, 800-foot, lagoon-shaped swimming pools have waterfalls, platforms and swim up bars to accommodate all kinds of desires … when it comes to thirst and hunger, that is! It's pristine, beautifully landscaped and very clean. The full waiter service on the beach was prompt, cheerful and quick – I had the recommended drink special of the day and the banana monkey was a delicious way to kick off some fun in the sun. The professional wait staff will serve the entire pool bar menu on the beach as well. If the mood for a little adventure strikes, then hop on a jet ski or try snorkeling. Scuba and water skiing are available upon request.

BEACH MASSAGE
Don't miss the opportunity to indulge in an outdoor beach massage. It is totally private behind ivory curtains and set away from the main beach area. The soothing sounds of the ocean and mild ocean breeze added an enormous level of luxury and peace. I had the pleasure of choosing the scented body massage oil and I immediately began to decompress. I highly recommend asking for Christina, she has the gift of healing hands. She applied the perfect amount of requested soothing pressure, and I simply melted into a puddle of bliss. I would recommend scheduling a massage either first thing in the morning or late afternoon – just to give you ample time to shower afterwards and re-group!

HOTEL DINING OPTIONS
Isla Conte: This casual seafood restaurant is situated in a Robinson Crusoe-style hut with 30-foot thatched coconut husk cathedral ceilings. It's located overlooking the beach and the Caribbean Sea right next to the swimming pool. The menu has a variety of dishes for the seafood lover. There are some great meat offerings to choose from that included grilled rack of lamb, grilled chicken breast and pan-fried black Angus filet of beef. However, the smart move is to sample the fresh seafood made-to-order from the buffet. You'll be able to select your own Caribbean lobster from a holding tank or choose from a variety of local fish including hogfish, calamari and shrimps. For dessert, the mango crème brulee is out of this world and the Kendall Jackson Pinot Noir was a moderately priced wine that everyone enjoyed by the glass.

Appetizers start at 120 pesos and entrées start at 220 pesos. Open daily for lunch from 11:30am to 5pm and offers a la carte dinner every day but Tuesday, from 6:30pm to 11pm.

Le Basilic: If you're in the mood for elegance and refined sophistication, then Le Basilic is the most wonderfully perfect place to find it. From the striking black and white marble floors to the dark mahogany wood furniture and soaring ceilings, you'll feel as though you've entered a visual and culinary delight. The pre-chosen menu for us was nothing short of an exquisite celebration of what fine dining at the Fiesta Americana has to offer. The first course was Norwegian-style smoked salmon blintz with chives and lemon crème fraiche. Delicate and smooth, yet intensely flavorful – we were all off to a great start. The second course was jumbo ravioli of fresh duck liver and truffle mushroom puree, with Brittany salt and roasted partridge jus emulsion. This doubled could have easily been the main course for lighter appetites – it was a unique, thoughtful, and highly pleasing blend of potentially strong flavors. The main course was a pepper crusted Angus beef tenderloin, marrowbone and sweet potato gratin. Artfully presented, it was not this taster's favorite choice – the tenderloin was a bit dry for my liking. The grand finale was a serious chocolate celebration, which consisted of dark chocolate fondant, mousse and sherbet. The variety of textures, temperatures and shapes on the same plate was a sight to behold. If there was ever a reason to dive into a chocolate fantasy – this was it. Don't even think about it – just enjoy! When food becomes art and an expression of the chef's soul, any patron who partakes has an unforgettable evening. This entire dining experience was a tribute to this gift – it was a truly spectacular experience on all levels.

Appetizers start at 130 pesos and entrées start at 225 pesos. Evening wear required, dinner only, reservations requested. Open from Monday to Saturday from 6:30pm to 11pm. Fiesta Americana Grand Coral Beach Cancun, Bulevar Kukulkán Km 9.5, Cancún Island, Tel: 800-343-7821.

ACTIVITIES AND EXCURSIONS
Shopping: There are a wide variety of activities within walking distance of the hotel. The most popular destinations are the Kukulcán Plaza Mall, which has 300 shops and the Plaza Caracol Mall, which has 210. The nightlife vibe will pump you up, too! Dance the night away to live music at the Bull Dog Café and the Glow Dance Club.

Adventure: If you're real adventurous, then check out Río Secreto. It's a recently discovered ancient underground river system. If you're anxious about being in caves or dark places, don't be afraid. You'll be in a group and an experienced guide will take you though an underground world that's amazing. The landowner, who was chasing a plump iguana, discovered the underground river when his meal scurried into a pile of rocks. He heard a splash and immediately knew it was a big discovery.

The round trip excursion form the hotel will take six hours and costs $80 per person. This includes the transportation. Upon your arrival, you'll transfer to a shuttle van that will take you the final 20 minutes to the tour staging area. You'll be required to shower before you enter the semi humid ecosystem that supports specially adapted, catfish, shrimps, spiders and fish.

Our enthusiastic guide was Fernando. He provided us with some special equipment to ensure our personal safety. This included a wetsuit, life jacket and a helmet with a built-in safety light. All of this equipment came in handy as we entered the Río Secreto through a ceiling collapse in the jungle.

Entering the underground river system is surreal. You'll gradually traverse down 60 feet to where the water is ebbing and flowing towards the Caribbean Sea. The formations of stalactite and stalagmite rival that of any location on the planet. This place is a living natural museum. Along the way, a professional photographer will take individual or group photos that can be purchased at the end of the tour. The photos are truly amazing due to the specially located remote strobe setups that bring out the luminescence of the limestone. The entire journey took approximately an hour and a half and we walked about half a mile underground. One of the most special moments of the tour was when Fernando directed us into a small, room-like cave and had us sitting in the waste deep water. He asked us to calm our minds and meditate for several minutes. He then turned his light out and we were in total primeval darkness. His words are still etched on my mind. Before last year this is what Río Secreto was like for millions of years. Our planet Earth is still adapting and evolving. This experience opened our eyes and helped us to appreciate our natural world and universe.

This tour is not available for people with severe physical handicaps, heart attack risk, and pregnant women or for people under the influence of alcohol or drugs. The maximum weight is 250 lbs and the minimum age requirement is 6 years. Rio Secreto Tours, Tel: 800- 507-1092, email: reservaciones@riosecretotours.com.

Cancun was a pleasant departure from the typical winter vacation destinations like south Florida and nearby Bahamas. The flight was only three and a half hours from New York and the short drive from the Cancun airport to the resort area only took 20 minutes. Cancun is modern, clean, and full of exciting activities to experience. We only wished that we had a little more time to experience the world-class duty free shopping and famous nightlife that Cancun is famous for. Oh well ... next time!




Pictures From
The Trip
Howard Beach Terminal, JFK
The Airtrain, JFK
Fiesta Americana Grand Coral Beach Cancun Pool
Water Sports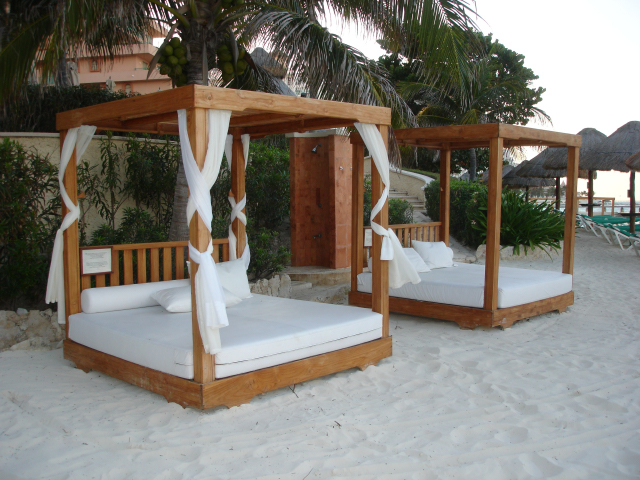 Beach Day Beds, $50 Per Day
Complimentary Lounge Chairs
The Presidential Suite Living Room
Presidential Suite 2,500-Square-Foot Terrace
Presidential Suite Master Suite
Business Center
Business Center Sign
Business Center Conference Room
Massage Hut
Getting a Massage
Beachside Service
Fresh Lobsters at Isla Contoy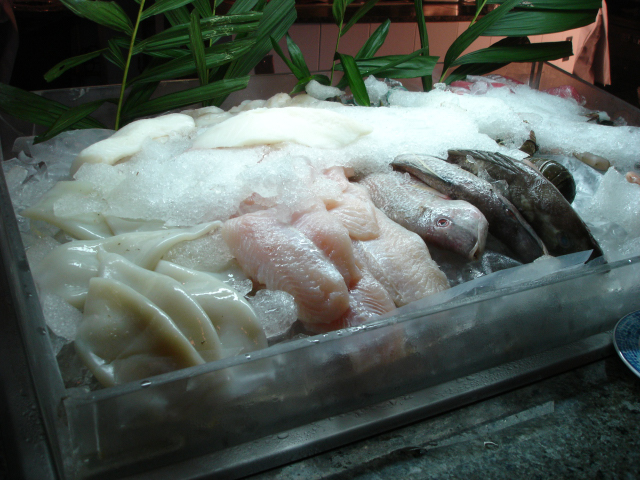 Fresh Seafood
Hog Fish, Shrimp and Calamari
Breakfast Buffet at Del Mar
Dessert at Isla Contoy
Authentic Mexican Dance, La Joya
Perfect Martini
Río Secreto Cave Entrance
Blind White Fish
Río Secreto Illuminated Pool