WEB RESOURCES


Other Articles by Carly Blatt


Welcome to Club Getaway
This summer camp for adults offers a unique experience that will bring out the kid in you.

By Carly Blatt

A guitarist's fingers tickle the strings of his instrument while the aroma of S'mores wafts across the crackling campfire. The campers catch up with their new friends, discussing the dizzying array of sports and activities they tried out only hours earlier.

They huddle around the warmth of the fire, catch up on inside jokes and tease each other like old friends. The guitar player begins a gentle rendition of Billy Joel's Piano Man and the campers join in, not caring whether or not their voices are up to par. You'd never guess that most of them have only known each other 24 hours.

Sound a bit like summer camp? Well, that's because ... it is; except that the campers are adults, wine is served with dinner and there's no such thing as a curfew.

Welcome to Club Getaway.

Located near the Berkshire Mountains in Connecticut, Club Getaway is the ultimate summer camp for adults. They run special weekend-long getaways that allow adults to relive a bit of that summer camp magic that only seemed possible as a kid. Most camp weekends extend from Friday night until late Sunday afternoon and there are also longer holiday-weekend options available. It all happens at an actual summer camp in Kent, Connecticut, just under two hours from New York City and three hours from Boston, making it easily accessible to northeasterners looking for a fun weekend escape.

Complete with rustic cabins and a lake, the facility offers a slew of activities and sports. Since I was coming from New York, I opted to take the camp's chartered "Getaway Bus" from Manhattan directly to Club Getaway on Friday evening. The bus dropped us off at the camp just two hours later and I instantly felt transported back to the days of my childhood.

The staff members showed us to our cabins, which were simple and comfortable. Each cabin houses two to four people and has its own shower and bathroom. After dropping off our luggage, we headed to meet our fellow campers and have a drink at the welcome reception.

I attended the Summer Sports & Fun Weekend and most of my fellow campers were in their 20s, 30s or 40s. Club Getaway also runs Boomer Weekends that draw a 50+ group and the Family Weekends that cater to the younger set. The majority of campers at my weekend were from the northeast, although there were several people who'd driven more than eight hours.

The welcome reception felt a bit like freshman orientation at college – everyone was running around, eager to meet new people and unsure exactly what lay ahead. We looked through our weekend schedules and wondered how, exactly, we could manage to fit in all of the activities available. Although the schedule for Friday night consisted primarily of dinner followed by dancing, the itineraries for Saturday and Sunday presented an almost overwhelming number of options: trapeze lessons, waterskiing, wakeboarding, volleyball, softball, basketball, tennis, hiking biking, golf … the list went on and on.

I quickly noticed that the campers seemed to fall into three groups: those interested in trying new activities they couldn't easily do at home, those interested in perfecting skills at their favorite sports and those who preferred to work on their tan, swim and focus solely on relaxation.

After the welcome reception, we headed to dinner – a family style affair, complete with multiple courses and complimentary wine. Vegetarians were catered to, as well. Following dinner, everyone headed down to the Boat House down by the lake to have a few cocktails and get their groove on.

Dancing at the Boat House was kind of like dancing at a cool, rustic club on the water – except that if they ever created such a place in a city, it would probably end up pseudo-trendy and overpriced. The Boat House has a reasonably priced bar, good music and plenty of seats outside for when you want a break from dancing. Don't worry about getting too dressed up, either – the environment overall is fairly casual and no one bothers to change clothes after dinner. After all, you're at camp!

Many of us stayed up far too late, but still managed to wake up in time for the insanely-huge breakfast buffet on Saturday morning. The made-to-order omelets, freshly-cooked fruit pancakes, homemade breads, eggs, cereals, fruit and more provided more than enough sustenance for the action-packed day ahead.

Of course, Saturday morning brought an additional challenge. We all had to finally narrow down our choices for the day. Some activities like volleyball, the zip line, basketball and tennis you can just show up for, while others like the trapeze classes, hikes, waterskiing and biking require you to sign up in advance. If you're interested in anything requiring a sign-up, be sure to put your name down first thing in the morning since many fill up fast.

I opted to start my day by joining an organized mountain biking trip. There are great single track trails right near camp and all of the gear is provided, including helmets. Our group had bikers of mixed abilities, but everyone managed to hold their own and there was always a guide in the back of the group in case someone was having trouble. There were some decent ascents and descents and plenty of obstacles to challenge us along with the way.

Later, I met up with some friends from the night before and played a little volleyball. There's a pro volleyball player on hand at camp who offers advice and runs clinics to help guests with their game.

Lunch, like breakfast, was ridiculously extravagant and featured a buffet with everything from carved meats to salads to make-your-own-sandwiches and more, along with a dessert table that would satiate even the most discerning sweet tooth.

I filled the rest of my afternoon with a trapeze class, waterskiing and lazing around by the lake. One of my goals for the weekend was to experience sports that I might not otherwise try. Since all activities are included in the price of the weekend, there's no extra fee to try something new.

I found the flying trapeze experience utterly addictive and now plan to take a class in New York to follow up on what I learned. I didn't manage to stay up for very long when I tried waterskiing, though – but I'm glad I had the opportunity to try it out in a low-stress environment.

One of my friends took a scuba class and is now looking into getting her certification. Another friend first took a golf lesson at Club Getaway two years ago – and now gets out on a course whenever he can. One of the best parts of the weekend is the ability to try new activities in a risk-free setting.

Late on Saturday afternoon, many campers headed down to the lake to watch (or participate in) the Flip Cup tournament, have a quick bite at the waterfront BBQ to tide them over before dinner, listen to music or catch some rays. The day felt suddenly unrushed and few people had plans more complicated than catching up with friends. I listened to tales of people who'd hiked the Appalachian Trail, swam the length of the lake, rode bikes into town, rock climbed, perfected their tennis serve, learned Pilates, attempted swing dancing and much more.

Dinner on Saturday night was followed by a live band and guests dancing on the tables. The party later continued at the Boat House, but around midnight campers were drawn to the most classic of summer camp traditions – the campfire. We joined our favorite guitar player in dozens of great sing-along songs and argued whether it was better to lightly toast or burn marshmallows when preparing them for S'mores. Several of us basked in the warmth of the fire for hours and chatted late into the night, enjoying the smattering of stars in the sky and the uncomplicated lifestyle we'd come to enjoy.

Sunday found campers once again trying to decide between squeezing numerous activities in and simply relaxing. I opted for a morning golf lesson with a local country club pro, which was a great experience. I'd always wanted to learn more about golf, but knew that I'd never get around to booking a formal lesson. I loved the opportunity to hit balls and learn how to improve my swing without committing to paying for lessons – or knowing whether I'd even like the sport. Now I'm motivated to head down to a driving range and practice what I've learned.

As the final meal of the weekend, lunch on Sunday had a sense of finality to it. Friends exchanged numbers and email addresses and many arranged to meet back up again during a future Club Getaway weekend. And later, when many of us boarded the bus back to New York and waved goodbye to our new friends from the bus window, I had an overwhelming sense of déjà vu from my childhood camp days.

At Club Getaway, camp isn't just for kids anymore.

Club Getaway weekend experiences begin at $259 per person and vary by weekend. Rates include all meals, activities and wine with dinner. Guests from New York may choose to ride the Getaway Bus from Manhattan directly to camp for $45 roundtrip. The bus leaves Manhattan on Friday at 5:30pm and returns at 6pm on Sunday. The camp is also accessible by car and Metro North Railroad. Click here for complete directions to the camp's location in Kent, Connecticut.

Club Getaway still has several weekends open before the season wraps up. Visit Clubgetaway.com or call 877-7-GO-PLAY for more information.





New York-based freelance writer Carly Blatt has extensively traveled, studied and worked abroad, covering 23 countries on five continents. Her travel adventures include swimming in Antarctica, bungy jumping in New Zealand, paragliding in the Alps, caving in Belize, mountain boarding in Colorado, camping with locals in the Australian Outback, and helping confused-looking tourists find their way in Manhattan.

*Please tell us what you think of Carly's trip!

All information presented here is accurate at the time of publication but prices, dates and other details are all subject to change. Please confirm all information before making any travel arrangements.

All images are the property of Johnny Jet Inc. and cannot be reproduced, in whole or in part, without our express permission. If you would like to reprint an image, please contact us at info@johnnyjet.com for image re-use rates.

Note: This trip was sponsored by Club Getaway.
Pictures From
The Trip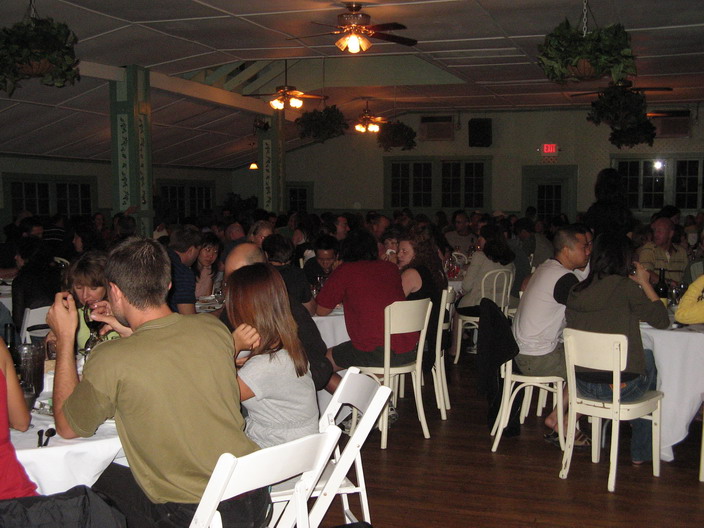 Hundreds of guests get to know each other over dinner
A table starts a round of cheers that quickly catches on throughout the room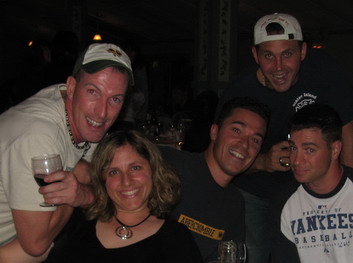 Dinner Friday night
Dancing at the Boat House by the lake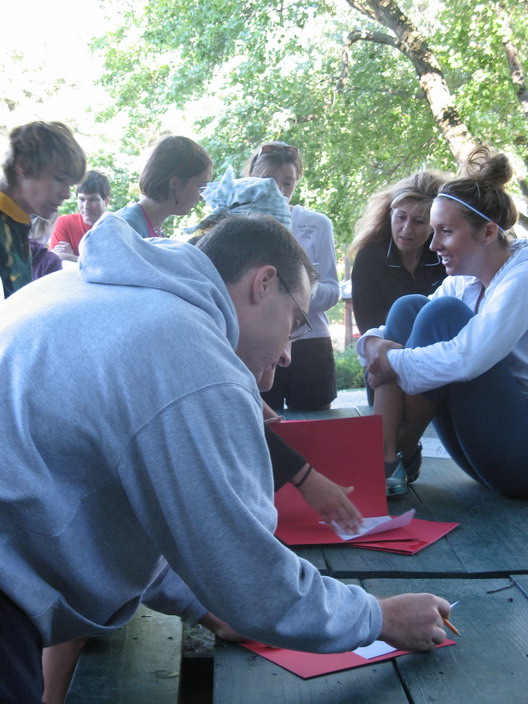 Guests sign up for activities
The cabins are simple and comfortable
A staff member prepares a guest to tackle the climbing wall
Lunch
Lounging by the waterfront
Trapeze!
A catch on the flying trapeze
Cheers!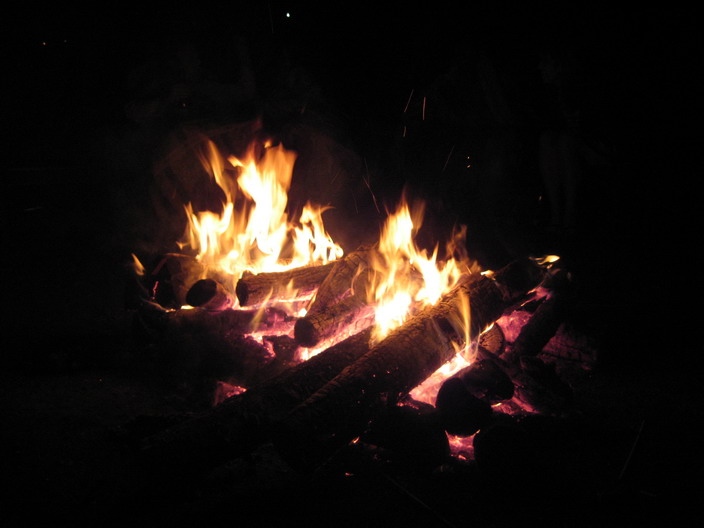 There's nothing quite like a campfire
A group stretches near the lake
A guest works on her golf swing
Club Getaway's wall of history. They've been around since the 70s!
The zip line
Walking on a path outside camp
Kayaking
Waterskiing
A guest leaps on the trampoline