WEB RESOURCES
A weekend in Whistler
On top of the world in Whistler offers adventure seekers an extensive list of things to do.
By Cindy Jacobelli

Whistler Blackcomb is renowned for its skiing. A quick Internet search reveals it's consistently in the list of best ski resorts in the world – considered number one by many. But not everyone's a skier, a snowboarder or even all that into winter ... period. If these reasons have kept you from checking it out, hesitate no more. Plan to visit these twin peaks in the off-season. Shutterbugs and adventure-seekers take note: there's enough going on to keep everyone amused, whether you're into physical activity or not! Even a weekend here is enough to make you feel like you've spent weeks away.

GETTING THERE
By air, you'll fly into Vancouver, British Columbia, where you can opt for a car rental or a shuttle service. Perimeters Whistler Express offers a one-way fee from the airport for $34 to $59 CDN. Leaving from the city centre will take you through Stanley Park, Vancouver's equivalent to Central Park. It's one thousand acres of majestic evergreens, with hiking, biking, concerts and more. At the far side of the park, you'll cross the Lions' Gate Bridge, the namesake of the film studio that brought moviegoers the Oscar-winning films Gods and Monsters and Fahrenheit 9/11.



From there, you'll join the Hwy 99 -- Sea to Sky Highway -- which provides gorgeous views of islands in the Pacific on one side and towering landscapes on the other. The 75-mile journey (120 kilometers) usually takes about an hour and a half. But with construction ramping up in preparation for the 2010 Winter Olympics, be prepared for delays. For the best drive times and updated closure and delay schedules, check out the Sea to Sky Highway Improvement Project website.

ACCOMMODATIONS
One of the best-known hotels – but by no means the only reputable one – is the Fairmont Chateau Whistler. Fairmont is known for taking historic buildings and turning them into luxurious hotels. This property is no exception. Nestled at the base of Blackcomb Mountain, this location is obviously not as old as the "hills" that surround it. But inside you'll find a warm and luxurious space that recreates the sumptuous surroundings of another generation. For those with extra dollars and desire, the hotel offers the "Fairmont Gold" – a kind of hotel within the hotel. Staying on these floors will give you access to suites and a lounge with constantly replenished food and beverages, as well as an honor-system bar.

The suites themselves are an oasis, whether you're weary from your journey up or worn out from a day of adventure in the village. Fatigue fades away as you enter your room, thanks to the soft, dulcet tones of jazz standards from Billie Holiday, Ella Fitzgerald, Rosemary Clooney and the like. If you love "Lounging with the Fairmont" (there are several compilations), they are available for purchase at any Fairmont location. In true chalet style, there's a fireplace in the sitting room. But the added bonus is that there's one in the bedroom, too. The separate closet /dressing area does invite you to unpack and stay a while. And the bathroom is spacious and equipped with Jacuzzi tub, multi-jet shower and his and hers sinks – a nice touch. Topping it off are the great toiletries from London-based Miller Harris. But here's a question: What's with the scale? Isn't there a rule against weighing yourself on vacation? I know. It's a two-part question.

A much handier – and less guilt-inducing amenity – are the complimentary umbrellas, especially since there was rain during our two-day visit. Of course, you can hole up in the coziness of your room with a bottle of wine, the fireplace and a complimentary movie selection from the lounge. But resist the urge. Even in the rain, there's plenty to see and do.

WHISTLER VILLAGE
Whistler Village is a five-minute walk from the Fairmont, across the street, into a tiny valley, past a babbling creek and covered bridge. Deck chairs by the creek tempt you to stop and smell the cedars. But there are hotel and village shuttles, if you prefer. Even on a gray, wet day, the fall colors pop, inviting you further and further into the village. Here you'll find over 200 shops selling everything from high-end fashion to hi-tech gear. And of course there are requisite coffee shops, bars and restaurants. We heard a lot of Australian accents around the village, especially among the staff. It turns out that Canada and Australia have a mutual yearlong working visa program that means lots of people from Down Under head Way Up to Whistler. There are a lot of British and German accents, too. In fact, most staff have their place of origin on their name tags, which is a great conversation starter.

The Village is also the hub of all mountain activities. Visit the Whistler Gondola Building or The Carleton Lodge for information on your next adventure.

MOUNTAIN BIKE PARK
Who needs snow? Skiing is not the only way to get down this mountain. In the off-season, over 200 kilometers of ski trails become bike trails and there are plenty of road warriors willing to carve their way to the bottom. In fact, this bike park is considered one of the best in the world. Bike trails are color-coded just like ski trails – green for easy, black diamond for expert. Bring your own bike or rent one starting around $50 for youth and $65 for adults. Of course, if you're going to take on the trails, body armor is a must and is also available for rent.

Heading up by lift there are signs reminding you which stop is yours! Even if you're not a biker yourself, it's fun to watch these guys come flying down the mountainside and wonder if you can find your inner daredevil. If you're brave enough to try, the Bike Park offers lessons. Check out the Air Dome, an 8400-square-foot indoor facility where you can practice your skills, falling into harmless foam pits if you take a spill.

If recreational "valley" biking is more your speed, 45 miles (28 kilometers) of trails offer spectacularly scenic rides. Bike rentals range in cost from $10 CDN for an hour up to $35 CDN for a full day.

ZIPTREK
Of course, mountain biking isn't for everyone. But ziplining is for anyone. ZipTrek provides a couple of different eco-adventures. Two zipline tours wend their way through the rainforest canopy. But if you just can't conquer your fears, there are walking tours that take you through an impressive series of suspension bridges, boardwalks and trails. That being said, there's absolutely no skill level needed for the ziplines. And you're in good hands with the staff here. They're safety conscious, checking and re-checking your harness along the way. With two guides per group, they do most of the work for you. On the platform, the first guide checks your gear, hooks you up and opens the platform gate. All you have to do is walk down a short set of stairs and literally step into thin air. Then off you zip! At the other end, the second guide brings you in nice and easy.

The longer of the two tours is a series of five lines, of which the longest is 2,200 feet. It's fast enough for adrenaline junkies, but easy enough for the timid. The guides are friendly and knowledgeable, peppering the experience with fun, but important facts about nature and conservation. (If you've ever wondered what a hemlock is, these guys have the answer!) And not only are you learning about the forest, but about how you can reduce your own environmental footprint and about how ZipTrek gives back -- from recycling to sponsoring Doctors without Borders.

PEAK ADVENTURE
For those who like to keep their feet firmly planted, there's always good old-fashioned hiking. Take the scenic gondola ride to the Roundhouse near the top of Whistler. From there, it's only a short walk to the peak. But up isn't the only way to go. There are over a dozen hiking trails marked according to difficulty, just like the ski trails. They range from Paleface, which is 0.37 miles (0.6 kilometers) and takes about half an hour, return; to High Note, which is 3.2 miles (5.1 kilometers) and which drops 902 feet (258 meters) in elevation. Along the trails you'll witness all manner of beauty – wildflowers, wildlife, old-growth forest, a glacier and the crystal blue waters of Cheakamus Lake. Be sure to dress in layers, though, as weather changes frequently and even when it's balmy at the bottom, it can still snow up top.

When you're finished your hike, stop in at the Roundhouse for lunch or a few drinks with friends. The view up here is stunning.

VIDA WELLNESS SPA
Whether you're tired from a day on the mountain, the weather's bad or you're just not outdoorsy, hitting the Vida Wellness Spa is the perfect pastime for most everyone. Located inside the Fairmont Chateau Whistler, this 4,250-square-foot oasis offers respite from the minute you walk through the door. Arrive a little early to fill out the necessary forms, then sit back, soak in the aromas and wait to be pampered. I opted for the one-hour Swedish Massage, followed by the steam room. And a Green Tea Facial that was so relaxing, I had to be awakened at the end. The spa offers an extensive menu of traditional and ayurvedic services as well as complimentary use of the change room and steam room. And for an extra fee, you can get the service in your hotel room at the Fairmont (+$15) or another local hotel (+$25).

FOOD
No matter what physical activity you choose, you're bound to work up an appetite. And in Whistler there is no shortage of options. From the cozy intimacy of the hotel lounge to the tantalizing tastes of award-winning restaurants, you won't know where to start first.

MALLARD BAR
Before venturing out of the Chateau Whistler, I stopped at the Mallard Bar for a drink and a snack. Its rich wood, large windows and central stone fireplace make it a perfect place to catch up on the day's events with your friends.

WILDFLOWER RESTAURANT
If you don't want to venture far for a proper meal, try the on-site Wildflower Restaurant. The garden salad and seafood chowder may sound like simple choices, but you'll be in for a surprise. The maple vinaigrette and enoki mushrooms elevate otherwise ordinary greens and the fresh local catch you'll find in the chowder make it extra hearty and satisfying. The fresh seafood linguine was deceptively large and so good, it nearly meant skipping dessert. That is, until the waiter offered to pack up a slice of lemon tart and forks to take back to the room.

CITTA'S
But don't get complacent at your hotel. Venture into the village and check out some of the local favorites. For a casual atmosphere that's more aprθs-ski, there's Citta's. It's a popular hangout with the patio crowd. But one small thing: I'm still not sure if I agree with the pickles in the Caesar!

ARAXI
If you're feeling like something more elegant, Araxi is a must. It consistently wins local awards and international praise as the best restaurant in Whistler. And it doesn't disappoint. The warm decor is inviting after a chilly, wet walk. And the staff is quietly, but efficiently attentive and helpful. The menu is tantalizing. And although it's short, you'll have a hard time deciding what to eat. Every description details a rich and mouth-watering combination of ingredients. Ricotta truffle gnocchi, heirloom tomato salad, Queen Charlotte halibut and Ahi tuna come beautifully plated and are so flavorful, you'll wish each dish would never end. The chef makes excellent use of local foods and the menu changes depending on what's available at any given time of the year. Oh – and did I mention the 11,000+ wine bottle collection? Sommeliers will gladly help you navigate the options!

If you do decide to visit, you're sure to have an unforgettable experience with a breathtaking view. I certainly did.

ABOUT THE AUTHOR
Cindy Jacobelli is a Toronto-based writer and television producer. At the age of 12 she decided she wanted to spend her life writing and traveling. She's been living the dream ever since.


*Please tell us what you think of this week's newsletter!






Pics From
The Trip
Lion's Gate Bridge
Sea-to-Sky Highway
Islands in the Pacific
Fairmont Chateau Whistler
The Lobby
The Lounge
"Lounging with the Fairmont"
Cozy Sitting Room
Fireplace in the Bedroom
Walk-In Closet
His and Hers Sinks!
Miller Harris Toiletries
Mallard Bar
En route to the Village
At the base of Whistler Mountain
Mountain Biker
Recreational Trails
Strapping In for Zipping
Rarin' to go!
Zipping Through the Canopy
Route to the Next Zip Line
On the Suspension Bridge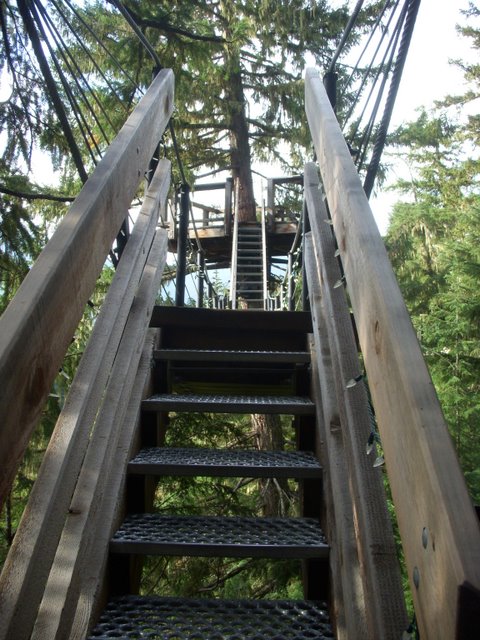 Just a Little Higher!
Wildflower Restaurant
Citta's
Yep ... it's a pickle in my drink!
Araxi
Ahi Tuna
Mmm ... Raspberry Napolean!
The Gondola Ride
View from the Gondola
Whistler Peak
View from the Peak
The Spa