WEB RESOURCES
OTHER ARTICLES
by David Zuchowski
Celebrating Mardi Gras – 220 miles west of New Orleans
Lake Charles, Louisiana's Mardi Gras celebrations offer something for everyone.
by Dave Zuchowski

Flying in over Lake Charles, Louisiana on a late evening flight from Houston, the view out the window was nothing short of spectacular. The sea of gold lights below seemed to cover every building and structure associated with the local gas and oil industry.

"It's our major business," volunteered Flo Dixon, wife of the town's ex-mayor leaning across the aisle of the plane.

While oil and gas help make Lake Charles the 12th largest port in the U.S. tonnage-wise, its Mardi Gras celebration, one of the state's largest, also generates $138 million into the economy of Southwestern Louisiana. Most people know that Mardi Gras in New Orleans can get rather raunchy, but its counterpart celebration in Lake Charles, Louisiana, 220 miles to the west, promises something suitable for the entire family. With Zydeco and "swamp pop" a gumbo cook-off, parades galore and a Royal Gala, Lake Charles is a fun place for the entire family to be the week before Lent.

Arriving in town on Saturday, I'd already missed the Children's Parade, the Chicken Run and Krewe of Barkus Parade, a procession of fantastically costumed canines. We also missed the Gumbo Cook-off, a contest that pits over fifty culinary teams against one another and attracts thousands who get to sample traditional chicken and sausage gumbo as well as its wild game counterpart. Yum!

I started my personal visit heading over to Lake Charles' Mardi Gras Museum where I was given a King Cake demonstration. For those who may not know, King Cakes are a Mardi Gras specialty, with roots that go back to 12th century France.

Mardi Gras celebrations officially begin on January 6, the day that celebrates the three kings arrival in Bethlehem to offer gifts to the infant Jesus. To honor the Twelfth Night event, hundreds of King Cakes are baked and consumed from January 6 through to Fat Tuesday, the day before the start of Lent.

Originally, objects such as coins or pecans were hidden in the cake and the person who found the object was responsible for providing next year's cake. In the mid-1900s, a small plastic baby became the substitute for the coin and pecan.

At our confectionary demonstration, each member of our group stood behind an unadorned cake, filled with one of thirteen flavors like peach or bananas foster and got to decorate away. First, we frosted the cake with the three Mardi Gras colors -- green for fidelity, purple for justice and gold for power -- then topped everything off with Mardi Gras beads, a small mask, tiny flags and a gold coin. As a final touch, we inserted the plastic baby into the soft flesh of the cake where it now waits for some lucky feaster.

Paula Stevens and Lucus Verret, owners of Delicious Donuts and Bakery, make each of their King Cakes by hand in round or oval shapes and even overnight them to customers across the U.S. "Of the thirteen flavors available, pecan praline is the most popular," says Paula. Delicious Donuts & Bakery, 2283 Country Club Road, Lake Charles, LA 70605, Tel: 337-479-2986.

A walk through the six rooms of the Mardi Gras Museum, said to be the largest repository of costumes in the South, only got me more enthused about the following evening's Royal Gala, an event that has all the town's 43 krewes' (organizations') kings, queens and other assorted royalty promenade through the cavernous Lake Charles Civic Center.

Mardi Gras got kick-started in Lake Charles in 1963 with impetus from local jeweler, Sammy Navarra, a member of the Krewe of Contraband. Over the years, the museum, housed in what was once the 1912 Central School, amassed 265 spectacular costumes, some with headdresses that weigh as much as 80 pounds.

"The top plume in the headdress can't be more than 18-feet from ground level," says A. C. Boudier, leading us past photos of past Mardi Gras queens and kings, a parade float that patrons can climb on, and my favorite costume of all – an elaborate eye-candy concoction with a mask, horns and drums and an African theme titled "Native Rhythms".

In addition to costumes, sequins and assorted gewgaws, the museum, located at 809 Kirby Street, touches on the history of King Cakes, krewe parades and other Lake Charles Mardi Gras themes.

Later that evening, I stepped on board The Latitude, a privately owned houseboat with an upper deck that powered out of Contraband Cove into Lake Charles to take part in the Lighted Boat Parade. Following a string of other watercraft, we headed to the stone embankment that fronts downtown Lake Charles, enjoying a buffet of Cajun food along the way.

On shore, a throng of revelers lined the lake pleading for a string or two of beads, which passengers on deck tossed with over-the-top generosity. Partygoers on board the boats literally went through oodles of beads before calling it a night and heading back to the boats' moorings.

Besides the Krewe of Krewe Parade, which winds through four miles of Lake Charles with hundreds of floats and ends the Mardi Gras celebrations, the Royal Gala on Monday evening is Lake Charles' top-of-the-line Mardi Gras event. Held in the Civic Center Coliseum, the Gala started with two krewes 25 years ago and has since grown to a visual spectacle of costumes worn by the kings and queens and royal court made up of 43 krewes who march through the center aisle of the Coliseum to the beat of pop music. Tickets for the 90-minute long extravaganza are only $5 and free to children five and under.

Before the start of the procession, Anne Monlezun, one of the movers and shakers of the event, was backstage with scores of other krewe members busily getting dressed in dazzling costumes bedecked with ostrich and peacock feathers and what seemed like truckloads of sequins.

"We feel that Mardi Gras should be enjoyed by everyone," says Anne. "That's why we're the only celebration in Louisiana that has a Royal Gala and so many family-oriented events."

In another part of the auditorium, costume maker Sheila Jones, was putting the last minute touches on her brother Craig Guillory's African-themed costume complete with a 60-pound American eagle headdress. Craig, a twenty-year member of the Chetu Jadi krewe, which translates from the Swahili as 'krewe of our ancestors', is a large man capable of carrying the weight of the stupendous costume, which, for a smaller person would pose a real problem.

Another premiere costumier, Kevin Hodge, is a member of the prestigious Krewe of Illusions, which seems to bedazzle everyone with its outrageous costumes. A member of the National Costumers Association, Hodge took the Grand International Award three years ago in Las Vegas with his dragon costume that sported a nine-foot tall headdress and 32-foot long tail.

On Mardi Gras evening, I managed to be on the receiving end of the bead toss, when I gathered about twenty necklaces thrown from floats by the revelers in the Krewe of Krewes Parade. To top it all off, at a block party along the parade route, I also bit into the plastic baby planted in my piece of King Cake. Because I was the lucky one to get the "prize", I'm now obliged to buy next year's King Cake for my hosts, a longstanding Louisiana tradition.

Note: The 2008 Mardi Gras season runs from January 6 to February 8. For more information on Lake Charles, phone 800-456-7952 or visit the website at visitlakecharles.org.

THE PLACE TO STAY
Isle of Capri Casino and Hotel: With a tropical theme, this luxury, 252-room hotel boasts whirlpool tubs in each room, free valet parking, a workout room, sauna, outdoor pool and hot tub, a video arcade, four restaurants and a massage therapist. The adjacent casino has over 1,700 slot machines and 90 table games, including a live poker room. Isle of Capri Casino and Hotel, 100 Westlake Avenue, Westlake, LA. 70669, Tel: 1-800-THE-ISLE.

PLACES TO DINE
Mama Rosa's: Bountiful Sunday Italian buffet bolsters a large menu of Italian options the rest of the week. Mama Rosa's, 425 Seventh St. Lake Charles, LA, Tel: 337-437-7667.

DeAngelo's Pizzeria: While the pizza is great so are the enormous salads and wonderful calzones. DeAngelo's Pizzeria, 121 S. Ryan St., Lake Charles, LA, Tel: 337-310-7499.

Steamboat Bill's on the Lake Cajun: Fried seafood dinners are house specialties, but don't overlook novelties such as shrimp or crawfish pistolettes (buns filled with saucy seafood) or rice and sausage boudin balls. Steamboat Bill's on the Lake, 1004 Lakeshore Dr., Lake Charles, LA, Tel: 337-494-1070.

Dave Zuchowski has been writing about travel for twenty years and his articles have made the pages of many newspapers and magazines across the country, including AAA, Pathfinders, West Virginia Magazine, Southsider, and Westsylvania. Currently, he is the travel correspondent for the New Castle News, a daily in the Pittsburgh area. In his spare time, he also puts his horticultural interests to good use on his 15-acre farm located near Centerville, Pa.





*Please tell us what you think of this review!
Some Pics
Mardi Gras Revelers
Mardi Gras Green Feathers
Puppet Master Mardi Gras Museum
King Puddin'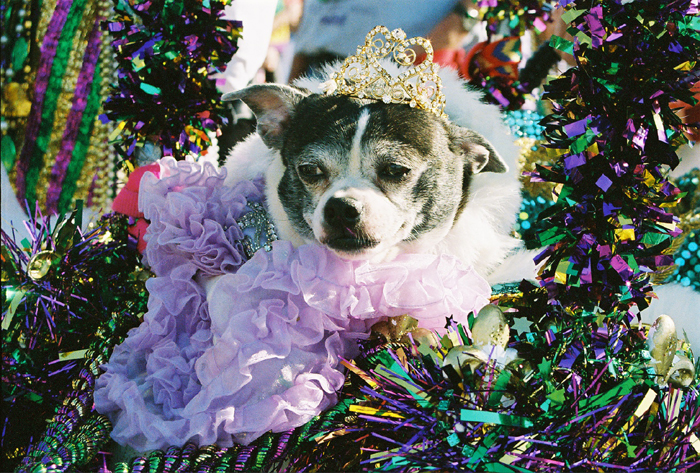 Puppy Queen Garland

(Photo credit: MonsoursPhotography.com)