WEB RESOURCES
OTHER ARTICLES
by David Zuchowski
Baltimore: A city to dine for
A culinary tour of Baltimore's must-try restaurants will leave you craving more.
By Dave Zuchowski

New York, Los Angeles, Chicago, San Francisco and New Orleans are usually thought of as American's culinary leaders. However, second tier gastronomic destinations have caught on to the food-obsessed mania sweeping the country at the moment, offering plenty of eye-opening gastronomic pleasures.

Take Baltimore, for instance. While you have always been able to get great seafood and some of the best crab cakes in the world in the City by the Bay, (Chesapeake, that is), the culinary scene has been improving continually ever since I can remember.

Starting 20 years ago, when I wrote my first travel article about Charm City, I've been entranced by the quality of both the cuisine and decor of the restaurants I'd managed to fit into my schedule. So much so that, when asked by the Baltimore Area Convention and Visitors Association (BACVA) to participate in a culinary tour with seven other writers and their guests, I jumped at the chance.

ADMIRAL FELL INN
Our home away from home during our two and a half day odyssey, was the historic Admiral Fell Inn, a European-style hotel located near the waterfront in a bustling area of town known as Fell's Point, designated Maryland's first National Historic District. Consisting of seven distinct buildings dating back to the 1770s, the inn is pet-friendly and the rooms are embellished with attractive 18th century-style furniture and named after prominent Baltimoreans of yesteryear like Edgar Allen Poe and Babe Ruth.

If you're curious about the inn's name, there was a man named William Fell, but the old salt never made it to the rank of admiral, although the title does make for a jocular play on words.

Included in the cost of the room are the Admiral's afternoon tea from 4pm to 5pm, Wednesday through Saturday, special tours hosted by "one of the resident ghosts" that tell about the history of the hotel from 5:30pm to 6:30pm, Wednesday through Saturday, and ghost sing-a-longs with sailor's punch and sea shanties from 7pm to 8pm on Friday and Saturday.

Interestingly, the inn foregoes the seemingly ubiquitous concierge for what they call an Experience Specialist, whose job it is to create tailor-made itineraries and escapes around town and special occasions right inside the hotel. Admiral Fell Inn, Historic Fell's Point, 888 South Broadway, Baltimore, MD, 21231, Tel: 410-522-7380 or call toll-free: 866-583-4162.

FELL'S POINT
After my four hour long drive from my home in Southwestern Pennsylvania, I took advantage of an hour's free time to stretch my legs and amble around Fell's Point, named for the Englishman who founded a ship-building enterprise in 1726 that would go on to produce the famous Baltimore Clipper ships.

Harking back to its pre-Revolutionary roots, the town's streets have names like Thames and Shakespeare, lined with antique stores, boutiques, restaurants and bars. In the center of Broadway, the quaint 1864 Broadway Market is where I encountered David Alperin, proprietor of Desperate Dave's Emporium, who informed me there are 46 bars in a five-block area of Fell's Point.

You'll find a lot of good eats at Dave's and everyone gets a free sample of his soups and gelato. If your first name is Dave, however, you'll also get a 15% discount on food items.



LEBANESE TAVERNA
Rested and ready for the evening's planned dine-around, our group of food junkies piled into a bus Jimmy Hendrix would have felt at home in, then headed to the nearby Lebanese Taverna in the Harbor East area, one of the city's newest and most exciting neighborhood destinations. The awe factor of the decor starts the minute you walk through the door and see the floor-to-ceiling cabinet that holds a collection of large and colorful glass Moroccan lamps and ceiling with billows like sails of a ship.

The restaurant has a touching history starting back in 1976 when Tonios and Marie Abi-Najm and their five children left Lebanon aboard a cargo ship with little in the way of possessions and headed for Virginia. After purchasing a pizza shop named Athenian Taverna, the story goes that their finances allowed them to change only half the sign and the Lebanese Taverna was born.

Since then, the siblings have expanded to nine locations in the Baltimore-DC region, each one with a unique decor. Hosted by Dany Abi-Najm, our group of travel writers shared a series of mezzas, the Lebanese version of tapas, starting with the house signature hommos (a mix of pureed chick peas, tahini, garlic, lemon juice and olive oil and warm, homemade pita and ending with shrimp arak - sauteed shrimp, garlic, onion and cilantro flavored with arak, a sweet, anise-infused liqueur.

The restaurant menu of authentic Middle Eastern cuisine prepared by chefs from the same region, lists around 40 mezzas and a dozen lamb dishes along with a variety of other meat and vegetarian dishes.

I was especially thrilled when Dany served me my first taste of Lebanese wine, a 2005 Ksara Chardonnay and a 1998 Chateau Musar made from the Obaideh grape, which Dany said has a cult following in London. Yum! Lebanese Taverna, 719 S. President St, Baltimore, MD, 21202, Tel: 410-244-5533.

PAZO RESTAURANT
For our entrée, we headed over to the gorgeous PAZO Restaurant, Baltimore's new Mediterranean culinary showplace. A reference to the Galician word meaning "grand house," PAZO celebrates the cuisine of Sicily, Campania, Catalonia and Sardinia in what used to be an old machine shop/warehouse, though you'd never know it by its lovely wrought-iron chandeliers, plush booths, Persian carpets, two-story tall curtains, mezzanine overlooking the main dining area and Tuscan flourishes.

Like diners in Mediterranean countries, especially Spain, PAZO's clientele seems to prefer arriving fashionably late, giving early birds a chance to enjoy their meal at a slower tempo.

Co-owner Cindy Wolf, a 1997 graduate of the Culinary Institute of America in Hyde Park, New York, was recently nominated for Best Chef of the Mid-Atlantic Region by the James Beard Foundation. Her partner and wine aficionado, Tony Foreman, is a certified sommelier with extensive and impressive experience as a restaurateur.

All of the food at PAZO is made by hand, using as many local, natural ingredients as possible. The kitchen offers a wide range of tapas, excellent breads such as the whole-wheat fougasse, made with sea salt and rosemary as well as main courses available in half portions.

Groups like ours can share large plates or individuals can pick from a repertoire of 25 small plates to create their own tasting menu. Items I can vouch for include the crispy mashed potato croquettes made with Manchego cheese, the wood-grilled eggplant dip with pomegranate and sesame seeds, the arugula and pear salad, shrimp with garlic, tomato and chili pepper and the wood-grilled lamb rib chops. PAZO Restaurant, 1425 Aliceanna Street, Baltimore, MD, 21231, Tel: 410-534-7296.

LEMONGRASS
The last stop on our moveable feast, Lemongrass, gave us a taste of Thailand in what used to be an old tack factory building just outside Little Italy. When you walk in the stunningly stimulating restaurant, you can't help but miss the massive statue of a Siamese female whose Bhoddisatva-like presence extends nearly to the second floor loft.

An outdoor courtyard that connects Lemongrass to its sister restaurant, Tsunami, is available for al fresco dining in the warm weather months. On my way to take a look at Tsunami, I walked past the waiter pick-up area and couldn't help admiring the beautifully presented platters of sushi coming out of Tsunami's kitchen.

We took dessert, a creamy, not-too-sweet, sticky rice pudding with fresh mango slices, in a room in back of Lemongrass' tall statue, where we sat at a long table on comfortable seats wondering how we still had room for more food after all we'd eaten our first evening in town. Lemongrass, 1300 Bank Street, Baltimore, MD, Tel: 410-327-7835.

After our marathon six-hour long dine-around, you'd think I'd be ready to sink into the soft mattress on my canopy bed at the Admiral Fell Inn. Wrong! I couldn't resist a chance to take in Charlie Wilson's War at the Landmark Theater, just up the street from the Lebanese Taverna. One link in the nation's largest theater chain specializing in independent films, the Baltimore Landmark is a seven screen film house, where patrons can sit in comfortable leather, stadium-style seats, indulge in a glass of wine or beer and peruse the concession stand. Yes, there is popcorn (made with safflower oil), but how about pizza, Philips crab cakes (this is Baltimore, you know), even a crab pretzel. You guessed it ... a large pretzel filled with crabmeat and topped with cheese. Landmark Theater, 1000 Lancaster St., Baltimore, MD, 21202, Tel: 410-624-2622.

JIMMY'S RESTAURANT
After a whirlwind first day overindulging in a progressive dinner through four of Baltimore's better restaurants, it wasn't that easy to rise and shine on day two. Still, a 9:30am morning get-together at Jimmy's Restaurant across Fell's Point Plaza from the Admiral Fell Inn, wasn't all that hard to navigate.

Bleary-eyed from the previous day's pleasures, our group of foodies hoofed on over to Jimmy's for one of the city's most popular restaurants for diner-style food. Locals have been enjoying Jimmy's home-cooked meals ever since it first opened in 1987. However, celebrities like Bill Cosby, Orlando Brown, Julia Childs, Muhammad Ali and Hilary Clinton have also passed through the front doors of this no-frills place reeking of homey atmosphere.

Gamblers might like to know that, at Jimmy's, you can play Keno via a statewide connection that allows you to place bets and see the results live on monitor screens while you order coffee shop basics (the milkshakes come highly recommended) as well as more exotic foods like scrapple from nearby Pennsylvania. Our adventurous group tried hefty portions of the ground meat and cornmeal patty that includes many of the same pork scraps you'll find in hot dogs and seemed to enjoy their first taste of this regional specialty. Jimmy's Restaurant, 801 S Broadway, Baltimore, MD, 21231, Tel: 410-327-3273.

TIMOTHY DEAN BISTRO
Appetites whetted, our next stop was the Timothy Dean Bistro, where we snuggled around Dean's intimate kitchen for a cooking lesson by a talented man who may have started out as a dishwasher but went on to work as a chef in France under Alain Ducasse and Jean-Louise Palladin at the Watergate Hotel in DC, before opening his highly-regarded Baltimore bistro three years ago.

Brandishing a copy of The Food Lover's Companion as a suggested companion to our own kitchen endeavors, Dean began our hands-on cooking class with an exquisite opener; butter poached Maine lobster served with macaroni and cheese kicked up a few notches with the addition of black truffles, going for $32 an 8-ounce can at the time of our visit!

Dean describes his style of cuisine as part Southern comfort, mostly French flair, which helps explain our unlikely first course combo, served to us in his beautiful and upwardly casual restaurant.

The affable chef is said to use natural ingredients in his cuisine along with free-range chickens and grass-fed beef. We got to sample some of the latter in the form of 24-hour braised short ribs (as tasty as they were tender) served with a Pinot Noir sauce and tangy wasabi mashed potatoes.

After returning to the kitchen to put the finishing touches on our pumpkin crème brulée with a blow torch to melt the sugar topping, we ended our class back in the dining room savoring the French dessert, flavored with the discernible taste of pumpkin purée.

Chef Dean offers monthly cooking classes, but his restaurant is also open for dinner Tuesday through Saturday for those who want to indulge in his creations without learning the tricks of his trade. Timothy Dean Bistro, 1717 Eastern Ave., Baltimore, MD 21231, Tel: 410-534-5650.

CINGHIALE
At Cinghiale (Italian for wild boar), one of Baltimore's newest restaurants, owner Tony Foreman led an Italian wine tasting session in the restaurant's Enoteca or wine library. With plates of Chef Julian Marucci's antipasti, charcuterie and breads before us, we sampled six whites and six reds from Italy. Foreman is extremely knowledgeable on Italian wine and wine in general and his love of the subject is evident when he speaks.

The restaurant cellars hold between 400 and 500 different wine selections, and patrons can taste eight to 10 of them in the Enoteca on Monday evenings between 6pm and 8pm. Each session is built around a distinct Italian region such Alto Adige, Tuscany and Umbria and costs $49. Advance reservations are recommended. On Tuesdays, from 5pm to 7pm, the restaurant offers 50% discounts on full bottles of any wine in the cellar purchased in the Enoteca. Cinghiale also frequently stages special wine dinners that spotlight select wines. Cinghiale, 822 Lancaster Street, Baltimore, MD, 21202, Tel: 410-547-8282.

ROCKET TO VENUS
Dinner that evening took us to the Hampden neighborhood of Baltimore, a hip area of funky stores, colorful restaurants and distinctive architecture that's also on the rise as a seductive place to live.

The name of our host restaurant, Rocket to Venus, clues you in to the amount of creative juices percolating in the area. Named for three amateur Hampdenite scientists who forked out $5,000 and built a 24-foot tall rocket in 1928 with the idea of heading for Venus, the eatery won the Best New Restaurant award from City Paper and Best Veggie award for its Brussels sprouts from Baltimore Magazine in 2007.

The Venus rocket launch proved a dud, but luckily none of the instigators were hurt. The restaurant is doing much better with a young, hip clientele that seems to relish a mishmash of dishes like fried pickles, perogies, Thai mussels, Schezuan noodles, Lehigh Valley-style cheese steak hoagies, and, my favorite, Wimpies, four, petite, two-ounce hamburgers with fried onions, ketchup and cheese.

Be sure to check out Venus' cocktail specials that come with names like Green With Envy (creme de menthe, creme de cocoa and cream) and Red Snapper (Crown Royal, amaretto and cranberry juice). Rocket to Venus, 3360 Chestnut Ave., Baltimore, MD 21211, Tel: 410-235-7887.

CAFE HON
How we ever had room for dessert after all the dishes we sampled at Rocket is one of the biggest mysteries of the day. Perhaps it was the short walk up the street and around the corner to Café Hon.

In a CBS interview with John Waters, the master of high camp film said that one of the five best things to do in Baltimore is to have lunch at this must-see eatery with a large pink flamingo mounted above the doorway.

Owner Denise Whiting, a powerhouse of energy and ideas, named her dining establishment, voted Baltimore Best Comfort Food award, after the word "hon", a term of endearment used by Baltimoreans for those they like. She also organized Hon Fest, which features all things Baltimore, including attendees who tease their hair into the enormous beehive hairdos of the 1960s.

The festival also features a contest to find the best "Bawmerese", Baltimore's unique accent, since Hampden's accent is generally considered the thickest of all the city's neighborhoods. During the annual kitsch and glam fest, scheduled for June 14 and 15 this year, four blocks of the street are blocked off for two days of fun that draws upwards of 30,000 people.

After listening to Denise speak of her enthusiasm for both her restaurant and her festival, we dove into the bags of goodies she gave us, pulled out pink feather boas and kinky sunglasses, put them on like Hon Fest groupies and stuffed ourselves with her homemade bread pudding and hot fudge sundaes. Café Hon, 1002 W. 36th Street, Baltimore, MD, 21211, Tel: 410-243-1230.

GERTRUDE'S
We completed our culinary romp in Baltimore the following morning by taking brunch at Gertrude's in the Baltimore Museum of Art, where we got to meet with owner John Shields. Most people are probably familiar with Shields from his PBS series, Coastal Cooking With John Shields or from his writings in The New York Times, Southern Living and Esquire Magazine.

Shields is also famous for his participation in the Berkeley culinary ghetto, where his Gertie's Chesapeake Bay Café joined with dining meccas owned by celebrity star chefs like Alice Waters and Jeremiah Tower to reinvent American cooking.

After getting Shields to autograph a copy of his latest cookbook, Chesapeake Bay Cooking, I sipped on a Dirty Gertie, a Chesapeake bay-flavored Bloody Mary with a shrimp garnish, then reveled in a unique version of Eggs Benedict that substituted crab cakes for the Canadian bacon called Eggs Gertrude. Gertrude's, 10 Art Museum Drive Baltimore, MD 21218, Tel: 410-889-3399.

Before leaving the museum, I ventured upstairs for a tour of the traveling exhibit titled Matisse: Painter and Sculptor, then drove my car to Baltimore's tony Mount Vernon area. To work off a weekend of overindulgence, I walked to the top of the George Washington Monument, a tall circular pillar topped with a standing statue of our nation's first president.

The tall Doric column is the first monument to Washington in the nation and a climb up the winding staircase to the top gives those with the stamina a camera-friendly view of the city. I'm proud of the fact that, not only did I make the 228-step climb once, but repeated the trek a second time for good measure. Even so, I doubt the net loss in calories was enough to offset the two previous day's gastronomic excesses. But that's the price you pay when you're a food-lover visiting a city full of culinary treasures.

For more information on Baltimore, phone 1-877-BALTIMORE or visit http://www.baltimore.org.

Dave Zuchowski has been writing about travel for twenty years and his articles have made the pages of many newspapers and magazines across the country, including AAA, Pathfinders, West Virginia Magazine, Southsider, and Westsylvania. Currently, he is the travel correspondent for the New Castle News, a daily in the Pittsburgh area. In his spare time, he also puts his horticultural interests to good use on his 15-acre farm located near Centerville, Pa.



Note: This trip was sponsored by the Baltimore Area Convention and Visitors Association.


*Please tell us what you think of this review!
Pictures From
The Trip
Jimmy's Restaurant Interior
Dave Outside Timothy Dean Bistro
Dave and CVB Rep Sara Hisamoto
Interior of Timothy Dean Bistro
Chef Dean Making Wasabi Mashed Potatoes
Lobster and Macaroni and Cheese with Black Truffles
Putting the Final Touches on Pumpkin Creme Brulee
Interior and Bar at Cinghiale
Wine Glass Set Up at Enoteca at Cinghiale
In the Enoteca
In a Festive Mood at Cafe Hon
Dave at Cafe Hon
Dave Wearing Cafe Hon Sunglasses
Owner Denise Whiting at Cafe Hon
Dave and John Shields Schmoozing at Gertrude's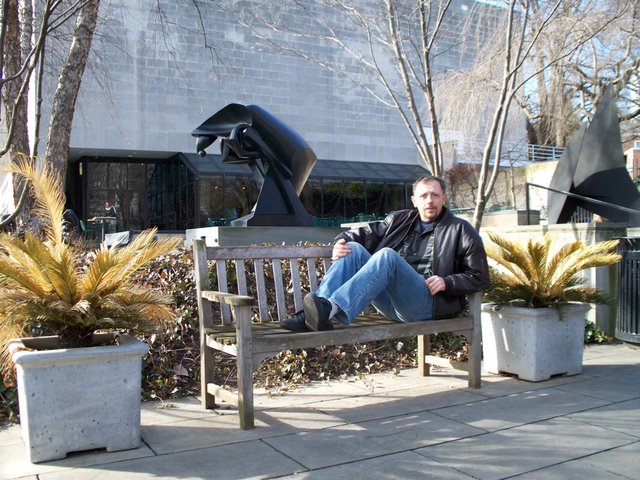 Foodie Resting Outside Gertrude's
Washington Monument at Mount Vernon Area
Baltimore From Top of Washington Monument