WEB RESOURCES
Discover Scotland
Exploring the mysteries of Loch Ness and beyond
By Devin Janosov

As an attorney, it's my job to seek out the truth and bring it to light for the benefit of my clients and any other interested parties. So, when Johnny Jet asked me to go to Scotland and search out the Loch Ness Monster, in anticipation of Sony Pictures' upcoming release of The Water Horse: Legend of the Deep (scheduled release date December 25, 2007) I knew that my training both in and out of court would benefit me, and you, the reader of my investigative journal. So let's begin with part one of my three- part series, chronicling the details of my amblings through Scotland on my search for one of history's most elusive and mystical creatures. Plus, we'll stop off at some great, must-see locations in Great Britain's northernmost region.

DEPARTURE AND ARRIVAL
Leaving the comforts of my apartment in South Norwalk, Connecticut, I began my adventure by catching a ride with a good friend to John F. Kennedy Memorial Airport (JFK) in New York. I was booked on a British Airways flight scheduled to depart at 10:20pm, and I arrived the required two hours before boarding. JFK is a large airport and I was impressed with how fast I was able to check in, check my bags and find the gate from which I was scheduled to depart. It was unnecessary for me to get a boarding pass; the evening prior, I checked in online at britishairways.com. From the website, I was able to confirm the departure times for all of my flights and was also able to print my boarding pass and confirm or change my seating assignment 24 hours before departure. This convenient service is excellent and I highly recommend that anyone flying British Airways take advantage of it.

Now, as flyers go, I'm one of the worst. I don't much care for the knowledge that I'm hovering some 30,000 feet above terra firma; in fact, I've been known to have moderate panic attacks while on an airplane. That said, I usually acquire some form of prescription from my physician before boarding any form of sky-carriage. Normally, my flying aid of choice is Valium, but I find Xanax is a serviceable substitute. Now, knowing I was facing a six-hour-plus flight before reaching my first destination at Heathrow Airport, I would normally ingest the medication upon arriving at the gate, then stumble my way to my seat and pass out before the safety briefing. But this time, since I was representing the many travelers who look to JohnnyJet.com for advice and information, I decided to delay my self-medicating until I got a feel for what kind of amenities would manifest on my flight. And I have to say, I'm glad I did.

I was booked in a seat on British Airways' new "Club World" class of seats and it was quite an enjoyable experience. Coming from someone who hates flying, that's really saying something! First of all, I was not on the plane for 30 seconds before I was presented with a menu offering complimentary treats like a pesto chicken sandwich with roasted red peppers and a hot towel for my face. I ordered my sandwich before the people in coach had even finished shuffling aboard and was given a complimentary glass of champagne to calm my nerves while I waited. Immediately I was taken aback by the comfort of my surroundings. My seat was electronically the equivalent of a Craftmatic® adjustable bed, having many different settings and positions, including one that, for all intents and purposes, turned my seat into a bed. I also had a barrier to separate me from my neighbor and my own personal television screen with a wide variety of television programs, radio stations and current movies from which to choose. So comfortable were my surroundings that I found myself watching a movie while eating my sandwich and at one point, I had completely forgotten I was traversing the Atlantic 30,000 feet in the air. For rates and travel times, as well as all the amenities offered, visit britishairways.com. I discovered even greater benefits to being a "Club World" member on my return trip, but I will cross that bridge when we come to it.

I arrived at Heathrow on time and awaited my connecting flight to Glasgow without incident. I boarded the considerably smaller plane and buckled in for the quick jaunt north to Scotland. I arrived, again, without incident, made my way to the baggage carousel, quickly reclaimed my possessions and met up with the group with whom I'd be exploring for the next seven days. I also met my guide for the trip; a young Scotsman named Alasdair Robertson (also known as Rab) who worked for Haggis Adventure Tours. He helped us grab our bags (because British Airways lost two passengers' luggage) and we headed to the huge blue bus that would be our carriage for the next seven days. Now, I cannot say enough about Rab and Haggis Adventure Tours, and I can be totally honest when I say that they made the trip as enjoyable as it was. As a Haggis guide, Rab knows all the history and attractions associated with every square inch of the country. He knows the best restaurants and nightspots, whether you find yourself in the highlands or the lowlands, and he is a genuinely entertaining bloke with whom to just sit and talk. Rab and I became fast friends and had a few private adventures away from the group … we'll get to those later. After boarding the bus, we departed Glasgow and headed to Pitlochry for our first evening's respite.

THE ATHOLL PALACE HOTEL IN PITLOCHRY
The ride from Glasgow to Pitlochry was just an hour and as we traveled, I was struck by the similarities between Scotland's landscape and the one found in my Connecticut backyard. It's easily understood why that particular part of the United States is known as New England, because despite being five time zones away from home, the view out my bus window was familiar. What was not familiar was the view out the front windshield, as we were definitely driving on the wrong side of the road. I quickly told Rab to get back on the right side of the road, and he offered me the explanation for not only why the Brits fancied driving on the left, but also why this backwards custom actually makes more sense than the one we honor back in the US.

The reasoning goes like this: In the old days, when one traveled primarily by horseback, it was not uncommon to encounter some form of enemy, vandal or general miscreant while riding on the road. The Brits chose to ride on the left-hand side of the road so that, in anticipation of needing to draw swords against an enemy combatant, one could easily pull the sword from its sheath and wield it in the name of self-preservation. Because the right hand was the only hand one would use when engaging in sword play (I believe at this point, southpaws were considered evil and were promptly done away with via drowning, burning or some other form of torturous demise), it was essential that the enemy be to the rider's right; hence, the Brits always traveled to the far left of the pathway. The custom continued and carries on to this day, though I didn't see many Brits drawing swords on the highway! Besides, we have certainly but sadly proven in America that one can fire all forms of firearm at passing motorists while traveling on the right-hand side of the road. But I digress ...

We pulled into the lot for the Atholl Palace Hotel and I immediately recognized it as foreign compared to Connecticut. An impressive stone castle, the Atholl Palace loomed over the lush green Scottish hillside on which it stood. Well-kept gardens and a winding driveway made the Atholl Palace seem like something out of a fairy tale. We checked-in, retired to our rooms to freshen up, then met in the lobby for dinner. My room was an impressive suite, with views overlooking a beautiful Scottish countryside and a bed big enough to sleep a king and a pair of chamber maids; though I searched thoroughly, I was unable to locate said chamber maids. I unpacked my dinner attire, took a quick shower then headed downstairs to meet my group for dinner.

The dining room was like the rest of the palace; warm wood structures met by a rich burgundy carpet that swished ever-so-slightly beneath the feet. We were given a table near a window overlooking the grounds and were doted on by a collection of servers throughout the meal. The menu boasted a large selection of Scottish seafood and game and I learned from the wait staff that much of the food found in Scottish restaurants was caught or killed not far from the dining room table ... and not long before dinner. Lamb, venison, beef, shellfish and various other sea dwellers could be found in abundance all around the region and a visitor is guaranteed a fresh meal no matter what they fancy. I chose a chicken liver and duck pate appetizer that was served with cranberries and toast points. It was a fair pate and I felt I had more than gotten my money's worth at £8; especially considering the generous portion. For my main course, I had Scottish beef with chipped potatoes. The meat was tender and juicy, the potatoes were thick and crispy "steak fries" and I even found the haggis to be quite enjoyable; of course, that was before I found out what haggis actually is. Haggis can most easily be described as all the vital organs of an animal ground up and cooked in said animal's stomach lining. It tastes much better than it sounds and I wish I had never discovered its true ingredients, because I was unable to eat it again after that first night. I skipped dessert that night and instead retired to my room with a cup of coffee. I fell asleep quickly in my enormous bed and awoke ready to begin my trek through the countryside.

First thing in the morning I stopped downstairs and met Rab for a quick breakfast prior to checkout, and before I knew it, we were back on the road. Before leaving I stopped at the front desk and grabbed a card with the Atholl Palace room rates and found it as far ranging as the menu the evening before. Depending on time of year, the number of evenings stayed and whether or not you want dinner, the price fluctuates from £66 for a one-night, B&B stay between January 3rd and April 5th to £110 for a one-night, B&B plus dinner stay between July 1st and September 29th. As a lone traveler, Pitlochry doesn't boast much in the way of excitement; but for a romantic getaway, the peace and quiet and rustic charm of staying in an authentic Scottish castle cannot be matched by many other propositions … though there was one waiting a little farther down the road. We stopped in town at Pitlochry to get rations for the day's adventure, and the scenery astounded me. I was also amused by the signage and found the quiet town to be remarkably similar to Prague.

THE HIGHLAND FOLK MUSEUM AT NEWTONMORE
Our first real stop on day two was the Highland Folk Museum at Newtonmore. On these grounds, you can wander back in time and see the way the highlanders of Scotland lived in the days of the Jacobites and highland clans. First opened in 1995, the museum is presently undergoing a £5 million renovation and currently boasts 80 acres with an actual highland settlement circa 1700. The structures found at the archaeological settlement are the same as those that housed the bravest of hearts hundreds of years ago. While walking through these houses, I was reminded of the little pig that built his house out of sticks. I quickly came to realize that, despite the obvious building code violations, that wolf must have had some serious lungs to knock over a structure like this. Inside one such house I found a peat fire burning (peat is the material used to give scotch whiskey its smoky taste), as well as some traditional Scottish tools and furnishings for the time period.

But there is also a newer settlement established on the grounds that illustrates what life would have been like in the highlands in the 1930s. While wandering this green-scape, a traveler can visit a tailor's shop, a little red schoolhouse, a church, a curling pond, a working water-powered sawmill and a farm. There's even a pigpen with the biggest sow I have ever laid eyes on. She was a friendly pork chop and even came by the fence to say hello and have her ears scratched. A great destination for children because of the outdoor air, animals and educational nature, the Highland Museum offers a glimpse into the past that one can't readily find anywhere else. The current rate is £5 per person and it's open from April to October, but they are hoping to be open year-round once the renovations are completed. For more information, visit highlandfolk.com, or call 0 1540 661307.

CAIRNGORM MOUNTAIN IN AVIEMORE
The next stop on our way through the highlands was Cairngorm Mountain. Responsible for separating the highlands from the lowlands, Cairngorm boasts a sub-arctic environment, four-thousand-year-old artifacts of prehistoric settlements, The Big Grey Man, a funicular and the highest restaurant in the U.K. Despite visiting in May, I can tell you the label "sub-arctic" is deceptively optimistic. Even at the base of this mountain, the temperature harkened to something more like February in Connecticut, and as the funicular dragged us up the side of the precipice, the thermometer dropped precipitously. In fact, by the time I reached the visitor's center at the top, I was sure I was back in grade school waiting for the school bus on a cold January morning; only this time I wasn't bundled up tight by my mother's loving hands. Rab, our fearless kilted tour guide, was not fazed in the slightest by the temperature and was more concerned about the strong wind exposing his backside than he was with the frost I could see forming on his legs.

Once inside and exposed to the warmth of a good heating system visitors can see the way mountain life and sports have evolved over the years. On display are the climbing accessories an individual would have used some 50 years ago, as well as the wonderful equipment one could find today. Most notable however was the story of The Big Grey Man, Scotland's own version of a yeti or abominable snowman. Spotted by hikers at varying times throughout history, it's said he likes to sneak up on unsuspecting climbers on the sides of Cairngorm. This apparition has been known to scare even the most seasoned climbers to a point of madness culminating in the climber running screaming and scared for his life down the mountainside. Scientists have theorized that the man is actually an optical illusion played on climbers' eyes by their own shadows being cast on tiny water molecules in the air; but that theory doesn't account for the large footprints seen in the snow closely on the heels of each sighting. Though predominantly on the hunt for Nessie, I was also actively keeping an eye out for any other paranormal critters that might claim residence in the Scottish countryside.

Our last stop while at the peak of the mountain was the observation deck and Ptarmigan Restaurant. The Ptarmigan, located at the peak of the mountain, is known for its hot chocolate (which, I must say, was quite delicious; especially when accompanied by some shortbread cookies) as well as for being the highest restaurant in all of the United Kingdom. Dinner at this restaurant is considered by many to be one of the 25 top things to do in Britain if you're a "foodie" and I must say, if the rest of the menu is anything like the hot chocolate, it's well worth the funicular ride and frostbite. If I were The Big Grey Man, I would definitely stop in for a cup of cocoa whenever possible.

Cairngorm is open year-round and offers excitement for skiers, mountain bikers, campers, hikers, climbers (both rock and ice), kayakers, and white water rafters. Ptarmigan has even been known to host the occasional wedding or corporate function. For more information on Cairngorm, visit cairngormmountain.org, or call +44(0) 1479 861261.

AVIEMORE HOTEL IN AVIEMORE
The Aviemore Hotel was probably the most parochial hotel we stayed in during our travels. It was like any other major hotel and convention center. It has a mini-mall inside where you can buy clothes (an endeavor my fellow travelers who had lost their bags were contemplating after sporting the same outfit they flew in 30-some hours before.) It has an all-you-can-eat buffet lunch and the rooms were very "business traveler". The one saving grace was the restaurant, where I enjoyed a wonderful dinner. The most bizarre entrée was black-faced lamb, a delicacy Rab was more than happy to devour. What we all found strange however was not the preparation, nor the presentation, but rather the fact that the kitchen felt it necessary to describe the color of the lamb's face. It seems an odd image to evoke just prior to consuming the creature and we all agreed that it must have been an intentional folly or just a sick joke. I dined on the trio of lamb (presumably their faces were the standard white prior to being butchered and served to me) and it was the best lamb I've ever tasted. I passed on appetizers and dessert that particular evening, as I was still full from the hotel's all-you-can-eat lunch buffet we investigated late in the afternoon. Instead, I enjoyed a few glasses of wine. Scottish restaurants actually boast a fairly wide selection of wines; the pinot noirs were a hit at almost every restaurant we visited on the journey.

After dinner we retired to the bar for a few drinks and I, being the scotch lover that I am, decided I would have a taste of Dalwhinney before making my way outside and around the sprawling building to my suite. The whiskey was as delicious in a Scottish bar as it is in my living room and the company quickly turned to political talk (considered a big bar faux pas by most) as the drink glasses' pessimistic condition hastened. By the time I left my comrades, I had learned that Scotland has a large set of oil reserves somewhere in the North, that they have been supplying Great Britain with oil and a generous profit-sharing opportunity for years and that the recent Scottish elections seemed to be moving the country towards financial and political independence. At this point I was reminded of what it was like to argue, or quite simply, be at work, so I decided to go and catch up on some television … a desire not easily fulfilled in Scotland.

I returned to my room, threw off my clothes, washed my face and climbed into bed, ready to watch some good, old-fashioned late-night tellie; only I quickly realized that I was destined to be disappointed, and that said disappointment was not likely to subside until I returned state-side. As it turns out, the BBC has four channels from which to choose, none of which featured anything remotely entertaining. Plus, to make matters worse, Tony Blair had just announced that he was stepping down as Prime Minister, so that was obviously drawing the most coverage. But despite Tony Blair, the only other channel that showed even the slightest promise of entertaining programming was the Sky Network. I believe one night I caught a showing of the movie The Good Son with Robert DeNiro and on my last night I managed to find Air America with Mel Gibson, and Robert Downey Jr.; other than that, I found that television in Great Britain leaves much to be desired. However, I did find it odd that almost every room in which I stayed came equipped with a DVD player. I don't know how many travelers pack DVDs with them, but I will tell you this: had I known I was going to be provided the equipment, I would have brought a small library of my DVDs. I have trouble falling asleep without a television, an affliction that proved most inconvenient while staying at one of the more isolated accommodations along the way. The particular night in question at Aviemore, I fell asleep to the dulcet tones of the BBC newscasters embroiled in a political debate; quite similar to the one I had so deftly escaped moments earlier in the bar.

Our next stop was to be Inverness, the country's fastest growing city and the closest city to the infamous Loch. Probably the most enjoyable portion of the trip, Inverness proved to be the most 20-something friendly location we visited, excepting the major city Glasgow, of course ... I am, after all, only 29 years old. A decent nightlife, whiskey distilleries and sea creatures within a short drive and home to the best hotel I've ever visited, Inverness comes highly recommended.

Join me next week for part 2 of my Scottish adventure and the hunt for Nessie.

*Please tell us what you think of this week's newsletter!

All information presented here is accurate at the time of publication but prices, dates and other details are all subject to change. Please confirm all information before making any travel arrangements.

Note: This trip was sponsored by Visit Britain.
Pictures From
The Trip
Greg is jealous that he isn't going to Scotland
Our fearless leader Raab
View from my room at The Atholl Palace
Lounge at The Atholl Palace
Dining room at The Atholl Palace
My room at The Atholl Palace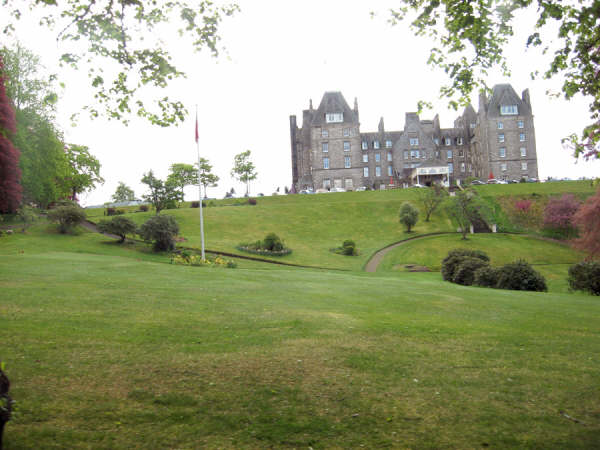 The Atholl Palace from the gardens
Wrong side of the road, buddy!
Art in Pitlochry could be found in unexpected places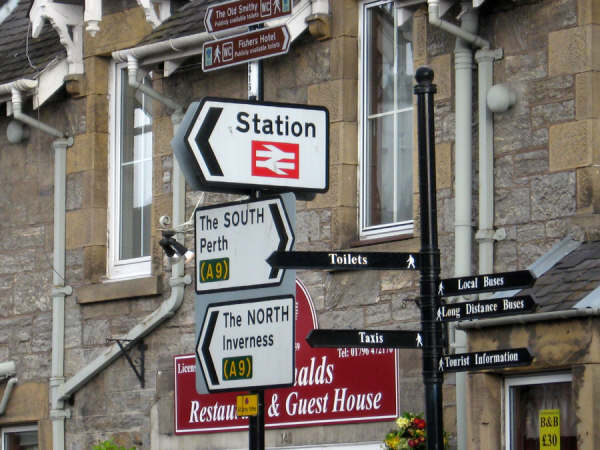 Where's the bathroom?
Pitlochry streetscape
The type of house Braveheart would have lived in
A genuine Scottish kitchen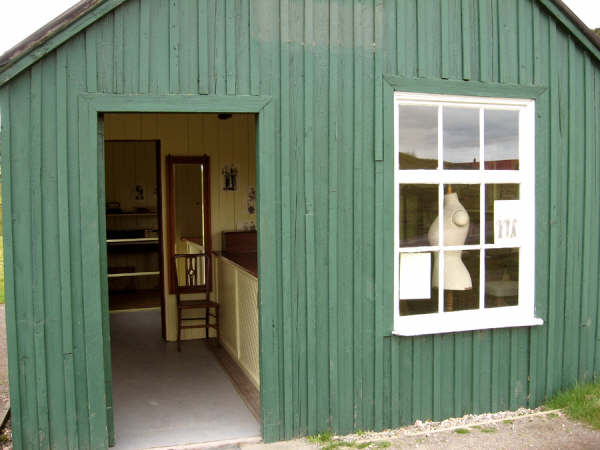 A tailor's shop at the Highland Folk Museum
Old-school school house
A big pig for petting
His head was the size of our bus
Inside the funicular
A long ride to the top
Hiking equipment circa 1930
A more modern take for hikers
The Legend of the Grey Man
View from the top
My room at the Aviemore Hotel
The spacious shower at the Aviemore
A well-decorated lobby (Aviemore Hotel)
A delicious trio of local lamb
A well-set table and talkative group
A lunch buffet