WEB RESOURCES


OTHER ARTICLES
BY GEORGETTE

A weekend in Martha's Vineyard
The island's 'secret season' is something you'll want to discover for yourself.
By Georgette Diamandis

I recently visited Martha's Vineyard during the "secret" season for a relaxing, quiet, yet action-packed weekend. The "secret season" starts in April and lasts until Memorial Day, then starts again after Labor Day and goes through mid-October. My weekend visit was in late September and my experience on the Vineyard rekindled my love for the island's way of life after being jaded by the crowds of summers past. Martha's Vineyard was named after an English explorer's daughter, after tripping on the vines, which were most likely poison ivy and not grape! I learned this from Martha's Vineyard historical tours and The Martha's Vineyard Museum. To set up a tour with Martha's Vineyard historical tours, e-mail Elizabeth Villard at mvhistory@earthlink.net. You will also hear some gossip and ghost stories along with the historical facts! Check out Martha's Vineyard online at mvol.com and be sure to look at the videos of each town. Note: The "special season" is synonymous with "secret season".



NEW BEDFORD, MASSACHUSETTS
But first, let's start at the beginning, in New Bedford's old town, a National Historic Park. I drove the two-plus hours from my home in Connecticut and parked at the fast ferry parking lot and caught the free shuttle to the ferry terminal. I was the only one on the shuttle bus that morning and didn't have to wait. I purchased a ticket ($64R/T), left my bag with the friendly staff and took the 10 minute stroll up Johnny Cake Hill past the Seamen's Bethel, the original church found in Herman Melville's great novel Moby Dick, to the world's largest museum on whales and whaling, The New Bedford Whaling Museum. The enormous skeletons of blue, sperm and humpback whales impressed me. There are also interesting antique prints of whaling, including one of Melville's, intricate scrimshaw and a half-scale model of The Lagoda, a whaling ship from the 1800s, which children (and adults) can climb on to get a feeling of life aboard in cramped quarters. The old town is worth spending some time in if you like antique shops and there are excellent food shops like Miguel's, a Portuguese-style diner on Union Street.

Back at the terminal I caught the fast ferry and arrived in Martha's Vineyard an hour later. The quick trip was fun and scenic. We (a group of writers) were met by the Winnetu resort van and taken to The Winnetu, which means 'beautiful' in Wampanoag, the language of the original people of The Vineyard. The Winnetu is located in Katama and it is hard to believe that this secluded haven is so close to bustling Edgartown. This Nantucket-style inn is set back from the ocean because of Martha's Vineyard regulations and has a nice view of the ocean. The sound of waves crashing on the sand cannot be missed. A human-sized chessboard, like one I saw in Geneva, Switzerland, beckoned to be played. The group settled into their individual rooms and prepared for dinner.

MY ROOM
My room was the East Chop suite and had an alcove with a queen bed, a kitchenette and a bathroom separating the living room. A balcony with Adirondack chairs overlooked the expansive lawn and the dunes out to the distant beach. My colleague was in the room next to mine, but I could not hear her. The rates for this room go from $250 on up to $800, depending on the time of year. This is yet another reason you'll love the secret season.

DINNER AT LURE
Dinner that night was easy to get to, just downstairs in the resort's restaurant Lure. Chef Mark Goldberg is into buying local and organic and makes maximum use of the fishermen, farms and farmers' market on the island. The atmosphere is cozy at night and since breakfast is held in the same place, light and airy in the day, with an awesome deck. There is a separate family dining room where parents can relax with other families and young children can watch TV when they are done. My striped bass was really fresh and the interesting choices for dessert (like apple tart with Guinness ice cream or Espresso crème de pot) make this restaurant superb. Winnetu Inn, 31 Dunes Road, Edgartown, MA 02539, Tel: 508-627-4747.

EXPLORING THE WINNETU
The next morning we sampled the many choices offered at Lure's buffet breakfast and then boarded one of the antique vehicles from the resort to see more of The Winnetu's expansive property. There is an old fire truck and an open-air, old-fashioned milk truck with bench seats. We checked out the fitness center and then Matakeesit, the property that has houses for rent instead of rooms. We rode complimentary bicycles around the property (including one built for six!), and enjoyed the maps of bicycle routes left for us in the room. Next, we went to the nearby Katama Air Field where we had lunch at The Right Fork, a retro diner at the air field and then some of us brave souls had a bi-plane ride with a third generation bi-plane pilot. I really enjoyed the view and listening to where all the Hollywood stars had homes while our pilot pointed them out. The bi-plane has an open cockpit and due to the noise, you need to wear an old fashioned Snoopy-the-Baron helmet equipped with earphones. I personally asked not to do the loop-to-loop since I didn't think my stomach would be able to hold on to the excellent lobster salad lunch I'd just eaten! The ride was thrilling.

THE FARM INSTITUTE
Next, we toured the Farm Institute, right next-door to the Winnetu. We learned that the mission of the Farm Institute is to provide children with knowledge and experience working on a farm as well as provide food for the island's farm stands and restaurants. The children go to camp to become stewards of the land while learning to care for farm animals (pigs, chickens, ducks, belted Galway cows) and grow vegetables. They also sell their vegetables at the farmers' markets and become connected with the whole process of producing food.

MORNING GLORY FARM STAND
Next, we were off to the nearby Morning Glory Farm Stand to buy some produce, jams and muffins. We viewed an artist's palette of vegetables where we could see the fruits of the labor of the Farm Institute. This was a beautiful and delicious shopping experience!

EDGARTOWN
The next day we took the Winnetu's free water taxi to Edgartown and shopped in the historic and charming village. Then we boarded the very quick (five-minute ride) ferry to Chappaquiddick, to partake in an hour-and-a-half nature tour of Cape Pogue Wildlife Refuge and see the old lighthouse (Admission: $25). Our ranger drove a pick-up truck while we sat in the back and enjoyed the view of the Poucha Pond and the unusual birds like oystercatchers and others visiting from the Tundra on their way south. He would get out every now and then and share his knowledge with us when he spotted interesting things. He found native beach plums, which we tasted, and seashells, lady slippers, which he tasted! It was amazing to learn interesting things like the fact that lighthouse keeper lived out in this remote spot with his family. It was a breath of fresh air, literally, to be away from civilization and in such a peaceful, secluded natural place. TheTrustees.org has many other tours, including kayaking if you're looking for something a bit more adventurous.

We went back to The Winnetu and enjoyed strolling to the beach while families were playing croquet on the giant lawn. That night, we dressed up in island casual wear and headed out to historic Oak Bluffs, to see the colorfully painted gingerbread cottages and the large open-air, tin-roofed stage. Afterwards, we had dinner at Sweet Life, where we sampled the island's best such as halibut over sweet pea risotto and Hubbard squash soup. The atmosphere is romantic and cozy in this old restored house, the walls decorated with paintings by a French painter and the fare is amazing.

I am now a total secret season convert and even though I spent my honeymoon sailing on The Black Dog's Shenandoah, a double-masted schooner in mid-summer, my future trips will be in May, September, April or October. It isn't hard to imagine why visiting the Vineyard during the off-season is the way to go. Let's see: its easy to get reservations at great restaurants, room rates are slashed up to 25%, crowds in Edgartown are non-existent and the natural habitats are pristine. It really was so special, but sssssh! Don't tell anyone. It's a secret!

ABOUT THE AUTHOR
Hi, I am Georgette, a writer and artist (here's my website) based in Connecticut. I am also Johnny Jet's older sister, who quite possibly ignited his first spark of interest in traveling to exotic places, when at the impressionable age of 14, he saw my trip to Australia last three years! Whether skiing in the mountains, snorkeling in the tropics, or exploring faraway cities, I am always game for traveling and the privilege of writing for my baby brother's website JohnnyJet.com. Of course, coming home to my husband Cam, our dog Baci, and three cats - Ace, Arrow and Wizard - is great, too!


*Please tell us what you think of this week's newsletter!






Pics From
The Trip
Dad, Wolf and me at home in front of my paintings
Winnetu resort
Cozy bedroom
Dunes at Winnetu beach
Brunch at Lure
Living room at Winnetu
Family dining room
Pool
Great Lawn
Shrimp at Lure
Chess set at Winnetu
Lobster Salad at Right Fork
Biplane passenger Georgie Jet
Biplane ride
Martha's Vineyard Museum
House in Edgartown
View from backyard of Edgartown House
Edgartown Harbor
Oyster Catcher in Chappaquiddick
Lighthouse at Chappaquiddick
A visit to Cape Pogue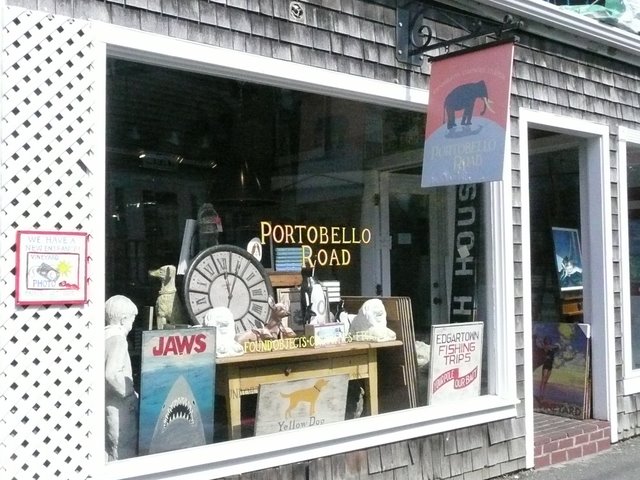 Shopping in Edgartown
Wish you were here!
Kids at Farm Institute
Pigs at Farm Institute
Morning Glory Farm Stand
Halibut over sweet pea risotto at Sweet Life
Sunset at Winnetu