WEB RESOURCES


OTHER ARTICLES
BY GEORGETTE

Georgiejet spends a long weekend in New York City and Washington, DC, checking out the pet-friendly Affinia Hotels.

Flying from Burlington, Vermont, via US Air to NYC's LaGuardia Airport was a breeze. I took the NY Airport Service bus from LaGuardia to Grand Central ($12) and walked the three blocks southeast to the Affinia Shelburne Hotel on 37th and Lexington Avenue. My first impression came via the wide-smiling doorman with his cute fedora hat.

The lobby was intimate, modern, and buzzing with people. The receptionist, Jada, was incredibly friendly; she checked me in efficiently and then came from behind the counter to hand me my key. I was impressed with her warmth and her special attention (which she gives to everyone!). In fact, Affinia comes from the word affinity and the entire hotel staff strives for friendliness.

The hotel was recently renovated to the tune of $25 million, and my room, an eclectic blend of modern and old, was luxurious with high ceilings and spaciousness-a rarity in NYC (the building has been a hotel since the 1920s). Fred Astaire once played miniature golf on the roof, which is now an awesome open-air rooftop bar in the summer. My Affinia on Affinia's website lets you pick from the pillow menu: There are six different kinds, from down, Swedish memory foam, magnet (for aches and awesome dreams), and iPod to buckwheat and hypoallergenic foam. I enjoyed heating up the buckwheat in the microwave and listening to the walking tour of NYC in my iPod pillow while laying in bed! Of course I had to try all six. In case you forget to order the pillows in advance, you can call room service or housekeeping and they are as affable as the reception staff.

Art from Shelly Klein's interesting characters grace the lobby elevator and show up on your bed in the form of a red stuffed cat or dog squeak toy, which is perfect since the Affinia Hotels are pet-friendly. Next time Baci, my chocolate lab, is coming with me. For now, she will have to be happy with the red dog pillow I brought her!



The Restaurant Rare is located in the lobby, with the most congenial staff I have ever met in any New York City restaurant. Rare is known for their burgers, and shoestring fries with a trio of dipping sauces, and is also excellent for breakfast.

My friend D'arcy joined me for a night at Birdland, the legendary jazz club that is in the heart of Broadway. The Affinia Shelburne has special tickets and can arrange a seating. The gig was about two hours and we sat behind the bar without a view of the jazz trio. I recommend getting there early to eat, as the food is good and the restaurant tables are close to the musicians. We shared the seafood jambalaya and shrimp gumbo. The renowned Jim Hall Trio performed that night. Jim has been playing the jazz guitar since the '50s and together with his alto saxophonist and stand-up bass player their set made for a pleasantly tranquil evening.

DC or Bust
The next day I had breakfast at Rare, shopped a little at nearby Lord and Taylor, and made my way to Penn Station for a quick (less than three hours) and relatively inexpensive (under $70) Amtrak ride to D.C. I chose to ride in the spacious and aptly named Quiet Car. The train pulled into stately Union Station and the Affinia Liaison Capitol Hill Hotel was a short walk away. Actually, it is the closest hotel to the Capitol. As in New York, the lobby is small, modern, and buzzing. I walked across the street to the Hyatt, which was large and empty. Our hotel had quite a lot of celebrities staying for a Holiday on Ice show. Their restaurant, Art and Soul, is under the direction of Oprah's personal chef, Art Smith, and this is his homage to southern cooking. The pecan-crusted chicken, fried green tomatoes, and buttermilk mashed potatoes were as good as they sound. For breakfast, try lemon yogurt pancakes and fresh-squeezed juices. In warm weather the Pooch Patio serves your four-legged friends everything from doggie beer to steak!

Room at Affinia Liaison Capitol Hill Hotel
My room was intimate and had everything I needed. The flat-screen TV, king bed, and two club chairs all fit flawlessly. Recently renovated, the design was modern classic and the patterned wool carpet felt great underfoot. Although the room was much smaller than the room in New York, it was cozier and more comfortable for a single gal or even a couple. I was on the top floor and the city noises were minimal. There is a health club and a rooftop pool and bar during the summer. Their bath amenities are called Sprout Out and are made by English manufacturers Gilchrist & Soames, but they are not offered in small sizes to take home but come in rather large bottles attached to the shower. This is one of the ways the Affinia Liaison Hotel is working on helping the environment. The gels and shampoos smelled like kiwis and I wished I could take them home!

Washington, DC, is a museum!
First, I had to explore DC with a quick walk to F Street to checkout Madame Tussaud's Wax Museum . I never was interested in it before but I really had a good time; I enjoyed the video of how they made a Beyonce wax figurine. The Spy Museum, the Museum of Crime and Punishment, and the shops at National Place were next on my list, and finally the new Newseum near the mall. I then met some travel colleagues in the Art Bar at the Liaison Capitol Hill, where a variety of interesting cocktails were being sampled like The Washingtonian: amaretto, peach bitters, gin, and mint syrup. Affinia hotels offer in-room spa treatments and at the Liaison Capitol Hill I had a lovely massage. The 50-minute massage was $150 and a great way to end the day. The next day, I had planned a power outing to visit as many national monuments and museums as possible. The weather was amazing, in the low 70s, and it was November! I walked from the Capitol to the Washington Monument to the World War II Memorial and the Vietnam Memorial and of course the Lincoln Monument. Tired but not done, I then went off to the Corcoran Gallery of Art for a John Sargent exhibit.

The next day, I went shopping in Georgetown, Dupont Circle, and Kolorama. I took the subway, which was so clean, not crowded even at rush hour, and easy to maneuver-a bit different than the NY subways I am used to. Dupont Circle reminded me of neighborhoods I used to peruse in Sydney, Australia: quaint and cosmopolitan with great shops. I met an old friend and we walked by the embassies in Georgetown before finally settling down for dinner at Bangkok Joes for Thai food by the harbor.

The next morning I took a limo arranged by the Affinia Liaison Capitol Hotel to Ronald Reagan International Airport for the hour-and-a-half flight back to Burlington, Vermont. I definitely need to go back to DC. There are so many museums and monuments that a weekend visit just scratches the surface. Not to mention the hip, young international vibe and boutique shopping in the neighborhoods. And the Affinia Liaison Capitol Hill makes it easy with its prime location, fantastic service, and weekend rates under $200 per night.

ABOUT THE AUTHOR
Hi, I am Georgette, a writer and artist (here's my website) based in Connecticut. I am also Johnny Jet's older sister, who quite possibly ignited his first spark of interest in traveling to exotic places, when at the impressionable age of 14, he saw my trip to Australia last three years! Whether skiing in the mountains, snorkeling in the tropics, or exploring faraway cities, I am always game for traveling and the privilege of writing for my baby brother's website JohnnyJet.com. Of course, coming home to my husband Cam, our dog Baci, and three cats - Ace, Arrow and Wizard - is great, too!

*Please tell us what you think of this week's newsletter!

NOTE: This trip was sponsored by Buffalo Bill's Cody/Yellowstone Country.




Pics From
The Trip
Georgiejet in NYC
Doorman at Affinity Shelburne
Christmas window in NYC
Gg and Baci at Burlington Airport
Bedroom at Affinity Shelburne
Living room at Affinity Shelburne
Birdland Jazz, NYC
Birdland window
Sliders at "Rare" NYC
Quiet Car
Seats in Amtrak coach car
Underground in DC
Union Station, DC
Bedroom at Affinia Liaison
Capitol
Lincoln Memorial Monument
Washington Monument
The Mall
Corcoran Gallery Lion
John Sargent at Corcoran Gallery
Gg and Lincoln at Wax Museum
Building in Georgetown
Chef at Art and Soul
Lemon yogurt pancakes at Art and Soul
Trio of Apple Desserts at A & S
More Georgetown Buildings
French restaurant in Georgetown
Lisa and I at Bangkok Joe's
Beef and Basil at Bangkok Joe's
Bison monument in Georgetown
Dean and Deluca's in Georgetown
RR Int airport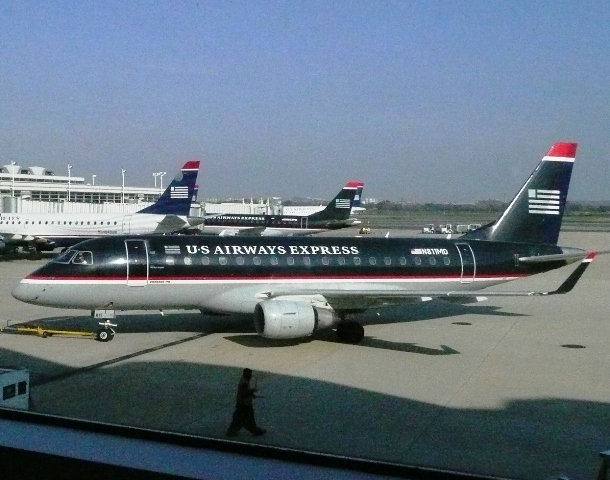 Jets at RR Int. airport