WEB RESOURCES


OTHER ARTICLES
BY GEORGETTE

Southwest Florida
Discover the historic and natural gems of the "other Florida".
By Georgette Diamandis

BRADENTON'S THE LONDONER INN
After spending a weekend with my sister and her family on the more populous east coast, my husband Cam and I headed west on Florida's I-75 (Alligator Alley) to Bradenton, north of Sarasota. Here, we spent one night at The Londoner, Manatee County's only bed and breakfast. Our authentically English host Jennifer Taylor, met us when we arrived and served tea for me and beer for Cam, and we relaxed on the 1926 wrap-around porch after our three and a half-hour drive. The inn is so cozy and each room is elegantly designed and named for a section of London. The bathrooms are all newly renovated and spic and span. Breakfast the next morning was a real treat when Jennifer cooked us an English-style breakfast, with homemade scones made from English flour with clotted cream and strawberry jam, eggs, English bacon and English tea. We hated to leave and promised to be back soon. The prices are very reasonable; our room was $140 a night. She also does an English teatime, if booked in advance. The Londoner Bed and Breakfast, 304 15th Street West, Bradenton, FL, Tel: 866-472-8283.

FERRY TO LUNCH
I drove south to Venice Beach to pick up my Uncle Tom and his partner, Pat. We then headed to Palm Island to have lunch. Cam sadly went back to Connecticut where it was still cold. Palm Island is in Cape Haze in Charlotte County. The three of us took a water taxi, which cost $5 for each of us. If you're staying for any length of time, you need to catch the car ferry, which takes all of five minutes. Lunch was at the casual and typically Florida Rum Bay Restaurant on Palm Island. We enjoyed crab cakes and Florida grouper sandwiches. It was great to catch up with my Uncle and Pat and they enjoyed the excuse (me) to visit the island.

LIFE ON A QUIET ISLAND
Palm Island Resort is laidback luxury. Guests literally have the entire island to themselves and there is nothing to do except go to the beach, play tennis, enjoy the pools, ride the bikes or golf carts and visit Stump Pass to watch dolphins. There is only one restaurant, The Rum Bay, and one snack shop called Coconuts Bakery. Not really a bakery, it serves egg sandwiches, waffles and bagels. Palm Island is really a place to get away from it all, but if you must leave, the car ferry is available morning until 11pm. If you miss it coming back, you will have to sleep on the mainland! The shelling on the beach was so remarkable and there are many sharks' teeth as well. The accommodations are individual villas, which hold four units, all facing the beach. I was in a two-bedroom unit, which had two bathrooms, a large living room and dining room, a full kitchen and a screened-in porch. The view was fantastic. If I'd been there with my family, I would have brought in all the groceries, used the kitchen facilities, and enjoyed the beach! Palm Island Resort, 7092 Placida Road, Cape Haze, Florida 33946, Tel: (800) 824-5412.

GETTING OFF THE ISLAND
The first night, the group and I did leave the island via car ferry to go to The Palmetto Grill in nearby Cape Haze. The menu features local free-range meats, fresh fish and organic vegetables. The Colonial African atmosphere of the interior was a surprise and the fare was impressive.

NATURAL FLORIDA
The next morning, we headed out on the beach at Palm Island to join a naturalist (Missy Christy) and learn about the native birds and unusual winged visitors. We got a glimpse of a rare American oystercatcher sitting on her nest in the middle of the beach. Luckily, it is protected from humans and hopefully, the hatchlings have fledged by now and the wild pigs didn't see them (yes, there are feral hogs!). The coast on Palm Island is also a very important place for sea turtles. A sticker on the glass sliding door reminds guests to close the blinds from May to October so the lights from the units do not affect the turtles. Eco-conscious Palm Island Resort does not have lights on the beach, since they confuse baby turtles and send them in the wrong direction. Unfortunately, the naturalist told us that one species, the giant leatherbacks that come all the way up to where I live in Connecticut, would probably be extinct in 10 years. Maybe, with more education and environmental protection, they will survive. A special perk of Palm Island is the natural state of the beach, which makes for a romantic evening stroll under the stars, unusual for Florida, without the bright lights.

GASPARILLA SOUND
We had coffee at Coconuts Bakery and then took the car ferry off the island to have lunch at The Fishery in Placida, an old waterfront restaurant serving local seafood including alligator, snapper and grouper. The casual restaurant was bright and airy and the food was tasty. Next-door is the Margaret Albritton art gallery and gift shop. Our planned kayak tour was cancelled due to unusually heavy winds, and although I was grateful not to be out in the cool weather, I was disappointed as it would have been a real adventure, meandering around the mangroves spotting wild birds and alligators. A two-hour guided eco-tour is available seven days a week for $50. We ended up going out with loquacious Captain Jack (Bly!) on their flat bottom boat instead, and heard shocking stories about wildlife behavior including our friendly flipper as we toured the Gasparilla Sound. Actually, he was quite a character and even gave us the history of the female and male pirates, one of whom Gasparilla Sound is named for (Jose Gaspar).

After the cruise, we ventured out to Boca Bistro in Boca Grande at the beginning of Gasparilla Island. I toured the small Island House Inn, which has rooms that are tastefully decorated with Tommy Bahama furniture and a dark interior courtyard. Designed for fishermen and their families, you can leave your boat or hire one to take you out for legendary tarpon fishing. The fishing, which starts in April and goes through July, is some of the best in the world. The restaurant is on the second floor overlooking mangroves and the waterway. The bistro was cozy and sophisticated. My hanger steak with Argentinean Chimichurri sauce was unbelievably tender. The service was attentive, but not pretentious, just warm Floridian hospitality. We almost missed the car ferry as we stayed to enjoy the delectable desserts.

FLORA AND FAUNA OF WILD FLORIDA
The next morning, we left Palm Island and traveled west on Rt. 15, then Rt. 41 and crossed the Peace River to Punta Gorda. You can take a wildlife cruise on the Peace River through King Fisher Fleet. They leave out of Fisherman's Village, another place to stay where you can have your boat docked next-door. The small marketplace has cute shops and a wine store that features Florida-made wine from grapefruits, mangoes and other fruits.

73,000 ACRES OF WILDERNESS
In Punta Gorda I jumped in a swamp buggy to see cracker cattle and native wildlife at Babcock Wilderness. A camouflaged open-windowed school bus, like the ones I saw in Fiji, takes you through part of the vast estate for a 90-minute guided tour. The price of $17.95 for adults and $10.95 for children includes the bus ride or if you want, you can walk on the nature trails. I tried walking and found the mosquitoes too hungry, but the ride was great and the guide was knowledgeable and funny. She stopped at all the places where her animal friends recognized the bus. I really enjoyed the visit from a long horned cow, a mama pig and her four piglets, and even some alligators that seemed to "pose" for us as we drove by. The infinite former "Cracker" cattle ranch is so unusual for Florida and you can really see what old Florida looked like before civilization descended upon it. "Crackers" was the name given to the cowhands that cracked their whips to get the cattle to move. Our tour guide's last stop was at a bayou where we walked along the boardwalk and enjoyed the incredibly large swamp cypress trees. At the end of the boardwalk are the Florida panthers in a large enclosure. These two large cats were once "pets"; now they roam around in their fenced-in yard, happy to see people. How do I know? They purred loudly when we came close to the fence! Unfortunately, there are less than 50 Florida panthers left in the wild and this is one of the only ways humans will ever have contact with them.

CIVILIZATION WITH SPA TREATMENTS
We checked into the lovely AAA Four Diamond Sanibel Harbour Resort & Spa overlooking Sanibel and Captiva Islands, located in Punta Rassa where the Caloosahatchee River meets the Gulf of Mexico. The resort spans 85 acres. My luxurious room had two king-sized beds and overlooked the islands. Rates start as low as $109 in the off-season. The lobby is grand and there are two outdoor pools. For dinner that night, we set sail on the Sanibel Harbour Princess, a 100-foot yacht with a scrumptious buffet and would be a perfect place for a wedding reception. For breakfast, you can choose the buffet at Tarpon House off the grand lobby and enjoy the array of fruits, pastries and hot items or just get a latte and pastry in the Palm Court Bakery. Across a walking bridge is the spa building where many birds and starfish hang out. The spa has 29 treatment rooms! I had a steam shower and worked out in the fitness center. This building also has an indoor pool, a championship tennis complex, and a kid's club.

EDISON AND FORD WINTER ESTATES
Driving down Fort Myers' McGregor Boulevard, you feel like royalty. For 15 miles, it is lined on both sides by royal palms, the first 200 of which were imported from Cuba and planted by Thomas Edison. The palms are a fitting entrance to his winter estate, which he purchased in 1885. A former cattle ranch, this became the winter escape of two friends, Ford and Edison, an industry mogul and an inventor. The Edison and Ford Estates are located on 20 acres of land right on the Caloosahatchee River and close to downtown. The gardens are wonderful to wander through and the historic homes are preserved with original furniture. Edison's laboratory is exactly the way he left it in 1931. Here, he discovered an alternative source for rubber, using our native goldenrod plants. There are impressive plants throughout the estate, including the largest banyan tree in the US. Mina Edison's Moonlight Garden is restored with the same blue and white flowering plants of the original. If you're a car buff, antique model Ts are on the estate. This is an educational and relaxing half-day's activity for people of all ages.

THE VERANDA RESTAURANT
While in Fort Myers, have lunch at The Veranda Restaurant, a romantic structure built in 1902, with an outdoor garden for enjoying the sunshine. In the Japanese koi pond, I watched an enormous koi swimming around as his many "children" followed him. The outside garden is the preferable place to eat, unless you want to escape the heat. The Veranda, 2122 Second Street, Fort Myers, FL 33901, Tel: 239-332-2065.

SANIBEL ISLAND
Sanibel Island was originally Santa Isybella Island, named by Ponce de Leon who discovered it in 1513. An arrow from a Calusa Indian, the now-extinct indigenous people, later mortally wounded him. The 50 miles of powder white sand beaches and the temperate climate of Fort Myers and Sanibel make this area among the top 10 hottest winter destinations in the country designated by American Society of Travel Agents, Fodor's, and USA Today. The natural, pristine Sanibel Island is home to 6,000 acres of J.N. "Ding" Darling National Wildlife Refuge, which occupies half of the island. The 90-minute tram ride is the way to go and costs only $12, which includes a knowledgeable guide. You can even kayak in the preserve with a guide. Our guide (a skinny, Mel Gibson look-alike) was able to spot different creatures that we may not have noticed and explain symbiotic relationships like the tall ibis who puts up with laughing gulls next to him feeding off of his catch while they alert him to any predators. The preserve is accessible by your own vehicle for $5 but they prefer if you take the tram to alleviate the carbon dioxide damage emitted by cars. For this reason, the refuge takes a break from humans and is closed on Fridays.

OCEAN'S REACH
Another place to stay right in Sanibel is Ocean's Reach, a 64-condo complex facing the Gulf of Mexico, steps from the beach with a heated beachside pool. Ocean's Reach, 2230 Camino del mar, Sanibel Island, FL, Tel: 239-472-4554.

DOC FORD'S
For dinner that night, we headed out to Doc Ford's, an internationally themed sports bar named after the owner Randy Wayne White's character in mystery novels. Randy traveled to all the same places as Doc Ford: Vietnam, Central and South America, Australia and other tropical places while writing for Outside Magazine. His travels provided the inspiration for his novels and his cuisine. I had the Campeche fish tacos, grilled grouper with pico de gallo sauce and the conch chowder. It feels like you are in the Caribbean and you can buy one of his best selling paperbacks while you're there!

CAPTIVA
Next day, we drove through Sanibel to Captiva, a small island originally named "Isle de los Captivos", where pirate Jose Gaspar kept his prisoners. It's famous for shelling as well as for being where Anne Morrow Lindbergh wrote her book Gift from the Sea, inspired by all the beautiful shells. We took a charter boat out to Cabbage Key Island and had lunch. The cruise leaves at 10am, and returns at 3pm, leaving two hours to have lunch at the historic inn built in 1938 by author Mary Roberts Rinehart. On the way out of the harbor, I spotted two manatees frolicking with each other. And the entire cruise was chaperoned by silly, athletic dolphins who rode the tailing waves. The restaurant walls are plastered in one dollar bills, dispensed by tourists and every year $10,000 are donated to charity. The island is small and quaint and there are six rooms at the inn if you want to stay overnight. The overlook was a highlight, as well as the land tortoises.

Our final night ended with a gallery crawl down Andy Ross Lane until we reached the beach and The Mucky Duck bar where we had a cold one and enjoyed the sunset with all the other tourists who were there for the same ritual. We walked back down the lane and had dinner at Key Lime Bistro, a Caribbean inspired outdoor and indoor café. The lobster tails and snapper were delicious, but they are famous for their key lime pie, which has been featured in Bon Appetit Magazine, and their glittering array of cocktails. My trip to the west coast of Florida was coming to an end, but the warm people, the history and nature will linger in my soul for a long time.

I am dedicating this article to my Uncle Tom Horton who came to visit me in Palm Island, even in ill health, and has now gone to play that great golf game in the sky. I love you, Uncle.

For exploring Florida in general, check out visitflorida.org; here you can narrow down your search or go directly to fortmyerssanibel.com for Lee County. For information on Charlotte Harbor area, visit charlotteharbortravel.com.

*Please tell us what you think of this week's newsletter!

Note: This trip was sponsored by Visit Florida.




Pics From
The Trip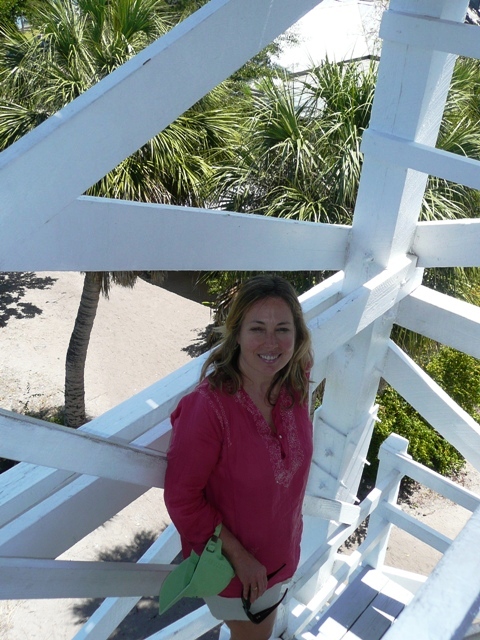 Georgie-Jet
Family
Londoner room
Jennifer Taylor's breakfast
Cam on porch at Londoner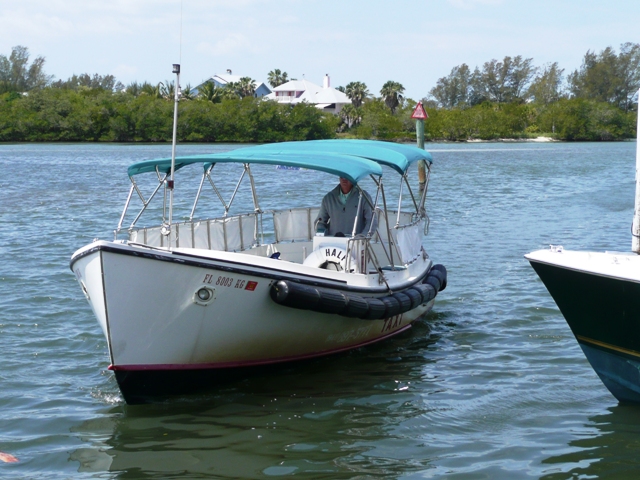 Water taxi
Uncle Tom
Uncle Tom and Pat at Rum Bay Restaurant
Palm Island
Interior Palm Island
Palm Island Beach
Birding on Palm Island
"Swamp Buggy" Babcock Wilderness Adventures
Cracker cattle
Guide at Babcock
Swamp cypress
Cougar at Babcock
Gasparilla Sound
Fishery Restaurant
Grande Tours kayak
Guide (Mel Gibson look-alike) at Ding Darling Preserve
Ibis dealing with laughing gulls
Osprey feeding young
Blue heron
Veranda Restaurant
Daddy goldfish
Edison estate
Interior of Edison estate
Ford Model T
Edison's lab
Captiva cruise boat
Sunset at Captiva