WEB RESOURCES


OTHER ARTICLES
BY GEORGETTE

Outdoor adventure at Lake Tahoe
Come along for a solo skiing adventure out west to California and Nevada's gorgeous Lake Tahoe.
By Georgette Diamandis

Summer's official arrival might be just around the corner, but for all you ski-lovers, it's never too early to start planning next season's ski trip. In Tahoe, the ski season runs from Thanksgiving to mid-May, depending on the snow. However, this place is a year-round outdoor adventure playground, so if you prefer, you can grab your mountain bike and hiking boots and head out there now.

LAKE TAHOE
Lake Tahoe is rife with giant pine trees, an indigo blue lake, a cerulean blue sky and during the winter months, there's an abundance of snow, providing epic skiing and snowboarding. Although mine was to be a quick, three-day trip and I was traveling solo across the country, I couldn't pass up the opportunity to visit this exquisite place.

GETTING THERE
Flying Southwest Airlines from Hartford, Connecticut to Las Vegas and then on to Reno was a trip in itself. Southwest is a basic airline with no assigned seats, just roughly outlined sections, limited snacks, but nice, no-nonsense flight attendants. The family I traveled next to told me that they'd paid $1,000 round-trip to travel from Hartford to Reno for five seats. At those prices, there's just no complaining about the dry coffee creamer!

After my layover in Las Vegas airport, which was like a casino with lots of slot machines and a few B-list celebs, I got back in the Southwest Airlines cattle line to fly to Reno. The hour and a half ride was interesting, boasting scenery below that ranged from desert to mountains. After landing, I grabbed my bag from the overhead rack and rented an all-wheel-drive Subaru Impreza at the Hertz counter, where I was offered a better rate than if I'd remembered my AAA card number. Next, I took I-80 W and then 89-S to North Lake Tahoe. The easy drive took about 45 minutes and I didn't get lost, which is something to write about for a directionally challenged person like myself! I arrived at The Resort at Squaw Creek, which has just undergone a $53 million renovation! I parked in the self-parking lot, 300 yards from the entrance, left my bags with the bellhops and went straight to the patio, called The Sundeck, to enjoy the first bit of hot sun I'd seen in a very long time. At the patio's adjoining barbecue grill called The Chuck Wagon, I ordered a hamburger. It was excellent and I was finally able to relax. I'd been up since 4am to begin my journey.

CHECKING THINGS OUT
Eventually, I made my way to the pool area, which is down the stairs from The Chuck Wagon. Equipped with my bathing suit, I visited the beautiful pool and the several hot tubs, one for adults only. The air was cool, about 45 degrees, but the pools were heated and quite lively as children splashed about and the sun warmed the air.

After an undetermined amount of time, the sun began to set and I headed up the long stone staircase to check out my room. I was struck by the exterior of black glass and wondered why this design had been chosen. I learned later from General Manager Marc Sapoznik, that it was meant to blend in with the pine trees and look less obtrusive. I'm not sure it works, but I was very excited when I opened the door to the room. It was a ground level suite, literally 50 yards from the Squaw Creek ski lift that takes you up to Squaw Valley. The warm colors of the fabrics, along with the natural wood and slate contrasted with the cool black exterior and immediately reminded me that I was in a high-end western ski resort. The living room had a fireplace, comfy couches, a flat screen TV and a dining area with a loaded kitchen including a stove top, microwave and toaster. Best of all, both the adjoining bedroom and living room had grand views of the slopes. The bathroom had a colorful slate floor, natural wood moldings, a granite-top sink, bathtub and separate shower. The juniper- and sage-scented bath products were lovely. Resort at Squaw Creek, P O Box 3333, 400 Squaw Creek Road, Olympic Valley, CA, 96146, Tel: 530-583-6300 or toll-free: 800-327-3353.

READY, SET, SKI!
The next morning I was the first to arrive at the rental shop. I picked up my favorite K2 Burnin' Love skis and Dolomite boots (performance ski and boot rentals costs $69 per day; regular equipment is $39 per day), proceeded to the Squaw Valley access ski lift and waited for 9am to board. The lift ticket was $73 for me, but kids pay only $10 and active military personnel ski for free. Being the first one up the lift, I was the only one going down the slope -- an amazing feeling! Since it was morning, the conditions were a little icy and I needed to use extra caution, particularly since I was alone. I skied into the main base area for the Squaw Valley Resort, and saw some remnants of the 1960 Winter Olympics, when Squaw Valley beat out European ski resorts for the opportunity to host the Olympics. Why? The conditions here are almost unreal. It is not unheard of to get a dumping of four feet at one time and because of the cool temperatures, the snow lasts all winter. The average annual snowfall is 450 inches! This place is not like Vermont, where a warm patch of rain can ruin everything. Tahoe residents like to brag about their snow and tell you that Colorado and Utah get their sloppy seconds, never equaling the amount of snow dumped here. The conditions, along with 34 lifts to access 4,000 acres of skiing, make Squaw Valley Resort awesome!

After getting a cup of tea at an outdoor cafe at the base, I took the funitel (a large, Swiss-like gondola) up with several other skiers and snowboarders, all excited to get out there on this perfect day with its bluebird sky and hit the empty slopes ... empty because it was a Monday. I arrived at the top and headed up Gold Coast to the beginner/intermediate area and found the conditions had softened up to a mashed potato consistency. At Squaw, the resort is so huge and there are so many runs, that they name the lifts, not the ski runs. I like this idea because the lifts are also labeled green, blue or black. You'll never find yourself mistakenly at the top of a black diamond run with no way to get down except on a wing and a prayer! I skied down to the Bailey's Beach area, which I got a kick out of since it sported the same name as my local beach in Connecticut. Here, I had the privilege of helping a young ski instructor cart several very young skiers (three- and four-years-olds) up the small hill for their very first chairlift ride. Boy, was I nervous! But the kids were calm and stayed in the back of the chair. It was a great experience for me to see the incredible expressions of joy on their little faces. Near Bailey's Beach at High Camp, there is an outdoor pool, a skating rink and a restaurant. I skied several more runs and then took the Red Dog Chair up to ski down to The Resort at Squaw Creek. A lot of interesting things happen to me when I travel alone, maybe because I'm more observant at these times, but here, another one occurred. I shared my lift with an older gentleman who happens to live on the same street I once lived on in Cottesloe, West Australia, twenty years ago! The same street!

RELAXING AT THE RESORT
Back at the Sundeck, I met the General Manager Marc again, who shared his excitement about The Resort at Squaw Creek with me. He told me about the summer activities like the 18-hole championship Audubon-approved golf course and the incredible hiking and biking. Check out GoTahoeNorth.com to learn more. Next, I headed down to the spa located near the pool to have a hot stone massage with therapist extraordinaire Willie Browning. I have had hot stone massages before, but was never much impressed until now. Willie has the touch, using the stones to warm the muscles and his skilled hands to break them down. He is super-talented and very nice as well. I enjoyed the sanctuary, a place to relax after the massage and took a steam shower in the beautiful slate bathroom. A 50-minute hot stone massage costs $135.

DOG SLEDDING
Another must-do is the dog sledding, which I was unable to get a reservation for because it's so popular, they're booked weeks in advance. Reserve this ahead of time so you can enjoy an hour of being pulled around Olympic Valley by 10 exuberant huskies. Cost: $95 for an adult, midweek.

DINNER
Dinner that night was at The River Ranch, a historical restaurant and lodge right on the river. I had the wild caught Alaskan salmon with Meyer lemon beurre blanc sauce. The freshness of the salmon and the sweetness of the lemon sauce were refreshing. The setting is very picturesque and the sound of the river running alongside the restaurant adds to the après-ski ambiance. My husband Cam says this place is hopping on a summer afternoon. The River Ranch Lodge, Corner Highway 89 and Alpine Meadows Road, P.O. Box 197, Tahoe City, CA, 96145, Tel: 530-583-4264.

BREAKFAST AT SIX PEAKS GRILL
Another perk of skiing out west and being alone, is getting up early. The next morning, I had breakfast at Six Peaks Grill in the resort at Squaw Creek at 7am. A beautiful array of fresh fruits and baked goods were on display at the buffet but I went for some good, old-fashioned oatmeal and berries and a Starbucks coffee. It was still dark when I dined along with one other couple, but the waiter was still chipper. All of the staff at The Resort at Squaw Creek were very friendly and that left a great impression with me as I left and headed south on 89 towards South Lake Tahoe. The view of the brilliant blue Emerald Bay, the huge sequoia trees and the snowcapped mountains was spectacular. It was a good thing I'd had my coffee before I headed around those hairpin turns. The drive took over an hour and I must say, it was one of the highlights of this trip.

SOUTH LAKE TAHOE
I arrived in South Lake Tahoe and was a little taken aback by the high-rise hotels and casinos. I parked the car and went to the rental shop to gear up for my day of snowboarding at Heavenly Ski Resort www.skiheavenly.com. A lift ticket at Heavenly will cost you $78, kids' tickets are $39. I was paired up with New Zealander Josh Briscoe for a six-hour private snowboard lesson. Yikes! It was only my second time boarding and after a couple hours of fun, but going nowhere, I asked if we could trade in our boards and get some skis. This was a much better idea, as I was able to enjoy what Heavenly is all about: the views of Lake Tahoe below as you ski. What a place! The conditions were perfect and we were high above all the high-rises and casinos below. What do I want for my birthday next year? A private lesson with a twenty-something male ski instructor! The cost of the all-day private lesson, which can be shared with other people is $530 and well worth it! It was great to be with this enthusiastic coach as we explored Heavenly, covering a great deal of area, without ever having to look at a map. Josh was really sweet and I do believe he improved my skiing, too! Things have changed a lot with the new wider skis, so practically everything I learned back in the '70s is no longer applicable.

HARRAH'S HOTEL
After the day was over, I headed down the gondola, soaking up the views below and returned my skis. I walked two hotels over to Harrah's Hotel. Although the lobby was filled with slot machines and was a little smoky, I was impressed with my room on the twelfth floor, overlooking the lake. It was very nicely decorated, smoke-free, and only $120 for a king suite with two bathrooms. The second night would have been $90. I loved the room service breakfast from Starbucks for only $11. I would have liked to have been with friends to enjoy the comedy club at Harvey's, (the hotel connected to Harrah's) or the night club Vex, with their go-go girls.

DINING OPTIONS
Instead, I went to dinner at Gi Fu Loh's at Harrah's, an authentic Cantonese restaurant where you can choose the fish or Alaskan king crab you want right out of the fish tank. Not for me! My two teenage buddies that I'd met on the plane, joined me for won ton soup, fried calamari, spring rolls and spare ribs, which came to $75. Gary and Patrick were disappointed there were no fortune cookies, so we opted out of the $5 per person tea and went downstairs to the lobby for our favorite Starbucks beverage and shopped. As the evening drew to a close, I walked them to their hotel at The Marriott, one hotel over. It looked nice inside and had a good restaurant, Fire and Ice, where you can choose your food and have it cooked hibachi style. You can also eat outside next to the gondolas.

I walked back to my hotel room at Harrah's and went to sleep. As usual, I was up very early the next morning and asked the night auditor, Mel Mojares, for a tour of the two hotels. He was very kind and obliging, showing me Sammy Haggar's restaurant Cabo Wabo where he makes appearances, the Comedy Club, the night clubs and Harvey's casino, where people were still gambling at 6am. I then grabbed (another!) Starbucks coffee and headed North on route 50, completing the loop around the lake. The website BlueLakeTahoe.com is for South Shore Lake Tahoe. There is so much to do here during all seasons, from golfing and hiking to boating, skiing and snowboarding, and of course, there's the dynamic nightlife.

HEADING HOME
On my way back to Reno, I stopped in Truckee on Route 89 before getting on I-80. I had breakfast at Squeeze In, a funky little eatery that's a local favorite and offers over 60 kinds of omelets. This was very a propos since I'd just "squeezed in" a lot of fun in three days!

For more information to help you plan your trip to Lake Tahoe, visit TravelNevada.com and VisitRenoTahoe.com.

ABOUT THE AUTHOR
Hi, I am Georgette, a writer and artist (here's my website) based in Connecticut. I am also Johnny Jet's older sister, who quite possibly ignited his first spark of interest in traveling to exotic places, when at the impressionable age of 14, he saw my trip to Australia last three years! Whether skiing in the mountains, snorkeling in the tropics, or exploring faraway cities, I am always game for traveling and the privilege of writing for my baby brother's website JohnnyJet.com. Of course, coming home to my husband Cam, our dog Baci, and three cats - Ace, Arrow and Wizard - is great, too!


*Please tell us what you think of this week's newsletter!

Note: This trip was sponsored by Ocean Properties.



Pics From
The Trip
Map of Lake Tahoe
The Sundeck, Resort at Squaw Creek
Living Room, Squaw Creek
Sequoias and Lake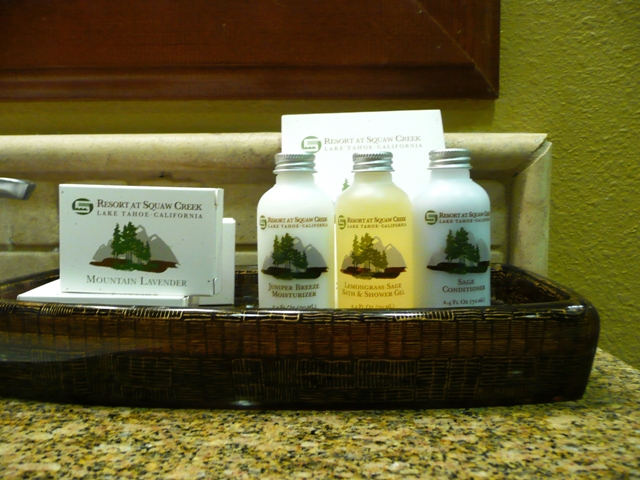 Bath Amenities, Squaw Creek
First Run of the Day
Bailey's Beach, Squaw Valley
Open Terrain SV
Lone Pine
Base at Squaw Valley
Squaw Creek Resort From Chairlift
Squaw Valley Village
Willie Browning
Chilling After the Massage
Breakfast at Six Peaks, Squaw Creek
Room at Squaw Creek
Skiing at Heavenly, South Lake Tahoe
Room at Harrah's, South Lake Tahoe
Snow Beach, Heavenly
Ski Instructor, Josh
View of Lake Tahoe from Heavenly
Moguls at Dusk
Fire and Ice Restaurant at Marriott
Pat and Gary at Gi Fu Loh, Harrah's
Casino
Omelet at Squeeze In