WEB RESOURCES


OTHER ARTICLES
BY GEORGETTE

Hi, I am Georgette, a writer and artist (Here's my website) based in Connecticut. I am also Johnny Jet's older sister, who quite possibly ignited his first spark of interest in traveling to exotic places, when at the impressionable age of 14, he saw my trip to Australia last three years! This is the fifth time I have had the privilege of writing for JohnnyJet.com.

Sailing The Mary Day
This at-sea adventure is the experience of a lifetime.
By Georgette Diamandis

I am still on a schooner high after spending six nights and five days on board the schooner Mary Day, which sails out of Camden Harbor, Maine.

I don't know if I've ever been on a more relaxing vacation and Cam, my husband agrees. As Captain Barry King says, "The only decision you're going to have to make is whether to have one cookie or two." And that pretty much sums it up. Captain Barry, his wife Jen Martin, also a licensed captain, their two incredibly behaved children and a crew of three gals between the ages of 16 and 24, (Ollie, Saphrona and Jen) take care of all the details aboard The Mary Day. Not, of course, without the help of messmate Jake, who also crews and a very important person indeed, Mary Barney, the cook. All of the 28 passengers are invited and encouraged to help hoist the sails, fold them at the end of the day and try a turn at the helm whenever they want ... well, maybe not in precarious weather. We were not allowed to climb to the top of the masts and set the fore and main topsails, for which I was very grateful. But most of the work involved in sailing a schooner is available to all who welcome the experience.

THE CABINS
When I first saw the location and size of my cabin under the deck and the two bunks, and heard there were only two heads (toilets), one indoor shower and one outdoor, I started to panic. Then, when I found out that only the Captain could charge a cell phone and camera battery (and that cell phone use was discouraged on-board, which is 95 % of the trip), I wondered if I could give up my comforts and control for a short week. However, we only sailed during the day and always anchored in safe harbors. This allayed some of my apprehension. Then I found out the heads were cleaned five times a day and that we had cold water sinks in our cabins, which was a relief. I avoided an indoor shower for several days and took an outdoor shower on deck after plunging into the cool Maine waters. After I misplaced my make-up, I decided to just relax and give up any attempt at glamour and enjoy myself from the inside out. It was the best decision I could have made. Barry and Jen happily charged my batteries for me at night and when I could get cell service, which was not often, I made a phone call on-shore where we went every morning to stretch our legs. (In case of an emergency, Barry can be reached 24/7 via his radio). Finally, I braved the indoor shower and found that it was not half bad! My new attitude was that I would have an awesome adventure -- and I did!

SLEEPING UNDER THE STARS
My first night sleeping in my sub-deck bunk took a little getting used to. I was glad I had purchased sleeping bags on the way up and brought my yoga mat because I woke up at 3am and decided to try to sleep on deck. There was one other person already sleeping up there. I lay my yoga mat down, then two woolen blankets (available on the boat), then my sleeping bag and voila ... an outdoor bed. How nice to be out in the incredibly fresh air, surrounded by silence. I found down-below claustrophobic and I could hear people snoring through my ear plugs. My husband Cam was the complete opposite. He found the downstairs bunks cozy and couldn't wait to go down and read every night and refused to try to sleep topside. Oh well! More stars for me! We were there during a new moon, which meant the stars were even more brilliant without the moonlight. Laying under them my first night was a little like falling in love for the first time. The magic of seeing them and more than 10 shooting stars while being gently rocked is hard to explain. My awesome adventure had begun. I will say that I got hooked, and slept topside most nights. Saphrona, the 19-year-old crewmate, said that the first two or three nights, people get up during the night and watch the stars and then get up early to watch the sunrise. She said she wants to say, "Sleep, people!" but doesn't, of course; everybody naturally sleeps in a little later every day.

One of the great things about being on a 90-foot schooner with 30-something people is that you really get to know each other intimately. The first morning, I was up at 5:30am admiring the sunrise and watched my fellow passengers going to the head in their PJs. It was like being at a family reunion with strangers that soon became aunts, uncles and cousins. There were the nicest people onboard. It seems this type of vacation attracts people who are laid-back and who like the community experience. The ages ranged from 18 through 78, though the average range seemed to be from 40 to 60. Our boat doesn't take anyone under 15.



MORNING ROUTINE
At 6:30am, the deck is swabbed and you might prefer being down below, but I was topside a few times, still in my sleeping bag, watching the process. Coffee and tea are served up on deck at 7am and everyone gathers around to quietly watch and listen to the harbor denizens arising. Breakfast is announced with a ring of the bell and served down below in the dining saloon at 8am. Mary, the cook, amazes everyone at every meal with what she prepares on her wood stove. One morning, there were blueberry pancakes, bacon and fruit; another day, French toast made from homemade bread, sticky buns and egg strata. The last day we had donuts on deck that she had made that morning. Every day, she is up at 4am preparing the meals and works in the kitchen until 9pm when she goes to bed. I bought her cookbook Ring That Bell to give Cam some hope that I may one day attempt to bake bread! Jake, the messmate, is down there with her most of the time and comes up to help sail, ring the bell, announce the meals in his own alliterative fashion - "parsimonious parsley-ed potatoes!" He also passes around a 4pm appetizer, which is something different everyday. The last night, Friday, people get a little dressed up, meaning a ribbon in the hair, or Mardi Gras beads (Friday Flair). But overall, the dress is informal, extreme comfort actually. After dinner, passengers gather down below in the saloon to hear the sounds of a guitar from Captain Barry and accordion from Mary. Jake also plays at times; a crew of many talents! They played old-fashioned tunes and it felt like we could have been sailing in any decade from the past 100 years. The young children of Captains Barry and Jen love to have passengers read to them, and the week I was there the featured book was the last book in the Harry Potter series, Harry Potter and The Deathly Hallows. Even some of the passengers gathered 'round to listen. Who doesn't like being read to?

In the early days of the trip, I'd ask the crew if they knew where we were headed and they would always laugh. I finally stopped asking and realized it didn't really matter; wherever it was, it would be great. Part of the deal, being on a wind-reliant schooner, is that you literally go where the wind blows. The Mary Day has high-tech navigational and weather systems, so if there's a storm predicted, the captain will not head out into open water. Our journey departed from Camden, Maine, and we slowly worked our way to the other side of Bar Harbor on the west coast of Mount Desert Island. The Captain likes to travel off the beaten path and so we did. Sailing through Penobscot Bay, he found a cool passage by Crotch Island, named by old sailors because the island looks like a pair of pants, and anchored near Stonington.

STONINGTON
Stonington is on Deer Isle, which is an island but is now accessible to cars thanks to a bridge. But don't tell the islanders they're not on an island! The drive takes about two hours from route 1 in Camden. One of the best things about sailing to this out-of-the-way place is that, while it would be quite a drive to get there, it's so much more accessible by water. The town of Stonington is small and quaint and known for granite, which is still exported. It was great to stretch our legs, walk up the steep hills and take photos. The day was just gorgeous, with what I like to call an "Australian Blue Sky". While the folks at home were sweltering in 90-degree temperatures, we were enjoying weather in the cool 70s. I visited the Deer Isle Granite Museum (where I bought a little canvas bag to go with my collection) and The Purple Fish Gallery. It's a must-see, owned by an elderly couple, Evelyn and Jan Koch, who are warm and amusing. Check out my twenty-second video for a closer look. Jan went to Harvard and plays sea shanties while Evelyn sings along and paints beautiful bookmarks with watercolors of the particular schooner you are on. She charges a whopping $3.50 and it was one of the best experiences I had. They also have a funny little battery-operated parrot that imitates everything you say! Soon we were picked up by the yawl boat, which fits eight people and whizzed back to our schooner for a day of sailing. On the way back to The Mary Day, we saw harbor seals poking their heads in our direction. We sailed quickly on that Tuesday and in brisk wind I needed a fleece jacket. Then lunch was ready down below. Homemade Mac and cheese, fresh baked bread, salad with garlic dressing and oatmeal cranberry cookies for dessert ... fitting since we were sailing near the Cranberry Islands.

LOBSTER STEAM
The next part of the day was filled with lots of tacking since it was so windy. We sailed from Jericho Bay to Blue Hill Bay and ended up in Pretty Marsh Cove for a lobster steam. We took turns rowing out to the beach, or some were taken out in the yawl boat. Mary had set up a picnic and the crew was busy steaming more lobsters than I have ever seen in one place. Soon the sun was beginning to set and the lobster feast began. You could have as many as you would like, I had two, Cam –zero; he ate hamburgers instead. The lobster record is thirteen. As we headed back to our "home", the Captain realized one person was missing. He had gone for a walk in the dense woods and was lost. It delayed us a bit, but we found him by yelling, since he was not far and had done the right thing; sitting down when he realized he was lost. I took a picture of a tree while exploring these woods, and we dubbed it the "Harry Potter Tree." Scary! I wouldn't want to be lost around these trees even during the daytime! Soon, we motored off around the bend to a private and safe harbor for the night. The khaki awnings were set up topside so we could all hang out and be cozy with kerosene lamps providing light and atmosphere. It was an awesome feeling being under those awnings and made me think of being on safari in Africa, which I have yet to experience.

TALL SHIPS
Sometimes other windjammers sail along a similar course and two nights, we anchored next to them. It was fun to be near these other beautiful giants and hear the sounds of laughter and guitar music coming from them. I was happy we were on such a mellow boat though, and most of our passengers were in bed on deck or below by 10pm. Quiet hours are from 11pm until 7am. When I noticed people using cell phones on the other boats, I was grateful for Barry's suggestion not to use ours onboard. Early the next morning, Cam and I rowed amongst The Angelique, The Victory Chimes, The American Eagle and The Mary Day and soaked in the majesty of these tall ships.

One exciting night, a powerful thunderstorm passed over us while we were anchored in Center Harbor, off of Brooklin. The timing was perfect, right after dinner and the sounds and sights were truly spectacular. The Captain reassured us that it was safe to be on deck and Cam and I hung out under the canvas awning with one other brave passenger and watched the unbelievable light show. It quieted down around midnight (perfect timing, again) because I slept under the awning. In the morning we were taken ashore to walk around the Wooden Boat school campus. Cam decided he might go there next summer. The school is kind of like "camp" for adults and in one week you can learn how to build a boat or how to sail a schooner.

UNSPOILED MAINE
We also visited Holbrook Island Sanctuary in Brooksville and took a hike. This place is truly unspoiled Maine. We saw interesting flora and the reverse falls, which get sucked back in the opposite direction at high tide. Then we went back to our boat for our last day, which happened to be very warm with light winds, and many of us napped topside. That night, we had a Thanksgiving feast for our last meal and we headed off to bed early. I decided to sleep in my bunk and that night, when I heard the snoring, I actually felt comforted knowing who my fellow passengers were and having had a change in attitude. I slept straight through to 6:30am when I awoke and joined my fellow passengers on deck for coffee, tea and the previously mentioned donuts!

THE EXPERIENCE OF A LIFETIME
The majority of passengers on The Mary Day are return passengers, which says a lot. One couple we met was on their 14th voyage and had actually met on board! Most people book the following summer before they leave the boat, guaranteeing the room they want. There are also special sailing weeks, like Great Schooner Race week, Naturalist week and Fall Foliage week. Don't wait until next year to book your trip. The boat sails from May 24th through September 30th and there are heating vents in the cabins for cooler weather. There are single cabins and double bed cabins along with the majority of bunk bed cabins. Some even have three bunks, but you had better be very good friends if you decide to share! Prices range from $600 to $915 for four to six days.

Now that I'm home, walking around the house in my Mary Day hoodie, (I've never worn one in my life), reading my Ring That Bell cookbook and making the recipes, I wonder if I've become a Mary Day schooner groupie. Cam is still sporting his sailing beard so he's one, too! That one week really mellowed us out and we can't wait to return next year. It might just have been our best vacation ever! The Maine Windjammer Association has 12 traditional tall ships in which to choose from and each offer six- and three-day sails. For more information, visit Sailmainecoast.com.

And Cam's view: Some experiences are so rooted to the human soul that it seems silly to attempt their description. Sailing for a week on a massive schooner in the cold yet vital sea off the ever-winding Maine coast is one of those experiences. The sea appears to osmotically seep through the ship's wooden hull and into your being. You somehow become a part of it; it somehow becomes a part of you. The expansive views saturate your mind so fully that, at moments, there is simply little space for anything else. And finally, in the beautifully crafted schooner, without which you are homeless and aimless, you find a sense of strength, trust, and security ... not to mention intelligence from its genius design. Sailing on The Mary Day with Captains Barry King and Jen Martin, the fabulous hard-working crew and its passengers was an experience of a lifetime that most people would cherish ... like me. I am a new salt. Did I mention the wind?


*Please tell us what you think of this week's newsletter!




Pics From
The Trip
Cam and Georgette
Cam Waving
Going to Sea
Cook Mary and the Blueberry Muffins
Mary Day in Camden Harbor
Mary Day under Sail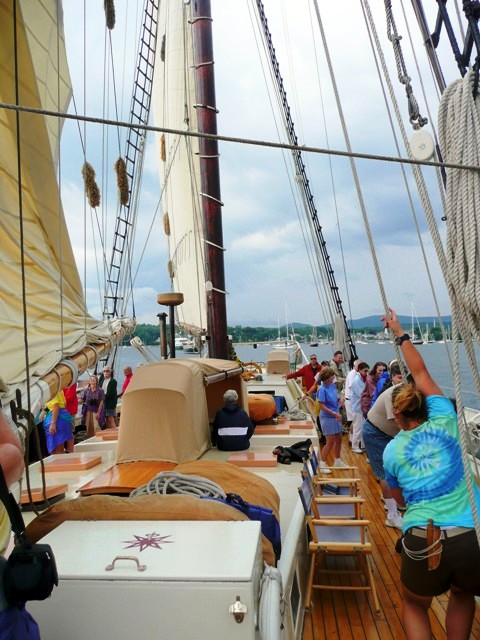 Hoisting the sails
Cam at the Helm
Cam coiling
Helping to furl the sails
Crew hard at work
Georgette at the helm during a storm
Cabin with Bunk bed
Art Under Sail
Stern view
Cam getting a free ride
Passenger steering
Gorgeous Clouds
Harbor Seal
Jake and the 4 o'clock snack
Harry Potter Tree
The Captain
Rowing out to the Mary Day
Eating in the Saloon
What it's all about
Jan of "The Purple Fish" Gallery
One Particular Harbor
Cam and I at Sunset
Cam