WEB RESOURCES


OTHER ARTICLES
BY GEORGETTE

Hi, I am Georgette, a writer and artist (Here's my website) based in Connecticut. I am also Johnny Jet's older sister, who quite possibly ignited his first spark of interest in traveling to exotic places, when at the impressionable age of 14, he saw my trip to Australia last three years! This is the fifth time I have had the privilege of writing for JohnnyJet.com.

Albuquerque International Balloon Fiesta
I arrived in Albuquerque to view the 35th annual Albuquerque International Balloon Fiesta which lasts for ten days every October. The Balloon Fiesta is the world's largest ballooning event and attracts up to 100,000 visitors daily from around the world to the custom-designed 365 acre park. The "Albuquerque Box" is famous for ballooning: the unique air currents create a box of air which along with cool temperatures make it the perfect place to go Hot Air Ballooning. I had no idea what to expect since I had never gone ballooning and had only seen a hot-air balloon from a long distance, which was no big whoop. After getting over the fact that we all had to leave our hotels at 5 am to beat the crowds, I was in for a fantastic experience.

It is hard to describe how child-like and awestruck you become when you are in a sea of huge colored balloons. The mass ascension was amazing, because 700 balloons, from traditional shapes to animal shapes and others (including a soccer ball and a pirate in a barrel), all ascend within minutes of each other, and I was literally speechless. The Balloon Fiesta Park is unusual because you can actually walk right on to the field and get very close because of their 34 year safety record, but be careful not to step on the balloons! My group was lucky because we went to the field every morning for three days and really got a feel for the event. Did you hear me, I actually said "lucky" to get up every morning at 4am! Several colleagues went up in balloons during the first few days and I did not go until the last day, but I didn't feel left out because watching the mass ascension from the ground is a huge thrill, especially when you can see them close-up. Maybe even better than going up in the balloon! The balloons go up slowly and besides the sound of the burners, it is very quiet and peaceful.

Admission is $6 for anyone over 12 years of age and $10 to park. The website for The Balloon Fiesta is BalloonFiesta.com. For year round balloon rides try Rainbow Ryders at RainbowRyders.com. During the Fiesta there are plenty of booths to sign up for rides, but reservations are recommended. The website for Albuquerque tourism is ItsaTrip.org.

When Pigs Fly
When it was my day to go up, a woman in pig's ears representing a pink pig balloon invited me to go up in the dawn patrol. I had no idea what that was, but since it was 5:30am and I had nothing else going on, I said "why not?" My heart raced as we walked briskly through the dark, and I learned that "my pilot", Doug, was one of the most experienced in the business, which is why he was chosen to be one of the 15 balloons to go up and "test" the winds for the 700 to go up in the "Mass Ascension". Like I said, I had no idea what I was in for, and I was surprised. The first thing I noticed was that Doug was very focused and that he had a loyal and dedicated volunteer crew of about 12 people. You can actually volunteer to be a crew member at BalloonFiesta.com.

The pink pig balloon called "When Pigs Fly" is huge, and the whole crew is necessary to unfold it and launch it, and when it's over, fold it back up. They were all very friendly and I really did feel like Dorothy in The Wizard of Oz after meeting the crew! After a few technical difficulties, Doug, a crew member named Sherry, and yours truly all crammed into a large laundry basket and began our slow ascension. I felt very emotional, and I wasn't sure if it was because the basket only came up to my hips, or because I was feeling like Dorothy again! The balloon was silent, except for the occasional whoosh of the gas burners. It was very peaceful as the pink sky slowly became visible behind the black Sandia Mountains. Luckily for me, I was in a balloon that didn't go too high on this day, only 150 feet, which was fine by me! One of my colleagues said she had gone up to 1000 feet! The only thing that made me a little nervous was that the pilot was looking for a place to land virtually from the beginning of the ride. Because the balloon is controlled by air currents, you never can really plan the landing until you are up in the air and can feel the currents.

When it was time to come down he radioed his crew who arrived in a pick-up truck and were at the place before we started to descend. The ride down was just as smooth as the ride up and the crew was there to "catch" our basket. The folding and putting away of the Flying Pig took as long as the balloon ride, and was a fun community event, with all of the crew (including me!) participating. I felt relived to be on Mother Earth, but then another thought came into my head, I wondered when I could go up again! I was an instant full blown addict! If you would like to go up in the Flying Pig check out WhenPigsFly.bz.

Downtown Old Town
I stayed at the newly renovated New Mexican-styled , Hotel Albuquerque located in Historic Downtown, in my opinion, the best place to stay, and voted one of the 25 stylish hotels under $200 by Travel and Leisure Magazine. The location is ideal because you can walk around the 400 year old town and explore the 20 art galleries, 13 jewelry stores and 6 museums. Many people bypass Albuquerque and go straight to Santa Fe and Taos, but there is a lot to do in Old Town, not to mention the other areas of ABQ. In addition to the 13 jewelry stores featuring Native American jewelry in the square there are street vendors as well.

Everyday Native Americans sell their jewelry on the street. The handmade jewelry is made by the vendor or a family member. There is a lottery which provides each sidewalk seller about three days a week to sell their wares. I was impressed with the quality and the prices and bought a mixed stone necklace from a Navajo gentleman. The day I was in Old Town I saw street performers Wild West play- acting and Mariachi musicians. There is a beautiful church on the Plaza and many restaurants, right off the square. For another fantastic authentic Native American jewelry store you must take a cab or drive to Palms Trading Company at 1504 Lomas N.W. From silver Concha belts to turquoise, pottery and Pendelton blankets the prices are amazing and the selection is awesome.

Of the twelve restaurants in Old Town, we ate at La Crepe Michel for lunch, located right off the Plaza at 400 San Felipe. This French country café in an 18th century adobe house was a surprise and reminded me of my recent trip to Paris.

Museums
Right on Mountain Road which is right off Old Town Plaza there are six museums! There is The Albuquerque Museum of Art and History, dedicated to the history and art of the Southwest. Explora, a hands-on children's science museum. The Rattlesnake Museum, an educational experience of the largest collection of live rattlesnakes with a cool gift shop; The National Atomic Museum, for adults and children to explore this unique part of New Mexico's history. The New Mexico Museum of Natural History and Science, (open daily, admission $6 adults, $3 kids under 12, under 3 free). There is a hands-on dinosaur exhibit where you can touch the bones, see huge replicas and listen to their "calls", much more hands-on then The Museum of Natural History in New York. There is also a new permanent exhibit called "The start-up revolution" which targets middle and high schoolers and teaches Albuquerque's role in the personal computer revolution (it started here!). I am not a techie, but I love my personal computer like we all do, and this exhibit is really interesting. And back to jewelry, there is The Turquoise Museum right off Old Town Plaza. There is also The LodeStar Astronomy Center.

The Anderson-Abruzzo International Balloon Museum is located right next to The Balloon Fiesta Park and opens at 6 am during the Balloon Fiesta! The museum is named for pioneering Albuquerque balloonists who completed the first manned crossing of the Atlantic Ocean in 1978. You can learn all kinds of things about the history of ballooning all the way back to the first passengers ever to go up in a hot-air balloon – a sheep, a rooster and a duck! The exhibitions are fun for kids of all ages. Admission is $4 adults, $1 kids, and the gift shop is great! The website for Albuquerque tourism is ItsaTrip.org.

Cultural Centers
We visited two cultural centers, The Indian Pueblo Cultural Center which costs $6 adults and $3 for kids. This beautiful center has a fabulous permanent collection of historic Native American relics from New Mexico, two traveling exhibits of Native American Modern Art and dances by Native Americans every day during Fiesta and always on weekends. The dancers were amazing and the leader was an older gentleman who shared Native American stories and his wisdom. He was a good dancer and chanter too! The Center represents the nineteen Indian Pueblos that are in New Mexico. Most of the pueblos are an hour drive from Albuquerque and can be visited with reservations. (Not a pun!) The Indian Pueblo Cultural Center can assist. If you don't have time for the pueblos, visit this laid back place with really nice people. There is a large gift shop and the day I was there a young man from the Laguna-Acoma Pueblo was selling his handsome jewelry in the open-air courtyard. His specialty is called early repousse style which he learned to make from his grandfather. His name is Greg Lewis. At this point he doesn't have a web-site but his number is 505-552-6656. I loved his stamped copper bracelets with lightning bolts for strength and copper to fight arthritis. We ate lunch at the Indian Harvest café which serves a combination of authentic Native American and classic New Mexican cuisine. The prices are very reasonable. They are open for breakfast and lunch everyday. The manager is Robert Mondragon, a Native American with a history as a New York cop! He was really nice and funny!

Another highlight of the trip was The National Hispanic Cultural Center. Did you know that New Mexico is the only state in the US where both English and Spanish are considered the official language? Open in 2000 and located on the banks of the Rio Grande in the historic neighborhood of Barelas, this stunning venue is a haven to promote Hispanic culture and history. The art museum has a beautiful permanent exhibit of Hispanic artists from around the world and currently the art gallery has an exhibit of Latin American posters. Admission to the Art Museum is $3 and $2 for children. The modern theatre is used for the Performing Arts Center students with over 40 in-house productions per year. It features Hispanic plays, performers, musicians, ballets and operas performed by professionals. The center which was built by WPA workers during the depression years, has been refurbished with hammered tin sconces and chandeliers keeping the New Mexican style. It is a great place to walk around and admire its sculptural architecture. Before you leave you have to check out the tower where artist Frederico Vigil is doing a massive 4000 sq. ft. fresco. Having learned his technique from the old disciples of Diego Rivera, he has been working on this piece for four years which pays tribute to the contributions of the Hispanic people. nhccnm.org.

Outdoor activities
New Mexico is all about natural beauty and, when you go, you have to spend time outdoors. Walking around Albuquerque with the backdrop of the Rocky Mountains and all the beautiful cloud formations is awesome. We visited Petroglyph National Monument in Boca Negra canyon, a 17 mile area, just 6 miles from Old Town, where you can view petroglyphs and hike on trails. Petroglyphs are symbols carved into unique geological rock formations made from volcanic lava. They are believed to have served as a spiritual portal, although some people think that the ancient Native Americans that made them were telling stories of their culture. The petroglyphs are estimated to be 400 to 700 years old and some may be a couple thousand years old. Boca Negra canyon has 800 petroglyphs. The trails pass right by them and you can get up close. We were unable to walk far because of a sudden hail/rain storm, which is not uncommon. However, there is one right next to the visitor center and we did get to listen to the park ranger who gives lectures when she is available or by appointment. Admission is $2 per car, nps.gov/petr.

Sandia Peak Tramway
The next outdoor activity and another short ride from ABQ was riding the Sandia Peak Tramway. This is not for those afraid of heights, for it is the world's longest tramway and goes up a daunting 10,000 feet! The view below is spectacular since it is above the Cibola National Forest. Riding the tram reminded me of my brother Frank's wedding in Switzerland, and I found out the Sandia Tram was made in Switzerland. The 20 minute ride costs $15 for adults, $10 for kids under 12, kids under 5 are free. In the winter it takes you to the ski resort and in the summer you can hike or just walk around and eat lunch or dinner at the restaurant at the top. SandiaPeak.com. Even though it was October and the landscape was green and tan, when we got to the top the temperature had dropped about twenty degrees! After a quick walk around we were ready to experience the ride back down and the colorful stories of the tram operator.

Restaurants
New Mexico is known for their chiles and the best place to experience chiles is at El Pinto Restaurant located at 10500 4th Street NW. This restaurant has served New Mexican specialties to the likes of George Bush and Mick Jagger. The atmosphere is comfortable and cozy which is amazing because it has room for 1000 people! We ate out in the patio gardens under a gas heater. Jim and John Thomas (the salsa twins) carry on the tradition started by their Grandmother and operate a 4000-case-a-day salsa factory on the premises. As we watched the fireworks from The Balloon Fiesta, the manager, Jim Garcia, educated our group about tequila and chiles. There are two types of tequila, white which is called silver tequila, and gold tequila which is aged in an oak cask which turns it gold. True Tequilas from Mexico are hand stamped, and he gave samples of a silver tequila from a $250 bottle. Chiles are rated by their heat density from 0 to 500 in scoville units. The bell pepper is a 0 and the habanero is 500. The more tapered a chili, the hotter. Curled at the end means hot! When a green chili is left on the vine it turns red. Chipotle chili's are smoked jalapeno peppers. Hot chili's release endorphins, which is why you feel so good and want to go back for more! Chili's strung up mean welcome. All you really need to know is go to EL PINTO!

Graze is a restaurant in the trendy part of town called Nob Hill. Apparently it has funky shops but unfortunately we ran out of time to shop. The restaurant has dishes specializing in locally raised produce and meat. The food was very home-made tasting with desserts being a specialty and the atmosphere was LA chic.

The Standard Diner is in the EDO (East downtown) part of Albuquerque. This is a part of ABQ recently restored to become more upscale. The diner is in a former 1938 Texaco station and the food was fabulous. The portions were all huge and the food was traditional diner fare with a twist. The hamburger was delicious and the bread is sourdough bread baked with yeast brought from the Oregon Trail in 1845, sounds crazy but it was good! The websites are and RangeCafe.com, Matt DiGregory's other restaurants – The Range Cafés -specialize in long waits for amazing breakfasts.

Speaking of great breakfasts, The Gold Street Caffe is so high on my list for breakfast burritos, I may have to go back to ABQ just to get one! It is located on Gold Avenue which is part of historic Route 66, and another great shopping area, which again, we didn't have time for! goldstcaffe@qwest.net

Albuquerque is a great town to vacation and probably a great town to live in. I went there to go ballooning and found out there is so much more to do and see. I had a great time and I am sure you will too!

*Please tell us what you think of this week's newsletter!
Pictures From
The Trip
Georgie-Jet
Before The Sunrise
Mass Ascension
Fiesta Park
Lone Balloon
Close-Up
Duck Balloon
Scarecrow Balloon
Soccer Balloon
Balloon Marshals
Cowboy Cops
Under Belly
Before The Pig Flew
Pig About To Fly
Safe Landing
Putting The Pig Away
Balloon Museum
Pueblo Center
Pueblo Center Dancer
Ah New Mexico!
Jewelry On The St.
Street Performers
Mariachi Players
Chili's At Factory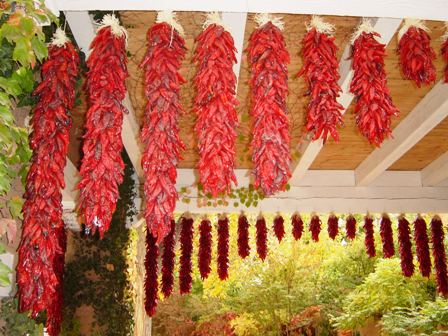 Dried Chili's
El Pinto
Guide Petroglyph
Plants in The Desert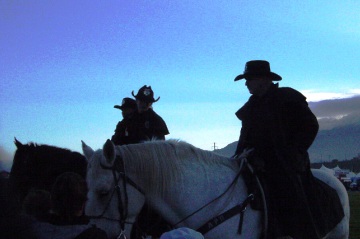 Cowboy Cops At Dawn