WEB RESOURCES


OTHER ARTICLES
BY GEORGETTE

New Zealand: Part 3
Come discover Wellington, the beautiful city on the harbor.
By Georgette Diamandis

Wellington is not just famous for boots. This small city, the capital of New Zealand, is known for its charming hilltop dwellings, its westerly wind drift, the bay, Peter Jackson and cafés. Nature is close by. The culture is tranquil chic and everyone seems to enjoy life in the beautiful city on the harbor. The temperature in winter hovers around 55 degrees Fahrenheit and in summer, it only rises to the low 70s.

TOURING THE CITY BY THE BAY
I arrived in Wellington, the south of the North Island, after a 20-minute Air New Zealand flight. We flew across the Cook Straight from Blenheim, in the north of the South Island, on a 16-seat plane. The ferry would have taken much longer and the sea is rough so the trip by air was a good first orientation of Wellington.

WELLINGTON ROVER TOURS
After landing, I discovered Wellington on the ground with Wellington Rover Tours. Our host Nathan told us about the history of the city, which really looks a lot like San Francisco; there's a cable car, hilly streets, Victorian homes and earthquakes. Except here, the people have funny accents! Nathan, like many New Zealand men, loved to talk and during our two-hour tour, he educated the eight guests about New Zealand's parliament, the south coast, the botanical gardens and ended the tour with Mt. Victoria, which has panoramic views of the entire city. He even took us to the beach to look for Paua (abalone) shells. As our host entertained us with anecdotes, I learned that Wellington Rover also offers a Lord of The Rings tour, taking fans to the many spots where the movie was filmed around Wellington.

ART AND RUGBY
After lunch, I did another city tour with Flat Earth guides. This was a more in-depth tour, focusing on art and design. The Flat Earth guide was awesome, a part-time actor who knew Wellington inside out. We explored old warehouses that are now art galleries down by the wharf and went to Thorndon, the oldest suburb, to meet artist Lynne at her studio. She was lovely and took some time to explain her artistic vision of Wellington to us. We visited a contemporary boutique hotel on the waterfront called Ohtel. My mother would have loved the '60s Danish furniture and accessories like the ones that we grew up with. The boutique hotel was beautiful and I would have appreciated staying there, but then ... I wouldn't have met Francois Steyn and other members of the South African Rugby team, the Springboks who were staying at my hotel, The Duxton! A highlight of my trip was getting to know more about rugby -- so much more interesting than American football with all the stopping and starting and much more eye-catching uniforms! The Duxton is a large, corporate hotel in close proximity to everywhere you want to be in Wellington. The staff is welcoming and breakfasts were outstanding. The Duxton, 170 Wakefield Street, Wellington 6011, New Zealand, Tel: 64 4 473 3900.

GOLLUM AND SURFERS
Next, we were off to the Weta cave in Miramar, the commercial part of Weta studios, where I watched a short film on how Peter Jackson (director of Lord of the Rings and the effects team of Weta Studios got their start. It was fun to "meet" Gollum and see the female Orc (who looked like me before coffee!) We drove by Peter Jackson's residence, a modest, accessible home near the harbor, which reinforced how fame and fortune do not seem to change a New Zealanders laidback approach to life. We ended up at Maranui, a quintessential New Zealand beach café, located in a surf lifesaving club and enjoyed our lattes and view of Lyall Bay. Even in winter, the waves were teeming with surfers in wetsuits and reminded me of Bondi Beach in Sydney, Australia.

BIRDS, BIRDS, BIRDS
Karori Wildlife Center was closed because of a downpour and I was disappointed not to be able to see this amazing haven for native birds. It has 34 kilometers of walking trails, is so close to the city and is usually open everyday from 10am until 5pm. You can arrange a night tour, which is the best time to spot an endangered kiwi. Their predator-free fence is possum-, rabbit-, weasel- and rat-proof, so these birds are truly protected. This sanctuary is an example of New Zealand's respect and commitment to its environment.

TE PAPA
It was still raining in the afternoon and luckily, my hotel was right across the street from Te Papa, an interactive museum (admission is free) that is all about New Zealand. New Zealand's pride and joy is this beautiful museum that's only 10 years old and is situated right on the harbor. The two official languages of New Zealand, English and Maori, are displayed side by side throughout. The Marae is a Maori meetinghouse; this one is carved from modern materials and is painted in bold colors. The waka is an original Maori canoe, hand-carved and over 50 feet long. It's a real treasure, which is, in fact, what Te Papa means. My experienced Maori guide, Richard, taught me more about the Maori traditions, wildlife and earth science of New Zealand. He told me that the only indigenous mammal to New Zealand is a small bat and that the Tuatara lizard is more closely related to dinosaurs than any other reptile on earth because New Zealand is such a prehistoric land. The plants are also unique here and some are from the Jurassic period. We experienced an "earthquake" in a simulator house, which was thrilling and of course there are fossils and dinosaur bones. The children's section is interactive and has colorful books and dragons. The café is better than most found in museums. Te Papa Museum, 55 Cable Street, PO Box 467, Wellington, New Zealand, Tel: +64 (0) 4 381 7000.

CAFES WITH CHARACTER
Speaking of cafes, New Zealand is known for its coffee bars and Wellington is definitely all about the café culture. Four districts make up the small but vibrant city: the Waterfront, Cuba, Lambton and Courtenay. It has the most cafes and restaurants per capita of any city in New Zealand. I had lunch at Olive Café in the historic Cuba district, a trendy restaurant and shopping quarter, which was bold in both flavor and spice. I had a garbanzo bean and tomato soup, while my friend had an avocado and fish salad. For dinner that evening, I met up with some old friends from Vermont, one of whom is studying to be a vet near Wellington. We went to Chow, an eclectic Asian-fusion restaurant. Check out their online menu and you'll see why the food was so delicious. It was also good to get a perspective of New Zealand from Americans living abroad. They loved it, but still missed some aspects of life at home in the United States, of course. The next night, I went to Floriditas Café, another restaurant in the popular Cuba district. The Victorian building had a pressed tin ceiling, bold wallpaper, subdued lighting and casually elegant meals. Greek Halloumi cheese, broiled and served with garlic tomatoes, was something I'd never had in the States and it was unbelievably divine! The pea tendril and organic leaf salad was extraordinary as every leaf was discernable with a different taste and texture. Greens are a specialty in New Zealand and it was fantastic to find a salad with such a personality. Dessert was a petite lemon tart, very fresh and sweet. And of course, we had to have a coffee! But in New Zealand it is a flat white or an espresso, not just coffee.

Once again, I had met many new friends and was reluctant to leave. But this time, I was off to experience the North of the North Island, the Bay of Islands and Hokianga to meet the Lord of the Forest! Join me next week to continue the adventure.

VIDEO
Check out my New Zealand video!

ABOUT THE AUTHOR
Hi, I am Georgette, a writer and artist (here's my website) based in Connecticut. I am also Johnny Jet's older sister, who quite possibly ignited his first spark of interest in traveling to exotic places, when at the impressionable age of 14, he saw my trip to Australia last three years! Whether skiing in the mountains, snorkeling in the tropics, or exploring faraway cities, I am always game for traveling and the privilege of writing for my baby brother's website JohnnyJet.com. Of course, coming home to my husband Cam, our dog Baci, and three cats - Ace, Arrow and Wizard - is great, too!


*Please tell us what you think of this week's newsletter!

Note: This trip was sponsored by Air New Zealand and Tourism New Zealand.



Pics From
The Trip
Overlook Mt. Victoria
Coffee on Cuba Street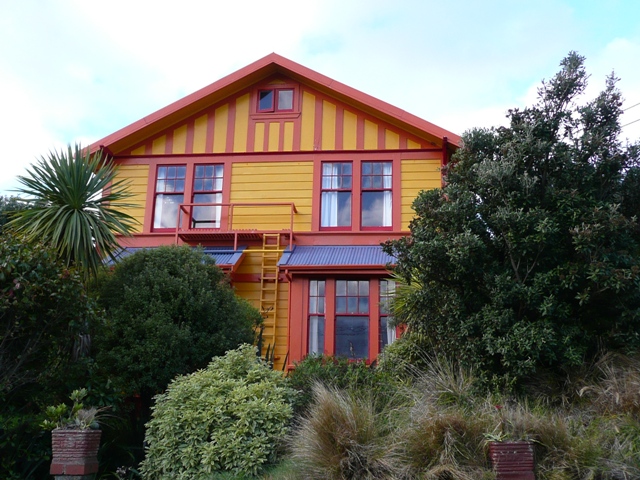 Painted house in Newtown
Wellington Harbor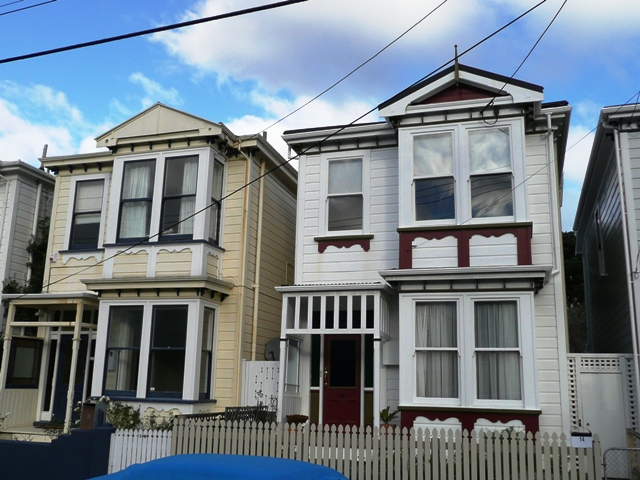 Houses in Newtown
Duxton Hotel Room
NZ Parliament
English tea at Floriditas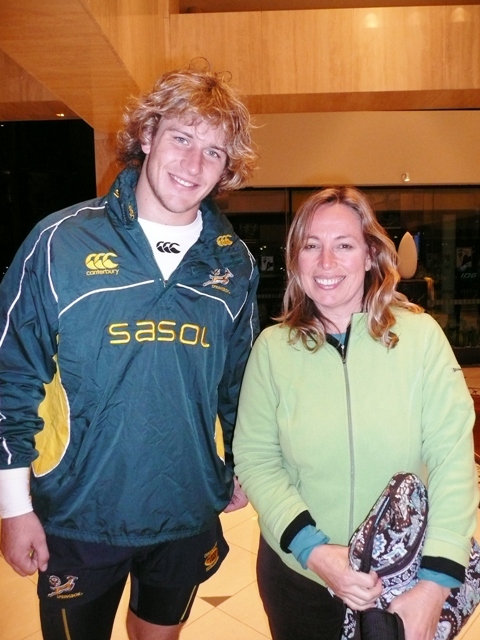 Francois Steyn of South African Sprinboks
Rugby
Floriditas
Breakfast at Duxton
Chow
Dinner with Friends
Ohtel
Flowers and fruit in winter
Island Bay
Painting of Wellington Harbor
Maranui Cafe
Barista at Maranui
Harbor view from Maranui
Artist Lynn Sandri
Lambton Harbor
Weta Cave
Gollum and me
View of oriental bay from Te Papa
Children's area at museum
Maori carvings at Te Papa
Waka at Te Papa