WEB RESOURCES


OTHER ARTICLES
BY GEORGETTE

Hi, I am Georgette, a writer and artist (here's my website) based in Connecticut. I am also Johnny Jet's older sister, who quite possibly ignited his first spark of interest in traveling to exotic places, when at the impressionable age of 14, he saw my trip to Australia last three years! This is the sixth time I have had the privilege of writing for JohnnyJet.com.

Northwest Florida's South Walton Beaches
I went looking for crystal white sand beaches, an abundance of nature, good restaurants and a thriving art community ... and I found it all in South Walton County, Florida. The 14 communities in South Walton County include Inlet, Rosemary Beach, Seacrest, WaterSound, Seagrove, Seaside and WaterColor. This week, I will cover some of them and other areas of interest along Route 30A.

From Sandestin to the Beaches of South Walton
Last week, I experienced the 2,400-acre Sandestin Beach and Golf Resort. (See the JohnnyJet.com archives if you missed it). This week, we head out of Sandestin in a large-windowed tram towards route 30A, to explore some of the 14 different communities along this coastal route of pristine wilderness. As my brother Frank noted in his article Foraging the Forgotten Coast, this area was once timberland, bought up by a real estate company named St. Joe for the purpose of developing communities along this prime coast that would exist in harmony with the natural beauty it's surrounded by. Unless previously grandfathered (like Sandestin), no structures can be taller than four stories. The Beaches of South Walton are in Florida's Panhandle, along the Gulf of Mexico. South Walton is 40% state parks and all along 30A there's a19-mile bike path. This area is simply devoted to getting people outside and enjoying nature.

Topsail Hill State Preserve
I was on a trip to the Beaches of South Walton. Where I visited Topsail State Preserve where you can camp in tents, cabins or one of 156 RV sites, which also offer pools and tennis courts. Topsail Hill's beach is over three miles long, unbelievably beautiful, clean and empty and was named one of the world's best beaches by the Travel Channel. The sand is so white and fine because it's 90% quartz crystal. I could get used to this! Our group enjoyed a leisurely walk along the superfine sand that doesn't stick to your skin. Along the shoreline, high sand dunes framed our panoramic view. As we walked the beach, we found shells and then had a nature class with a park ranger. She taught us about the marine life that live in the waters and that can be found along the beach. There's also hiking along the inland Morris Lake Nature Trail where you can see and hear endangered birds. This rare, freshwater dune lake is home to alligators and rare mammals. The atmosphere throughout Topsail Hill was so peaceful; what an idyllic spot for a family vacation! For more information, visit www.FloridaStateParks.org. This part of Florida is known for its eco-tourism and Beaches of South Walton has its own sea turtle volunteers that keep the beaches free from debris and assist in helping the hatchlings find their way to the water. You too, can go on a guided sea turtle watch.

The Village of Seaside
Next, we switch gears and tour the community of Seaside, the setting used in the Jim Carrey movie, The Truman Show. This 27-year-old beach community started with the idea of an ideal family town, where you could walk everywhere within the community. Builder Robert Davis had 80 acres in which to plan and develop wood-frame cottages based on the notion of a small town. The idea became known as New Urbanism and most of the communities along 30A conform to this concept. New Urbanism is perfect for the area, because it emphasizes walking, which means fewer cars and a respect for nature. We walked through the different neighborhoods, noticing that while some neighborhoods had cottages that were stark white and others were Caribbean-colorful, all were pristine. There's an outdoor amphitheater and an open-air market with lots of cute shops. Lunch was at Bud and Alley's, named after the resident dog and cat and voted one of Florida's best restaurants by Florida Trend Magazine. I had a delicious grilled Florida red snapper sandwich and noticed my onion looked just like The Scream painting by Edvard Munsch. I couldn't wait to photograph it and show it to you! For appetizers, we enjoyed shelled blue crab claws in a cilantro and ginger mayonnaise dip that were out of this world (like my onion's "face"!) and smoked tuna pate. The atmosphere was casual and super-friendly and the beach is right beside the restaurant. I definitely recommend this place for lunch.

Rosemary Beach
Next, we toured the idyllic Mediterranean-like village of Rosemary Beach. As New Urbanism dictates, the neighborhoods are compact and pedestrian-friendly. In fact, all the roads are designed for foot traffic and cars do not drive on them (except for the occasional golf cart!) These architects took it one step further in developing posh town houses reminiscent of Italy, Spain, New Orleans and the West Indies. In this interesting, planned town built in 1995, you can walk to the village square and then spend the day at the beach after getting a coffee at Starbucks. It had a combined feeling of safety and nostalgia. The town square was quiet; the shops looked interesting, and the beach, to die for! A third of all the houses are on the rental program. For more information on house and cottage rentals, check out rosemarybeach.com.

Alys Beach
The newest development along route 30A features architecture inspired by Bermuda, the Mediterranean and Antiguan patio houses. Middle Eastern influences are also recognized in this eclectic architectural stew. Alys Beach community is another pedestrian-friendly town that limits auto use and employs environmentally conscious practices such as solar power and natural storm drainage. Green grass is not allowed (it's not considered to be in keeping with the natural environment) and all the buildings are stark white stucco. This makes quite an impression in the hot Florida sun. I liked the Moroccan influenced Fonwell Press Cafe. Caliza limestone patios and private courtyards are a distinct feature creating a beautiful, private atmosphere. These upscale homes are also on the rental program.

Artists of South Walton
As I mentioned earlier, South Walton is teeming with folk art. I loved the style and was lucky to meet two of the artists. Debbie Weant-Lane owns and operates Big Mama's Hula Girl Gallery. Debbie is so lively and you feel her energy as soon as you walk into her gallery and see her fun, colorful paintings of dogs, mermaids and the sea. She actually threw a spur of the moment party for us, and invited some of her friends. We rocked while we shopped! There are several artists represented in her gallery, Phil Kiser being one of them. His vibrant, colorful art is made from broken glass. Phil's large murals are amazing and sell for thousands. I felt lucky to meet a kindred spirit and bought a small dragonfly piece. Most of the art in the gallery is affordable. There are many art galleries along 30A. We didn't have time to see all of them, but Justin Gaffrey's art was visible in some of the restaurants we went to. His large, colorful, impasto style is both naive and enticing. His work, along with his wife's, can be seen at their gallery on 30A in Blue Mountain Beach. Check out gaffreyart.com for more information.

Watercolor Inn, Cerulean's and Fish Out of Water
Late in the afternoon we visited the exquisite property of the Watercolor Inn and the surrounding Watercolor resort town. The buildings are reminiscent of Nantucket and Newport except that everything is new and painted in the pastel colors of the sea and sunset, with an emphasis on blues and greens. We had drinks by the pool and then walked the expansive boardwalk to the soft white beach. Here, we dipped our toes in the cool water of the Gulf of Mexico. Last year, Travel and Leisure Magazine ranked The Watercolor Inn the number one family vacation resort, because of its clean, white beaches and appealing living quarters. Each of the 60 rooms faces the Gulf of Mexico and range in price from $350 to $750. The resort also has larger vacation homes for rent. Next, our group stopped by Cerulean's, an art gallery, wine bar and coffee shop and saw more of Northwest Florida's folk art including the work of Justin Gaffrey. I love his colorful daffodils in the sun ... inspired by Monet but taken to a new level. We meandered through the town guided by Wade Berry, PR man extraordinaire, up to Fish Out of Water for dinner. With Wade as our host, we enjoyed the most wonderful dinner party. Our party was in a private wine room, and Chef Phil Krajek came out between courses, letting us know that our grilled pompano was caught that day and that the micro herbs used were baby arugula, beet and chervil. The oysters were from Apalachicola and all of the ingredients were grown or farmed in the region. The dessert was homemade strawberry sorbet with Bavarian cream. It was, by far, the best meal I had in Florida!

I hope you get the flavor of the Beaches of South Walton and will want to vacation along route 30A in one of its many interesting communities. If you enjoy the beach, nature, fishing, biking and eating well, then I'm sure Northwest Florida is for you. There truly is something for everyone! I know I'll be returning soon.


*Please tell us what you think of this week's newsletter!

All information presented here is accurate at the time of publication but prices, dates and other details are all subject to change. Please confirm all information before making any travel arrangements.

Note: This trip was sponsored by Sandestin Golf and Beach Resort.
Pictures From
The Trip
Georgie-Jet
Beaches of South Walton
My New Friends
Ranger Class Topsail
Biking At Topsail Hill Park
Seaside Cottage
Shop Seaside
Outdoor Market Seaside
Bud & Alley's Crab Claws
The Scream Onion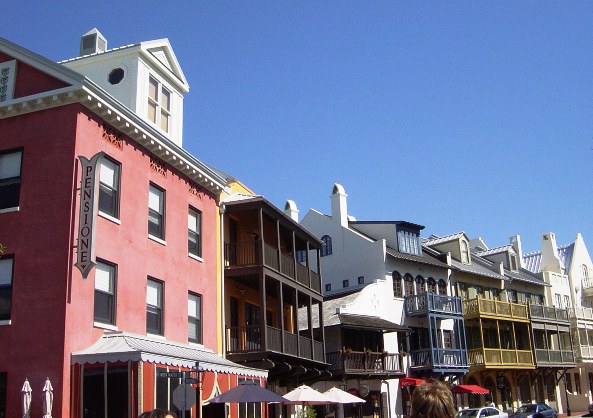 Rosemary Beach Homes
Rosemary Beach Lawn
Rosemary Beach Town
Big Mama's Gallery
Folk Art and Artist
The Art of Phil Kiser
WaterColor Inn Pool
Fish Out of Water