WEB RESOURCES


OTHER ARTICLES
BY GEORGETTE

Destination: Fiji
Experience the incomparable warmth of the Fijian people and culture.
By Georgette Diamandis

I've flown over Fiji several times on my way to Australia, never giving much thought to the unspoiled tropical paradise that lay beneath me. On a recent visit, I discovered that the people are unusually friendly and genuinely warm. The colorful fish are abundant and the world-renowned snorkeling blew my mind. Surprisingly, the bird life is scarce with only 80 or so species. The warm temperatures make for easy packing. I traveled with only a carry-on, but don't forget your rain jacket during cyclone season!

GETTING THERE
Fiji is an archipelago in the South Pacific, which encompasses 333 islands. It has two main islands – Viti Levu to the south and Vanua Levu to the north. My arrival on a tumultuous January day during rainy season collided with Cyclone Gene, the first major cyclone to directly hit Fiji in ten years, leaving me stranded in my hotel for four days. Many tourists take advantage of the lower rates during the rainy season and experience sunny days, but the weather during this time is unpredictable. The purpose of my visit was to attend a travel conference presented by The Fijian Visitor's Bureau and Air Pacific, Fiji's official airline. I flew into Nadi via Air Pacific, which now offers a "Bula" fare of $890 round-trip from Los Angeles International Airport (LAX) to Nadi International Airport (NAN). All Air Pacific flights to and from LAX to NAN have an all-Fijian flight crew. They wear colorful uniforms and I found them to be soft-spoken and friendly. In fact, they gave me my first introduction to the words Bula (more than just "hello", it means "happiness and health" as well) and Vinaka ("thank you"). The 747-400 class jet seats 430 passengers in coach and 28 in Tabua (business) class. Most passengers sleep for the majority of the 11-hour flight; this is the beauty of departing at night and arriving in the morning.

TRAVEL CONFERENCE
Despite the pouring rain and high winds of the Category 2 cyclone that descended upon us, the second day of the conference went ahead as planned. Presenters included representatives from many Fijian resorts, Air Pacific and the Fijian Visitors Bureau. Many off-island resort representatives were not able to make it to the main island due to the cyclone, which created havoc at the airports and ferry terminals. But the attending group provided more than enough information to advise the 70+ US travel agents and journalists on Fiji as a travel destination. Topics included the value of the American dollar (at the time of publication, the conversion rate was 1.65 Fijian dollars to $1USD), the country's no tipping policy, English as the official language and the genuine warmth of the Fijian people. Of course, the island's natural beauty, its pure teal-blue waters and gorgeous resorts were also mentioned!

PLANNING YOUR TRIP
The Fijian Visitors Bureau website is a great place to start when planning your trip. Fiji's climate is tropical with two seasons: winter, May through November (the best time to visit), and summer, December through April, when it rains frequently, as you will hear from my story! The blend of different races -- native Fijian, Indian, Chinese and Anglo-Saxon -- add to the country's exotic charm and everywhere you go, you can hear the warm, welcoming word Bula coming from smiling, happy faces.

RADISSON RESORT FIJI
I was lucky to be staying at the newest resort on Denarau Island, the Radisson Resort Fiji. Denarau Island is a resort complex, featuring Sheraton, Sofitel and Westin Hotels, an 18-hole championship golf course and the Radisson. This resort peninsula is only 20 minutes from Nadi airport.



RESORT AMENITIES
Radisson Resort Fiji is ultra-chic and its modern rooms are available in a single one-bedroom or a one-bedroom suite, which can also be joined together to become a generously sized two-bedroom apartment. My room was on the third and top floor and faced the inner courtyard, which has five pools. This kid-friendly resort has a kid's club where children can stay all day for $20 per child. Another nice thing about the resort is that it serves as a great home base to visit other parts of Fiji. There are boat and helicopter tours that can be arranged through the hotel. The very friendly and accommodating staff made us feel right at home and since I was "stuck" there for four days as most of Fiji was shut down, I couldn't imagine being at a better place. My only complaint was that the spa was closed and the indoor fitness room had limited machines. However, the business center has three computers with free Internet services making it a cinch to communicate with friends and family back home. The General Manager Matt Hill also made guests feel like they were staying at their family's home ... or maybe better!

RESTAURANTS AND SPAS
In the stunning lobby, you'll find The Orchid Bar where fantastic mellow bands play most nights. The Nautilus Restaurant serves a buffet for breakfast that offers an astonishing assortment of fresh tropical fruit, pastries and cooked items. Lunch and dinner are served here as well. Most of my meals were at this restaurant and I'm happy to report that they were good. If the rain and winds had not been so severe, I would have taken the free shuttle bus and had dinner or spa treatments at any of the other resorts. I did manage to catch a cab to the nearby Sofitel Hotel and had an amazing lime and ginger salt scrub and frangipani oil massage at the Mandara Spa. When the Radisson Resort Fiji spa opened on the third day, I enjoyed a facial under the open-air thatched roof and the sound of the rain made it even more special. The resort's Harmony Spa uses 100% organic products. I was almost sad to leave the Radisson Resort Fiji when the rains finally stopped but it was finally time for me to explore other parts of Fiji! Radisson Resort Fiji Denarau Island, PO BOX 9347, Nadi Airport, Nadi, Fiji, Reservations: 888-201-1718.

NADI TO SUVA
My first foray off of the main island of Viti Levu began with a short Pacific Sun flight east, across the main island, from Nadi to Suva. The flight attendant was a very pleasant Indo-Fijian man who handed out orange juice, covered cups of tea or coffee and The Fijian Sun newspaper. I was interested in reading the top story about a Fijian man who was being heavily scolded by a judge for trying to kill his wife so he could be with a younger woman! At Suva, I was met by a driver from Rosie Holiday Tours and taken an hour south to Pacific Harbor. Here, a small boat captain, a young native white Fijian man named Tooey, took me and a honeymooning couple from Australia on the half-hour trip across the harbor to a small island near the island of Beqa, home to Royal Davui. This is paradise in a secluded ten-acre island resort. The cyclone had damaged the jetty at Royal Davui (a davui is a beautiful local conch shell), but that just meant that strong and handsome Fijian men had to carry us off the boat on to the sandy beach. We were greeted by singing men and women who doubled as waiters or dive boat captains. The warm welcome included a cocktail and a shell necklace.

ROYAL DAVUI
Then, we were escorted to our vales (this is the Fijian word for 'homes'). Mine was lucky number 14 and I couldn't imagine them to be any nicer. I found out that my vale was the standard vale and that there are other larger ones with larger plunge pools and living rooms. The 16 vales are beautiful, open-plan designed bures (pronounced mbu-rays) with adjoining living rooms, sundecks and plunge pools. A bure is a Fijian hut, but these are so nice they are called vales. The most requested is Vale #12, the honeymoon suite. Mahogany wood floors, sea grass ceilings and turquoise furnishings enhance the tropical island atmosphere here. The bathrooms have deep Jacuzzi tubs, a ceiling over the tub that opens up at the push of a button and Pure Fiji bath and body products. Glass walls are bi-folding doors that can be opened up completely to enjoy the breeze and the view of the aqua blue water.



MEETING PLACES
Freshly baked pastries like croissants and small custard danishes, fresh fruit breakfasts and Pacific-inspired lunch and dinners are served in the open-air Banyan Tree Restaurant, or can be taken in your vale at any requested time. The chef specializes in local seafood and organic produce grown on neighboring Beqa Island. The Banyan Tree Restaurant is where guests meet for drinks at the bar or gather for events like the hermit crab races. My special hermit crab won first prize in the women's division, entitling me to a free half-hour massage! They had to have a women's division that night, since I was the only single person among the eight honeymooning couples! The dive shop is another meeting place and while I was there, I went on two guided snorkels. The first one was really amazing, right off the beach, just me and Misi, an experienced local diver and captain. The colors of the coral span every color of the spectrum, making the Beqa area a world-renowned snorkeling spot. Divers can become certified here. Cobalt blue starfish, along with rainbow-colored fish are abundant. The next dive was with three couples and started off the boat. I was attacked by sea lice or maybe a ground-up jellyfish. It really stung for a while, but when I saw the shark, I had to keep snorkeling. I could not believe the amount of fish and I didn't want to miss a thing. No, I wasn't afraid of the shark; it was only four feet long and had plenty to eat!

Royal Davui was named Most Romantic Hideaway for the Atlantic, Caribbean & Pacific Islands for 2007 and 2008 by Conde Nast Johansens Guide. Looking for a deal? A 'pay for five nights, stay for seven' offer is available on the website. The General Manager Anthony Kramer, will even bring strawberries and champagne to a guest's vale at 3am or arrange late night massage appointments if so desired! The spa uses only Pure Fiji products. Guests are welcome to check their e-mail, free of charge. Beqa, the island next to Davui, is where village trips can be arranged. I was touched by the humble abodes of the people, their simple lifestyles and their happy and grateful attitudes. If you want laidback luxury, go to Royal Davui. Royal Davui, PO Box 3171, Lami, Fiji Islands, Tel: +679-336-1624.

HEADING TO MAMANUCA ISLANDS
Next, I headed back to Nadi airport via helicopter. The ride took about an hour and the scenery of the lush rainforest below was truly spectacular. I then headed out to the Mamanuca Islands, a chain of islands northwest of Nadi, famous for iconic island scenes from movies like Blue Lagoon and Castaway. Because of the storms, the fast catamaran was not working, so I needed to take three boats to my next resort destination, Tokoriki. It was quite a production going from one larger ferry, which rocked like crazy, to a resort island called Mana, where people got off the boat while islanders were singing on the pier, to another smaller boat which pulled up alongside the ferry. The two boats together were rocking violently side by side. I couldn't believe the way the men were taking suitcases off of one boat and loading them onto another over the rolling seas. I was so glad I had packed light ... one small suitcase and no laptop! I really got a kick out of a guy getting off the small boat, onto the larger ferry balancing a two-foot-long wedding cake. These guys are good! The next boat ride was another turbulent hour during which I had my feet pressing down hard for stability on the seats in front of me, (we all were!) while the captain rode the waves like he was riding a bucking bronco. I exchanged glances with a young honeymooning couple who weren't sure they would make it without losing their cookies! Finally, we arrived at Tokoriki Resort, the last stop at the end of the Mamanucas island chain. Civilization in the middle of nowhere!

TOKORIKI RESORT
Tokoriki has 29 deluxe beachfront bures, all with sunset views, air conditioning, personal hammocks and private outdoor stone showers. The five sunset villas (a honeymooner favorite) have large plunge pools and a covered outdoor daybed. Meals are in The Terrace Restaurant or can be served in your bure. The common area has a beautiful infinity pool on the edge of the property, overlooking the azure sea. The staff was incredibly friendly and included us in the kava ceremony at night. Joshua, a musician/boat captain/kava ceremony chief/ wedding warrior guard, led the social event where guests participated in drinking bowls of muddy water. Actually, the water was kava root pounded to a powder mixed with water and is known for its relaxing properties. It has been a big part of Fijian society for generations, all the way back to the time when Fijians were cannibals. Joshua amused us with all kinds of tales about Fijian customs. His accent and demeanor were truly unforgettable.

BEACH WEDDING
The last day of my trip, the sun came out and I witnessed a wedding held on the beach. It was unbelievably romantic and unique. The Tokoriki staff served as the choir and warrior guards. I took a 30-second video, which you can watch on YouTube. Wedding packages include a minister, Fijian choir, Fijian warriors to escort the bride and traditional flower leis. The meal plan includes all meals and teatime and is a smart thing to purchase since there is no other place to eat! Guests are charged $1 per minute for e-mail. I had a very relaxing massage at The Senikai Spa, which uses products made only from the flora of Fiji.

FAREWELL TO FIJI
I boarded the fast South Seas Catamaran, which was working by the time I was preparing to leave. The seas had died down and it took an effortless hour to get back to Port Denarau Marina. As I left the Mamanuca Islands with its white sand beaches, the sounds of the harmonious voices of the Tokoriki staff drifted away in the distance. The departing guests cried as the wonderful choir bid us farewell with a traditional Fijian farewell song, Isa Lei, which promises us to return. I've never seen more emotion than in Fiji, from guests as well as natives, smiling all the while. The heartfelt words Bula and Vinaka will always have a special meaning to me.



ABOUT THE AUTHOR
Hi, I am Georgette, a writer and artist (here's my website) based in Connecticut. I am also Johnny Jet's older sister, who quite possibly ignited his first spark of interest in traveling to exotic places, when at the impressionable age of 14, he saw my trip to Australia last three years! Whether skiing in the mountains, snorkeling in the tropics, or exploring faraway cities, I am always game for traveling and the privilege of writing for my baby brother's website JohnnyJet.com. Of course, coming home to my husband Cam, our dog Baci, and three cats - Ace, Arrow and Wizard - is great, too!


*Please tell us what you think of this week's newsletter!

Note: This trip was sponsored by Ocean Properties.



Pics From
The Trip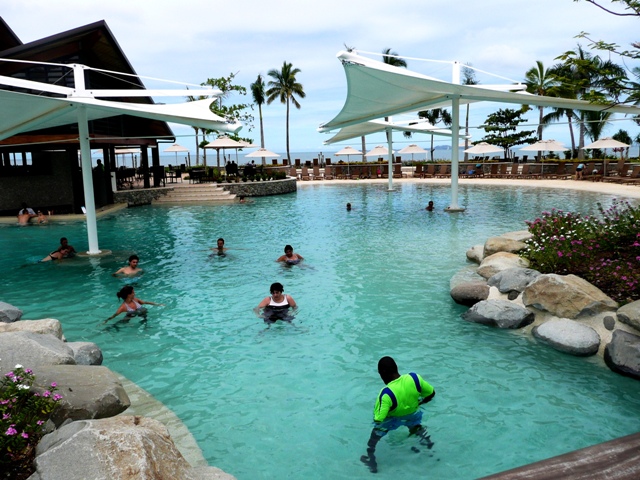 Radisson Resort Fiji Pool
Room at Radisson
Treatment Room at Radisson
First Intro to Kava
Golf Course Across From Radisson
Welcome at Radisson Resort Fiji
Tribal Dancer
Cousins at Radisson Restaurant
Evening Torch-Lighting at Radisson
Market Outside of Nadi
View of Royal Davui Beach
My Deck at Royal Davui
Bedroom at Royal Davui
Croissants and Danishes
Coconut Custard with Papaya
Best Bacon and Egg Sandwich
Private Dining
View From Royal Davui
School Room in Village Sponsored by Royal Davui
Chief's Granddaughter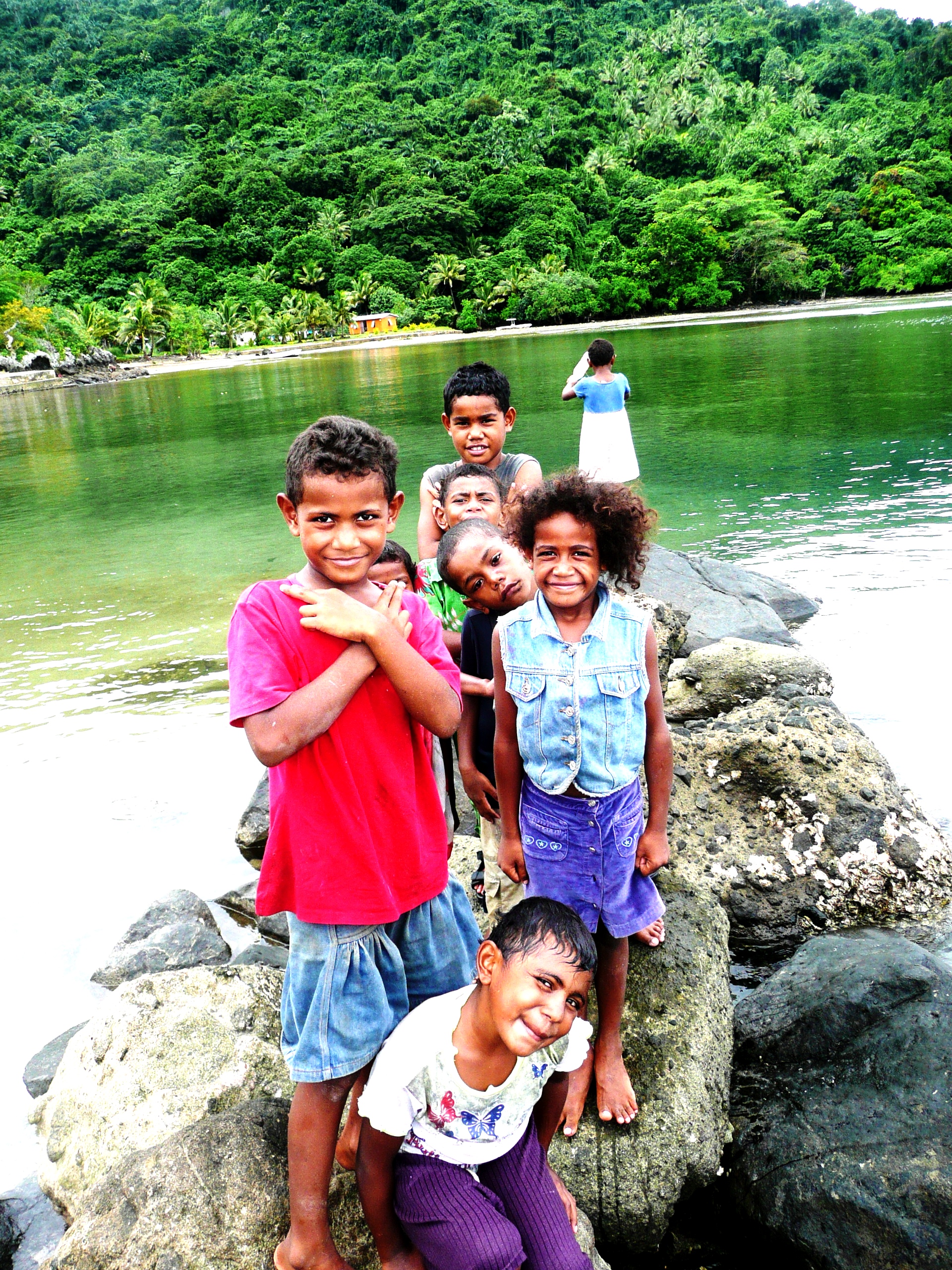 Children of the Village
Gigi and Misi
Fijian License Plate
Leaving Royal Davui Via Heli
View From Heli
View of Rainforest Below
Tokoriki Pool
Wedding at Tokoriki on the Beach
Wedding Chapel, Tokoriki
Honeymoon Suite, Outdoor Lounge
Honeymoon Suite, Living Area
Joshua Welcomes You to Tokoriki
Breakfast Buffet, Tokoriki
Kava Ceremony, Tokoriki
Bure at Tokoriki
Reading Bure at Tokoriki
Staff Playing Volleyball, Tokoriki
Diving Staff at Tokoriki
Infinity Pool at Tokoriki
Masculine Musicians in Floral
Outdoor Shower, Tokoriki
Not a Movie Set, Tokoriki
Tearful goodbye, Tokoriki
Back in USA with Johnny Jet